The DoWeeklyJob website (found at DoWeeklyJob.com) claims to provide one of the easiest & fastest ways to make money online & it even suggests that you can begin earning with it if you have absolutely no prior experience or knowledge of making money online…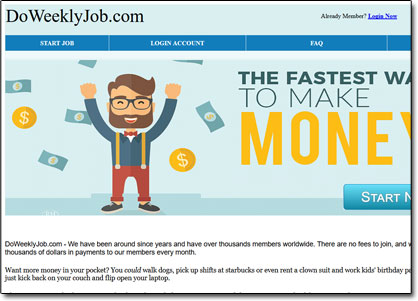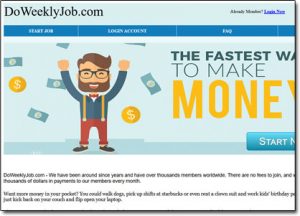 But can it really be so simple to earn such a large income online? And if it is, then why isn't everybody doing it? Or is DoWeeklyJob.com a scam that you should just steer clear of instead?
Well thankfully you've landed in exactly the right place to find out the answers to those questions as I myself have personally taken a closer look into this new DoWeeklyJob website & in this honest review I'll be uncovering the real truth about how it all works & outlining whether or not you can really make any money with it after all.
What Is DoWeeklyJob?   |   How Does DoWeeklyJob Work?   |   The Red Flags   |   Is DoWeeklyJob a Scam?   |   A Better Alternative
What Is DoWeeklyJob.com?
In my opinion the name of the website is a little strange, because "Do Weekly Job" is hardly very good English – but as you can tell the website basically portrays the idea that you'll be getting access to some sort of online job.
And the "job" is allegedly to complete small tasks via their site & to refer other members…
According to them you'll be paid for each task you complete & for each member you refer, and the money supposedly comes from a panel of advertisers that they work with… So on the surface it may seem fairly legit.
However what I can tell you right from the off is that the DoWeeklyJob.com website is NOT legit, it is actually far from it. The DoWeeklyJob website is actually a scam & the reason I can say that so confidently is because I've already exposed this scam several times before when it was launched under different names.
Check out my reviews of PayEachMonth.com & My Work For Life – you'll see that the websites are almost identical to DoWeeklyJob & that's because they're all operated by the same scammer.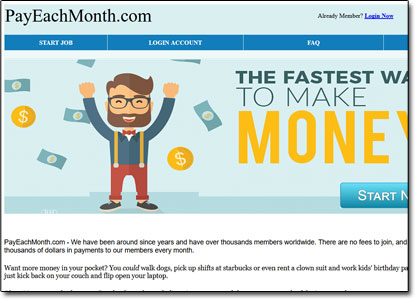 The scammer behind them simply keeps changing the name of the scam in an attempt to escape the negative reviews that people write so that he can continue tricking people to sign up.
The problem though is that the whole thing is a phony & none of the members ever get paid.
But I appreciate that you're probably not just wanting to "take my word for it" when I say that, after all I appreciate that you might have been really hoping that you were going to be able to make some money through the DoWeeklyJob site… So instead keep on reading & I'll show you exactly how it all really works below so that you can see first hand for yourself what's really going on.
Or if you'd just like to jump straight to some legit ways to make money online be sure to check out my top picks page here.
How Does DoWeeklyJob Work?
So essentially like I mentioned above the DoWeeklyJob website is trying to pretend to be a legitimate Get-Paid-To website which rewards its users in return for completing small tasks & referring friends… The problem though is that it's a phony & the person behind it isn't actually paying any of the members.
Instead he's just wasting peoples time & keeping the advertisers money for himself rather than paying anyone… And that's why these scam sites keep closing down & reopening under new names.
But to be honest even whilst there are actually some legitimate Get-Paid-To websites that pay people for completing tasks I still don't recommend them & that's simply because they pay out so little.
I mean I know the DoWeeklyJob website makes bold claims of paying around $10 per task & per referral but that's because it's fake – those claims are just lies… A real Get-Paid-To website likely wouldn't see you earning any more than a mere $1 per day… If you were lucky.
And in order to earn as much as $1 per day through one of these types of websites you'd likely have to be sitting on your PC for 6+ hours… So yeah, as you can see it doesn't really make much sense.
There's no need to work such long hours for such little reward because there are actually many better ways to make money online.
If fact if you got started with something like affiliate marketing for example then the sky is actually the limit on what you can earn. You could find yourself earning thousands, even tens of thousands per month if you work hard at affiliate marketing.
So if you're looking for something that actually has the potential to provide you with a full-time income online then I'd definitely advise steering clear of Get-Paid-To sites & paid survey sites because they'll just waste your time.
I mean sure they might be good for a little bit of extra cash if you REALLY need it, but that's about it.
And just in case you're still thinking about going against my advice & trying out DoWeeklyJob anyway, let me point out some red-flags which basically 100% prove that the whole thing is just a phony…
You Might Also Like:
The Red-Flags That Prove DoWeeklyJob Is Fake
Well first off, the DoWeeklyJob.com website is pathetic. It looks like it has been built by a small child in a matter of minutes, and it is clearly very unprofessional… But not only that, it is also identical to the websites of PayEachMonth.com & My Work For Life (other known scams).
On top of that the website also shares NO contact details whatsoever so you have absolutely no idea as to who (or what company) is behind the website. As far as I'm concerned that's a huge red-flag on its own.
But the red-flags do not end there, because what I noticed is that the scammer behind this website is also using an army of fake Twitter bots to promote the DoWeeklyJob.com website & trick people into thinking it's legit (when it's not).
Check out this image for proof: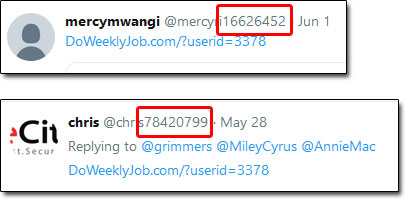 What you will notice from the screenshots above is that not only do the accounts have random numbers at the end (which means they've been created automatically by a bot) but their referral links also contain the same user id – even though they are supposed to be separate accounts.
This proves 100% that the people behind DoWeeklyJob.com have just created a Twitter bot that automatically creates accounts & then spams people with links to their website, which is why it has gained traction so quickly.
I'm sure by now you can see for yourself that everything about the website is fake, which brings me onto…
Is DoWeeklyJob.com a Scam?
Yes there's not a doubt in my mind about it – DoWeeklyJob is definitely a scam. It's just a pathetic website that's been quickly setup in an attempt to trick people into wasting their time so that the creator can earn at their expense.
And if the creator is willing to trick people like that, then who knows what he is going to do with the data that the users supply when they sign up… No doubt he will sell it on to third parties & leave them bombarded with spam emails too.
So it is needless to say that I will NOT be recommending the DoWeeklyJob website to you because it's just a complete utter waste of time & none of the members will ever actually end up getting paid.
However the good news though is that if you are indeed still looking for legitimate ways to earn money online you'll be glad to hear that I've put a page together containing all of the best ways I've come across.
And if you just want to go straight to my top recommended way for making money online (which is affiliate marketing) then I urge you to check out Wealthy Affiliate as it's there that you'll be able to get started with it.
But whatever you decide to do I just sincerely hope that my review here has given you a good insight into how this fake Get-Paid-To website really works & hopefully it has helped you to avoid it. If you do still happen to have any questions or comments though then don't hesitate to leave them below & as always I'll get back to you as soon as I can.
A Better Alternative
The sad truth is that unfortunately most of the programs promising to help you make money online are scams. I can say that confidently after exposing over 500+ of them here on this blog.
But the good news is that even though most of them are indeed scams, there are actually some very good programs in amongst them - some programs that can truly help you to earn money.
And out of all of the legit programs I've seen, the one I would recommend the most to anybody looking to get started online is Commission Academy. In my own opinion, that's the best place to start.
At Commission Academy, you'll be provided with everything you need (including the training & tools) to begin earning real money by promoting products or services for companies like Amazon online.
The best part is that there's literally no limit on the amount you can earn with it & the process is pretty simple which means that it's absolutely perfect for people that don't have much experience.
Some wealthy affiliates even earn as much as 5-figures per month... Or more!


I mean don't get me wrong, that kind of money won't just fall into your lap without doing any work... But the harder you're willing to work at it, the more you stand to earn with it.
So if you're looking to get started but don't know which route you should go down or which program you should join (and don't want to waste money on bogus things that don't actually work), then I'd highly recommend checking out Commission Academy first. You can learn more about it here.