The brand new PayEachMonth website (found at PayEachMonth.com) claims to provide the fastest way to make money online & promises that its members will be able to earn hundreds of dollars per day just by completing short easy tasks, even if they have absolutely no experience at working online…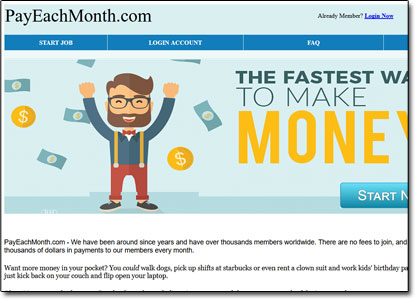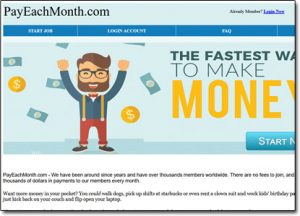 But those kinds of claims just sound way too good to be true right? So just what actually IS the truth about this new site? Can you really make money with it like it promises or is PayEachMonth.com a scam that you should steer clear of?
Well thankfully you've landed in the right place to find out the answer to that question as I myself have personally taken a closer look into it & in this honest review I'll be uncovering the REAL truth about how it works, including the things they don't want you to know & of course including whether or not you can really earn anything with it. 🙂
What Is PayEachMonth?   |   How Does PayEachMonth Work?   |   Is PayEachMonth a Scam?   |   A Better Alternative
What Is PayEachMonth.com?
PayEachMonth portrays itself as what's often referred to as a Get-Paid-To website, which is a type of website where you sign up & complete small tasks that are provided by advertisers in return for some money.
The people who own these types of websites have arrangements with the advertisers, so when you complete the offers (which typically include signing up to a trial or downloading an app) they get paid, and then they take a cut and pass the rest on to you.
And there are indeed some legitimate Get-Paid-To websites that actually pay you, but typically I don't recommend these types of websites to my readers because they generally only pay out VERY little amounts since the tasks are so easy.
The other problem with them is that many of the so-called "free tasks" (like signing up to trials) actually end up costing you if you forget to cancel…
So yeah, traditionally Get-Paid-To websites are not really a good way to make money, especially when there are so many better alternatives… However this is where PayEachMonth stands out, because PayEachMonth.com claims to pay large amounts to its members.
So you're told that you can complete the easy tasks just like you would with any other Get-Paid-To website, but instead of only paying small amounts the PayEachMonth website claims it will be over $10 per task, enabling you to earn hundreds of dollars per day.
The problem though is that these are just empty promises… PayEachMonth does NOT pay any of its members, and in actual fact it is nothing but a scam that has been designed to trick you into wasting your time.
The reason I can say that so confidently is because I've already this exact same scam several times on this blog before. The creator simply keeps changing its name in an attempt to escape the negative reviews so that he can continue scamming people…
Some of its previous names include Two Dollar Click, Three Dollar Click, and most recently My Work For Life.
If you click on any of those links you'll be taken to the reviews that I wrote about those websites & you'll see that the sites look almost identical to this new PayEachMonth.com website (because they're all connected).
But I know what you're probably thinking… How can a "free" site possibly scam you? Well the truth is that the PayEachMonth scam is actually quite cunning & if you continue reading I'll show you exactly how it all works so that you can see first-hand why you won't really be able to make money with it. 🙂
How Does PayEachMonth.com Work?
So the idea is that you sign up to PayEachMonth for free, then complete small tasks from advertisers in return for some money… And on top that to earn extra money you're then also told to share PayEachMonth with friends…
But the whole thing is a total fake & it's just been setup purely to earn its creators money, not you…
You see when you complete the tasks, the creators earn some money – and they "pretend" that you've earned some money by making your balance increase accordingly… However when it comes to withdrawal time you will simply be left to find out the hard way that they do not actually pay, they just keep the money for themselves instead…
And that's why they've set their withdrawal limit so ridiculously high.
You see most legitimate Get-Paid-To websites have super low withdrawal limits of $10 or less, but not PayEachMonth. They have set a crazy high limit to try to get you to do as many tasks & refer as many people as possible before you're able to discover it's a scam.
And the whole "refer a friend" part is just a way to trick you into luring others into their scam as well…  They don't really pay you for referring friends either, so basically the entire thing is just a complete con.
But don't fear because there are still plenty of legitimate other ways you can make good money online.
However it's safe to say that the PayEachMonth site should certainly be avoided because if you do sign up to it then you'll find yourself wasting your time as you won't end up getting anything in return for your efforts.
And to be honest there's not really much more to say about this site because it really is just a piece of junk, which brings me onto…
Is PayEachMonth.com a Scam?
Yes absolutely, there is no doubt in my mind about it – the PayEachMonth website is definitely a scam & it will do nothing other than waste your time because it's been solely designed to make its creator wealthy at your expense.
The person behind it doesn't care about you at all & he is just using you to complete tasks so that he can earn from you… And he's also then trying to trick you into promoting it for him so he can get others to do the same.
It's therefore safe to say that it's a pretty cunning scam, but hopefully after coming here and reading my honest review about it you won't fall for it. Instead you should avoid it to prevent the scammer behind it earning at your expense & wasting your time.
But what if you still want to make money online? What can you do instead? Well lucky for you I have put together a whole bunch of legitimate ways to make money online which you can access for free.
And if you want to go straight to what is (in my opinion) the best way to make money online & most rewarding then be sure to check out my free guide on affiliate marketing, which explains the same way I make most of my own money online.
Whatever you decide to do though, as I say I just hope that my honest review here has given you a good insight into how the PayEachMonth scam works & hopefully it has helped you to avoid it. If you do happen to still have any further questions or comments about it though then don't hesitate to leave them below & as always I'll get back to you as quickly as I can.
A Better Alternative
The sad truth is that unfortunately most of the programs promising to help you make money online are scams. I can say that confidently after exposing over 500+ of them here on this blog.
But the good news is that even though most of them are indeed scams, there are actually some very good programs in amongst them - some programs that can truly help you to earn money.
And out of all of the legit programs I've seen, the one I would recommend the most to anybody looking to get started online is Commission Academy. In my own opinion, that's the best place to start.
At Commission Academy, you'll be provided with everything you need (including the training & tools) to begin earning real money by promoting products or services for companies like Amazon online.
The best part is that there's literally no limit on the amount you can earn with it & the process is pretty simple which means that it's absolutely perfect for people that don't have much experience.
Some wealthy affiliates even earn as much as 5-figures per month... Or more!

I mean don't get me wrong, that kind of money won't just fall into your lap without doing any work... But the harder you're willing to work at it, the more you stand to earn with it.
So if you're looking to get started but don't know which route you should go down or which program you should join (and don't want to waste money on bogus things that don't actually work), then I'd highly recommend checking out Commission Academy first. You can learn more about it here.