Over the past few months, I've come across several websites promising to provide their visitors with access to legitimate link posting jobs – and through these jobs, the visitors are said to be able to earn a handsome income in return for simply posting links online.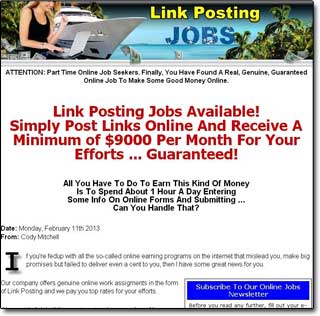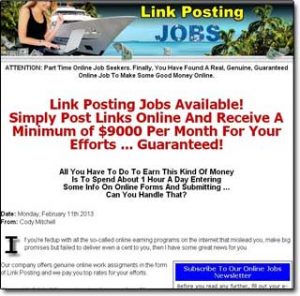 But can you really make money just for posting links online?
And if you can, are there actually any legitimate link posting jobs than you can start without investment?
Well, the good news is that I've decided to take a look into these so-called link posting jobs once & for all to see what they're really about & in this blog post I'm going to be uncovering everything you need to know.
Plus, I'll also be determining if there are actually any legit free link posting jobs you can get started with to make money from home, so be sure to read this post right through to the end.
What Are Link Posting Jobs?   |   How Does Affiliate Marketing Work?   |   Are There Any Legitimate Link Posting Jobs?   |   A Better Alternative
What Exactly Are Link Posting Jobs?
On the surface, these so-called link posting jobs seem like the ideal opportunity. The websites that promote them, such as My Home Success Plan & Online Jobs Now all promise that you'll be able to make thousands of dollars from your home by just spending 1 to 2 hours per day posting links for big companies online.
They claim that these big companies, such as Apple, Microsoft etc are desperate for people to promote their products & services, and as a result, they claim that they're willing to pay BIG money to "freelancers" who'll share their links online.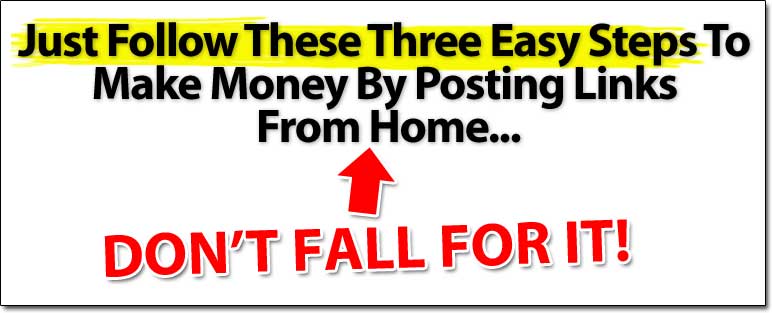 1-2 hours of work per day… Posting a few links… Earning $1,000+ per day? Sounds fantastic right?
Who wouldn't jump at such an opportunity?…. If it were legit!
Sadly though in reality it's not legit – well not quite anyway. You can actually make money by posting links online (as I'll explain in just a moment) but the "jobs" these hyped-up websites promise to give you access to are just totally fake.
Basically the scam link posting job sites like Message Money Machine all charge a fee – and this is how they're making their money. They don't really have any link posting jobs to give you access to, they just want to trick you into handing over your cash so that the creators of those "programs" (if you can call them that) can make money at your expense.

Then, when you do hand over your cash to get access to the so-called "jobs" all you really get access to is some extremely basic training on something called affiliate marketing… And whilst affiliate marketing itself is a legit way to make good money online, sadly the training they provide you with is total BS meaning there's simply no way you'll find success with it.
But don't worry – it's not all bad, because through affiliate marketing you can actually make money – and potentially very good money – by promoting links online (known as affiliate links) for 3rd party companies, such as Amazon etc.
It's actually the exact same method that I personally use to generate most of my own income online, which you can read more about here.
However, the important thing you firstly need to realize before I explain how it all works is that affiliate marketing is NOT a "job". This means that whilst you can indeed make very good money with it, you cannot just expect to post links & get paid right away in return for your time.
Instead, you must learn how to effectively promote the links & then you'll earn commissions from any of the purchases that are made by the people who click through the links that you've promoted.
Hopefully, that makes sense?
So, in short, it basically means you could go weeks, months or even years before you earn your first commissions… Don't worry though, because it's definitely worth it as in the long run, the whole thing can actually become passive.
Therefore whilst it might take a while to start earning money, once you do start earning money that money could keep coming in even if you stop doing the work (and that's one of my favourite things about affiliate marketing).
But HOW does it work I hear you ask? How can you get paid for sharing links? Let me show you now…
How Does Affiliate Marketing Work?
So basically to sum up what I just talked about above (in case you scrolled straight down to this bit) the link posting jobs are actually just scams & they're putting a twist on a legitimate method of making money named affiliate marketing to trick you into signing up.
The good news is that you can actually make money through affiliate marketing if you know how to do it properly – but the bad news is that there are no legitimate link posting jobs you can do which will make you get rich quickly as those scam sites claim.
For you to be able to visualise the process of affiliate marketing (and how you make money with it) I've created a little image which you should be able to see below: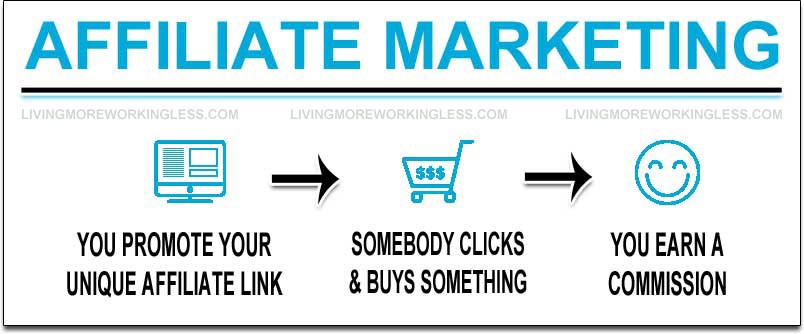 So the first thing you would do is pick a company that you would like to affiliate yourself with, which for example could be Amazon.
Then, once you become an affiliate of that company it means that you'll get your own unique link to promote their products or services online – and when people click on that link, the visit will be tracked to you.
So if you happened to sign up to the Amazon affiliate program which I mentioned above then that would mean you'd have the ability to promote any of the products found on the entire Amazon website.
You'd simply get your own unique link to promote for each of the products – and if people clicked through that link & went on to make a purchase, the sale would be tracked back to you & you would earn a commission.
Easy, Right?
Affiliate marketing itself is actually pretty simple – you get links, you promote them, you make money whenever somebody buys something as a result of clicking through your link. In fact, sometimes people don't even have to buy anything – there are instances where you can earn money just for getting somebody to sign up or simply enter their email to find out more.
And as I mentioned earlier in this post it's a VERY good way to make money.
But what I will say is that whilst the process itself is pretty simple, it's not necessarily EASY as such to begin making lots of money with it. The reason I say that is because your income relies on your promotional methods.
If you don't know how to promote your links properly, you won't make much money and it's as simple as that. Thankfully though there are free training programs like Commission Academy which will show you EXACTLY how to promote your affiliate links for maximum effectiveness – and at Wealthy Affiliate, you'll also get all of the tools you need to be able to do it.
One of the best ways to successfully promote affiliate links is to start your own blog (just like I have here)… And if that's something you're interested in you could always check out my step by step guide on starting a blog right here.
The Bottom Line – Free Legitimate Link Posting Jobs DON'T Exist
So yeah, if you came to this post hoping to find a legitimate link posting job that doesn't require an investment which was going to enable you to make thousands of dollars per day with little to no work then I'm sorry to disappoint you… Those don't really exist.
However, hopefully, you've had a good read through the post & have learned about how you can really make money online with something called affiliate marketing instead (which is the legitimate way to earn money by "posting links").
So if you'd like to get started with affiliate marketing & work your way towards building a solid income online then I'd highly recommend you check out the Wealthy Affiliate program, which is my all-time number 1 recommended program for people looking to get started online.
To date over 1 million people have been through the Wealthy Affiliate program & I know for certain that if you stick with it & follow the training you too can definitely find success with it (just like I did which you can read about here).
But of course, if you do happen to still have any further questions or comments about the link posting jobs then don't hesitate to leave a comment below & as always I'll do my best to get back to you as quickly as I can.
A Better Alternative
The sad truth is that unfortunately most of the programs promising to help you make money online are scams. I can say that confidently after exposing over 500+ of them here on this blog.
But the good news is that even though most of them are indeed scams, there are actually some very good programs in amongst them - some programs that can truly help you to earn money.
And out of all of the legit programs I've seen, the one I would recommend the most to anybody looking to get started online is Commission Academy. In my own opinion, that's the best place to start.
At Commission Academy, you'll be provided with everything you need (including the training & tools) to begin earning real money by promoting products or services for companies like Amazon online.
The best part is that there's literally no limit on the amount you can earn with it & the process is pretty simple which means that it's absolutely perfect for people that don't have much experience.
Some wealthy affiliates even earn as much as 5-figures per month... Or more!


I mean don't get me wrong, that kind of money won't just fall into your lap without doing any work... But the harder you're willing to work at it, the more you stand to earn with it.
So if you're looking to get started but don't know which route you should go down or which program you should join (and don't want to waste money on bogus things that don't actually work), then I'd highly recommend checking out Commission Academy first. You can learn more about it here.