Online Jobs Now is a website that claims it can enable you to make money & change your life. You're led to believe that within just 5 minutes of signing up you can begin making real money even if you have no prior experience at working from home…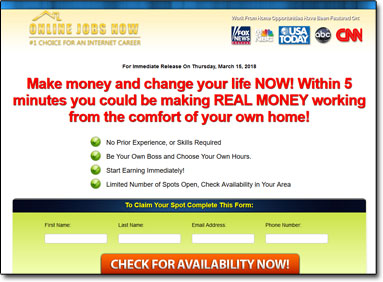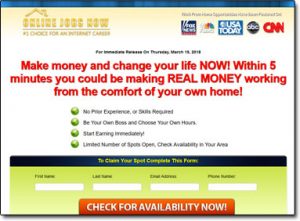 But chances are you'll probably be pretty sceptical about it, and rightly so… So what's the deal?
Is it actually legit or will Online Jobs Now scam you & just see you spending more money than you ever manage to make?
Thankfully you've landed in exactly the right place to find out because I've taken a close look into it all & in this review, I'll be uncovering everything you need to know including how it all works & whether or not you can really make money with it.
What Is Online Jobs Now?   |   How Does Online Jobs Now Work?   |   What You Actually Get   |   Is Online Jobs Now a Scam?   |   A Better Alternative
What Is Online Jobs Now?
As I briefly touched on above Online Jobs Now is a website that claims it can provide you with an easy way to make a full-time income online right from the comfort of your very own home.
It makes out like it's been featured on various news channels & claims you can begin making money within just 5 minutes of signing up even if you have absolutely no prior experience or skills.
But don't go rushing into signing up because I can tell you right from the off it's not what it seems.
And by the way, it hasn't actually been featured on any news channels as it claims.
The Online Jobs Now system is actually nothing more than a get-rich-quick scam & as opposed to being set out with the intention of helping you make money like it claims, in reality, it's just set out to take money from you instead.
The only person getting wealthy via the Online Jobs Now system is the creator that's put it together & he (or she) will be doing that at your expense by tricking you into handing over cash to try it out.
The reason I can be so certain about that so soon is that I've actually seen this exact scam launched several times before under various different names such as Automated Daily Income & Simple Income Strategies.
The reason it keeps changing its name is simply to try & escape the negative reviews so that it can continue tricking people into signing up & scamming them out of their hard-earned cash.
But obviously I don't just expect you to take my word for all that so instead let me show you how it all actually works so that you can see for yourself what's really going on (and why you should avoid it)…
How Does Online Jobs Now Work?
Okay so as I mentioned above I have seen this scam several times before and I know exactly how it works, but a lot of people reading my reviews still wanted further proof that it doesn't actually work as promised so this time around I went to the lengths of spending my own money so that I could show you first hand exactly what's really going on…
I hope you appreciate it LOL.
But yeah, anyway – basically the Online Jobs Now system leads you into believing that you're going to be getting access to some sort of "link posting job". They make out that you'll be simply spending your time posting links online for big companies like Amazon, Apple etc & they lead you into thinking that you'll be paid directly in return for your efforts… Just like you would at a typical job.
But the Online Jobs Now system doesn't provide you with a "job" at all… All it provides you with is some extremely low-quality affiliate marketing training.
And let me just point out here that affiliate marketing in itself is actually a legitimate & very good way to make money online, but the problem is that the training provided through the Online Jobs Now system will not help you get started with it at all.
And I know, you're probably thinking what the heck is affiliate marketing?
Essentially affiliate marketing is just where you promote products for 3rd party companies online & receive commissions for any sales that you generate. Like I say it's a really good way to build an income online.
It works similar to how the Online Now Jobs now system claims – in the sense that you share links online, but you don't get paid directly just for sharing the links… Instead, you get paid commissions when somebody clicks through the links & purchase a product from whatever website you were linking too.
This means that you have to be tactical with the promotion of your links… You can't just expect to post them on social media & make a fortune because it not as simple as that & that's why you need good quality training to help you get started (like the excellent training at Commission Academy for example).
Here's What You Get With Online Jobs Now…
After initially signing up to Online Jobs Now & signing into the members' area you're initially presented with a "letter" from a lady named Karen Williams who's allegedly the creator of the whole thing.
The page looks like this:

And essentially it does nothing other than hype you up about the potential opportunity of being able to make a ton of money through this system (which as you'll soon see doesn't actually exist).
Then you're pushed through to step 2, and step 2 is just another load of nonsense once again. Karen starts talking about her mentor & how he went from painting houses to generating $10 million online…
She says that he shared the golden formula with her regarding how he did it, and here's the so-called "secret" formula:

Crazy huh? The "secret" formula is getting a product, send people to it & make sales… Well durrrrrr, you don't need a mentor to tell you that!
And honestly, that's literally as in-depth as the "training" gets inside the Online Jobs Now system.
From there you're simply pushed through to a page which asks you a ton of details about yourself & you're required to set up a "strategy call" in order get to the page which shows you how to promote things online.
As you can likely guess the sole intention of the "strategy call" is to get you to hand over more cash. What starts out as a $97 program could likely end up costing you thousands after the call.
And believe me, it's not worth it at all – if you spent money on this system in the hope that it would actually help you start earning then I can't imagine how disappointed you would feel after getting inside.
I mean here's a sneak peek of the training where they teach you how to get visitors to the products you're promoting:

It's absolutely ludicrous – there are no other words to describe it. You have the whole internet at your fingertips & you could quite easily generate traffic from search engines (such as Google) yet the creators of the Online Jobs Now system expect you to go round promoting products by putting flyers on cars… LOL, that's just crazy.
It's almost as if the creators of this program are just seeing how much fun they can have with you.
Which brings me onto…
Is Online Jobs Now a Scam?
Yes, in my opinion, based on what I've shown you above the whole thing is indeed a massive scam. As far as I'm concerned it's been set up solely to make the creator wealthy at your expense & it's not going to help you make money at all.
Like I mentioned earlier in the review, the whole thing is just totally misleading & if you buy into it with any expectation of actually being able to make money then you will be very, very disappointed.
I mean the initial cost of $97 is bad enough for what you get but on the "strategy call" the people behind the system will do their best to part you with whatever money they can… Thousands if possible… And as you can likely imagine they will make it almost impossible for you to get any of it back.
Therefore overall I certainly won't be recommending this system to you because like I say in my opinion it's nothing but a scam. If you want to learn how to really start making money through affiliate marketing the right way then I suggest you check out my Wealthy Affiliate review instead.
Anyway, hopefully, my review helped you dodge it & save some cash – if you do happen to have any further questions or comments about it though then don't hesitate to leave them below.
A Better Alternative
The sad truth is that unfortunately most of the programs promising to help you make money online are scams. I can say that confidently after exposing over 500+ of them here on this blog.
But the good news is that even though most of them are indeed scams, there are actually some very good programs in amongst them - some programs that can truly help you to earn money.
And out of all of the legit programs I've seen, the one I would recommend the most to anybody looking to get started online is Commission Academy. In my own opinion, that's the best place to start.
At Commission Academy, you'll be provided with everything you need (including the training & tools) to begin earning real money by promoting products or services for companies like Amazon online.
The best part is that there's literally no limit on the amount you can earn with it & the process is pretty simple which means that it's absolutely perfect for people that don't have much experience.
Some wealthy affiliates even earn as much as 5-figures per month... Or more!


I mean don't get me wrong, that kind of money won't just fall into your lap without doing any work... But the harder you're willing to work at it, the more you stand to earn with it.
So if you're looking to get started but don't know which route you should go down or which program you should join (and don't want to waste money on bogus things that don't actually work), then I'd highly recommend checking out Commission Academy first. You can learn more about it here.