The Message Money Machine system is a product that's just recently launched on the ClickBank network & it promises that it can help you to earn as much as $1,000 every single day just by sending random messages.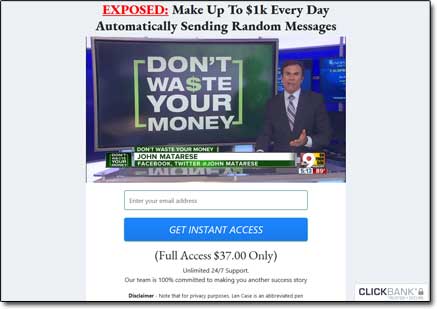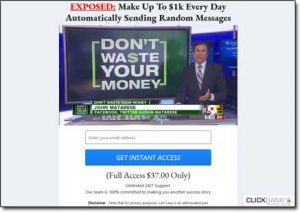 But the website doesn't really give you much information on how it actually works and instead you're pushed towards handing over $37 to find out more…
So what's the deal? Is it actually legit or will Message Money Machine scam you instead?
Thankfully you've landed in exactly the right place to find out as I've taken a closer look into the system to see exactly how it works & in this review I'll be uncovering the truth about it & letting you know whether or not you can really make any money with it.
What Is Message Money Machine?   |   How Does Message Money Machine Work?   |   Fake Testimonials   |   Is Message Money Machine a Scam?   |   A Better Alternative
What Is Message Money Machine?
The Message Money Machine is allegedly an app that can be operated from your smartphone or PC & you're told that it will enable you to earn as much as $1,000 per day online even if you're totally brand new, all on complete auto-pilot.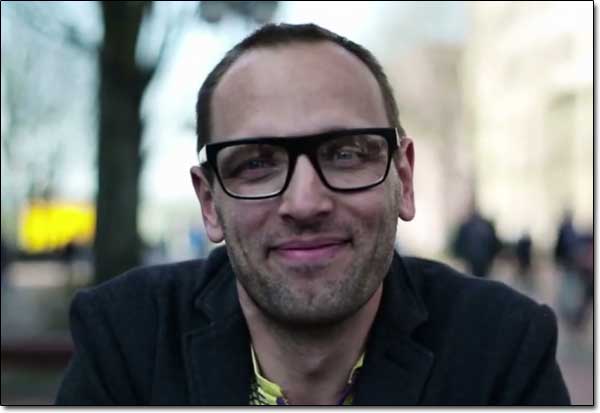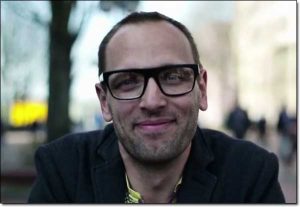 It's supposedly been put together by a guy named Len Case & Len claims that there are huge companies that are willing to pay you for sharing links online. He says that people don't even need to click the links or buy anything from them… According to him, the companies will pay you regardless, just as long as the links are posted.
And if you're new to making money online then this could sound kinda plausible, but in reality, it's not.
I mean sure, there is such a thing as affiliate marketing where you can promote links online & earn money from each of the sales that are made via your link (which you can learn more about at Wealthy Affiliate)… But there is no way companies are going to pay you just for literally posting links.
Funnily enough, I've exposed several other scams such as My Home Success Plan & Online Jobs Now which also promised to give you access to some sort of "link posting" job. It seems to be quite a big scam at the moment & it's clear that the people behind it are just looking to take advantage of newcomers.

But anyway basically the guy behind the Message Money Machine system who we're told is Len Case states that he's created an app that automatically posts these links that the companies are willing to pay you for.
So you're led to believe that you can sign up to the Message Money Machine & that it will begin posting all of the links from these companies & start making money automatically entirely on your behalf.
You're told that you can just sit back & relax whilst the profits roll in, and the video promoting the whole thing even claims that you can see results in less than 4 minutes which is just outrageous.

However like I say the whole this is just a get-rich-quick scam & when I show you how it all really works below you'll see why it should be avoided. You'll also see what you should do if you really want to make money online properly.
How Does Message Money Machine Work?
Essentially the Message Money Machine system is just totally overhyped & its sole intention is simply to part you with your cash so that it's creator can get wealthy at your expense. He or she (whoever is really behind it) doesn't care about your success at all.
And that's why after buying into the system (which I totally don't recommend) you'll be left to find out the hard way that there is no system or app at all.
Instead after paying the initial access fee of $37 you'll see that all you get access to is some crappy affiliate marketing training – and when I say crappy I really mean it. Their training won't help you in the slightest.

In fact, the only reason they give you any training at all is to try & prevent you from getting a refund. You see if they gave you nothing then they wouldn't be able to argue their case, but if they provide with at least some training they can try & refuse your refund request by claiming that you've already accessed the material.
Now don't get me wrong here, as I said at the start of this review affiliate marketing is indeed a legitimate & very good way to make money online. The problem isn't with affiliate marketing itself, it's with the Message Money Machine. They basically don't give you any proper information as to how to get started so you'll just be left to feel "stuck".
But the good news is that if you do want to learn affiliate marketing properly there are legitimate & proven programs out there like Commission Academy which will actually help you to find success.
You Might Also Like:
The Testimonials Are All Fake, Too…
I appreciate that as this point you might be a little confused, after all, I'm telling you that the Message Money Machine system is fake, yet there are several people in the video promoting it claiming that they have made money.
So which is it? Can you really make money with it or not?
Sadly the answer to that is no because as I say, the whole thing is just a scam. The people that you see in the promo video for the system are actually paid actors that have been hired from Fiverr & you can see proof of that below: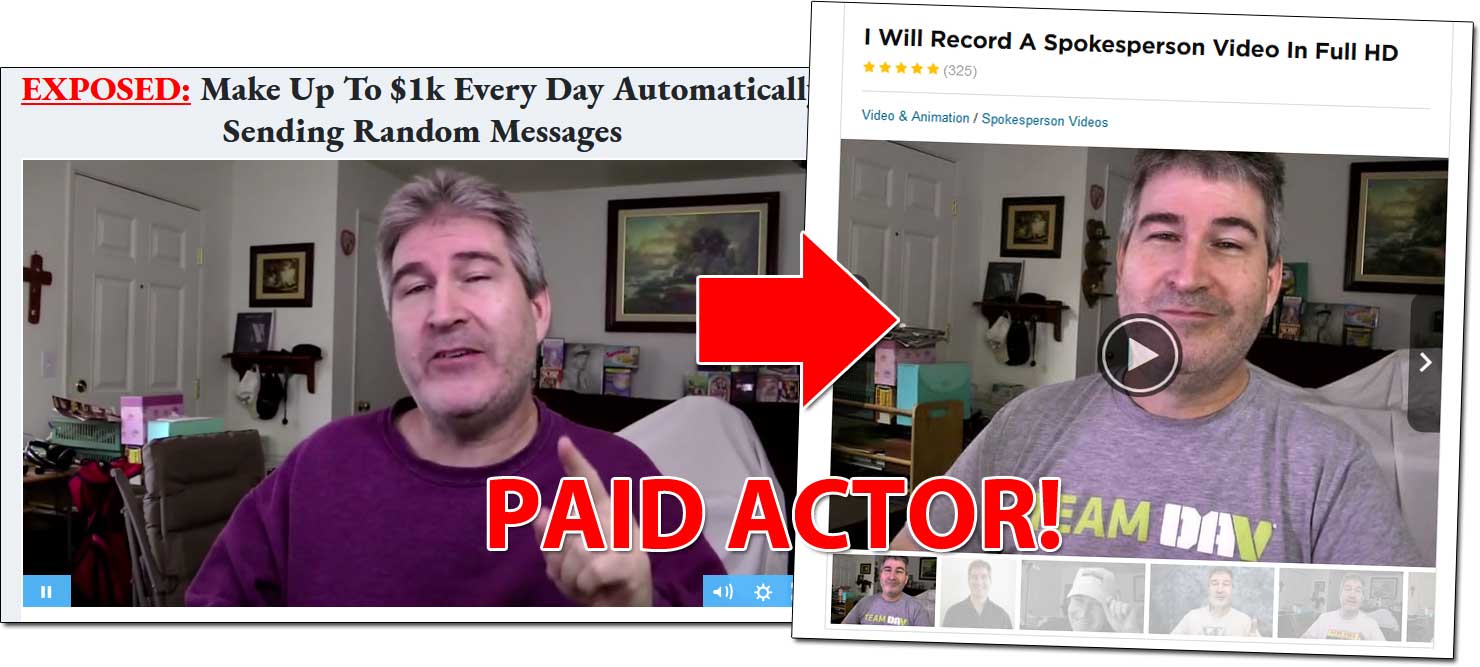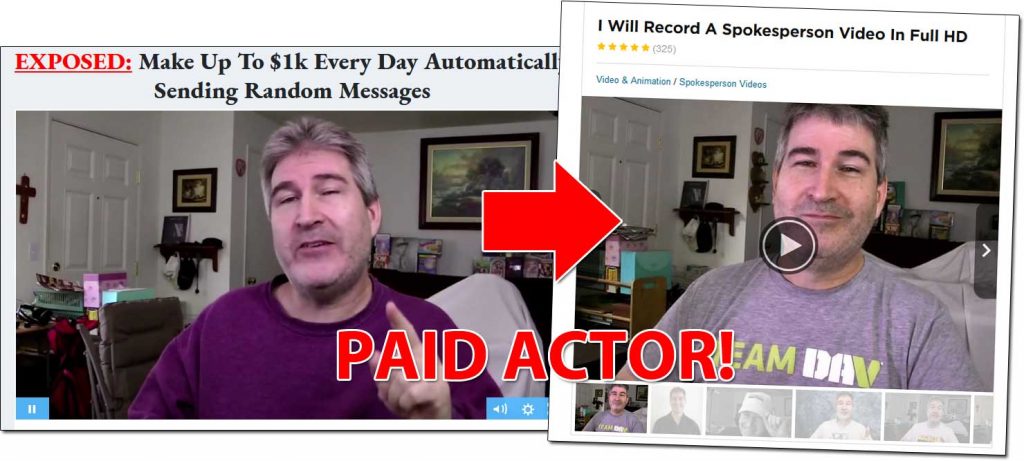 Honestly, you can't trust a word on the Message Money Machine website because the whole thing is just built upon complete lies.
Which brings me onto…
Is Message Money Machine a Scam?
I don't really like calling anything a flat-out scam, I always try & look for at least some sort of positive… But in this particular instance there literally isn't one & for that reason, I am going to say that yes, in my opinion, the Message Money Machine system is a scam.
The reason I say that is because the whole thing is built upon lies & false promises. You're led to believe that you can sign up & easily make lot's of money but in reality, that's not the case… You'll just find yourself disappointed.
The truth is that the Message Money Machine program has been set up purely to make it's creator wealthy, not you. He (or she) will be the only one cashing in from this & that's something I can assure you of.
So it's safe to say that overall I won't be recommending this program to you because I don't feel like you'll find any value from it whatsoever, and like I said above if you really want to make money then you could just join a legitimate program like Commission Academy instead.
But anyway whatever you decide to do I just hope my review here has helped give you a better understanding as to how this whole thing works. I also hope it helped you to save some cash too. If you do still happen to have any further questions though that you feel I didn't cover then don't hesitate to leave them below & I'll get back to you as soon as I can.
A Better Alternative
The sad truth is that unfortunately most of the programs promising to help you make money online are scams. I can say that confidently after exposing over 500+ of them here on this blog.
But the good news is that even though most of them are indeed scams, there are actually some very good programs in amongst them - some programs that can truly help you to earn money.
And out of all of the legit programs I've seen, the one I would recommend the most to anybody looking to get started online is Commission Academy. In my own opinion, that's the best place to start.
At Commission Academy, you'll be provided with everything you need (including the training & tools) to begin earning real money by promoting products or services for companies like Amazon online.
The best part is that there's literally no limit on the amount you can earn with it & the process is pretty simple which means that it's absolutely perfect for people that don't have much experience.
Some wealthy affiliates even earn as much as 5-figures per month... Or more!

I mean don't get me wrong, that kind of money won't just fall into your lap without doing any work... But the harder you're willing to work at it, the more you stand to earn with it.
So if you're looking to get started but don't know which route you should go down or which program you should join (and don't want to waste money on bogus things that don't actually work), then I'd highly recommend checking out Commission Academy first. You can learn more about it here.