A new website named Viral Pay has just launched (at viralpay.co) & it promises to provide its members with a super easy way to earn lots of money online – plus on top of that it also promises that they can even make $500 the very same day that they get started…
But I'm sure you'll agree with me when I say that's a pretty darn bold claim – especially since they claim that all you need to do to in order to make money with it is simply invite friends… So what's the truth? Is it really legit & can you actually make money with it? Or will Viral Pay scam you instead?
Well thankfully you've landed in the right place to find out as I have personally taken a closer look into Viral Pay & in this honest review I'll be uncovering the real TRUTH about how it all works – including whether or not you can really earn anything with it. So keep on reading to find out everything you need to know. 🙂
What Exactly Is Viral Pay?
Viral Pay (found at viralpay.co) is a brand new website that claims to provide one of the easiest ways for people to make lots of money online – even if they have absolutely no previous experience at doing so.
Visitors to the site are led to believe that all they need to do is sign up & share their link in order to make money, with the Viral Pay website stating that they'll earn a whopping $10 for every member that joins through their link.

But where does that money come from?
I mean if you sign up, and then get paid $10 for getting others to sign up just like you did – and then they get paid the same… Then how is the Viral Pay website affording to pay out all of this cash to its members? How are they earning their money?
Well this is what their website claims with regards to how they make money:

However what I can tell you right from the off is that that's total nonsense. The Viral Pay website contains NO advertisements whatsoever & nor does it contain any sponsorship products either.
The truth is that Viral Pay is actually a dangerous scam & how they really make their money is by selling your details onto third party companies (and by breaking into your financial accounts)… So if you've already signed up to Viral Pay then you MUST read this review thoroughly to the end in order to find out how to protect your details.
You see the reason I can say that so confidently is because I've actually seen this scam several times before – it just keeps launching under different names in an attempt to trick more people into joining.
Previously I've seen it called Kids Earn Cash, Kids Get Money & Influencer Club – now it's back once again under the name of Viral Pay, but despite the name change (and slight website redesign) the scam at the heart of it remains exactly the same.
Which brings me onto my next point…
How Does Viral Pay Work?
Well the concept is that Viral Pay is all about sharing – and it claims to provide a way for you leverage your social influence… So the idea is you sign up, copy your link & share it on social media to invite your friends.
The Viral Pay website then claims that it will pay you $10 for each member that joins…
However there's a HUGE problem here – which is that whilst your Viral Pay account balance will indeed increase to "look" as if you're earning $10 for every member that signs up via your link… You'll never get paid.
Instead they're just tricking you into signing up so that they can sell your data onto 3rd party companies – and then they're tricking you into getting others into joining their website too so that they can sell their data as well… It's all a huge data-harvesting scam.
And that's why they set their withdrawal limits so high – so that you'll have to invite a huge number of people before you manage to find out that it's actually just a fake site that doesn't pay…
But it gets worse!
What they're also doing is hoping that you use the same username/password combination you sign up at Viral Pay with on other websites – and so after joining Viral Pay (which I don't recommend doing) they'll try and break into any accounts they can find associated with your username or email address.
This includes PayPal accounts, social media accounts etc… So hopefully you can see why this scam is so dangerous.
And this is also why if you've already joined Viral Pay (and use the same username/password combination elsewhere) you MUST go and change your passwords immediately – otherwise they could get access to your accounts.
And also if you have shared Viral Pay with anyone already, then you MUST also share this post with them as well so that they don't get caught out by it – because if they do, you will be responsible (since you invited them).
What About The Viral Pay Payment Proof?
At a glance the payment proof on the Viral Pay website – such as the video testimonials & screenshots of earnings may look legitimate… But what I can tell you is that all of this so-called "proof" is also fake.
The screenshots of earnings have all been photoshopped & people in the video "testimonials" are actually paid actors from Fiverr as shown below: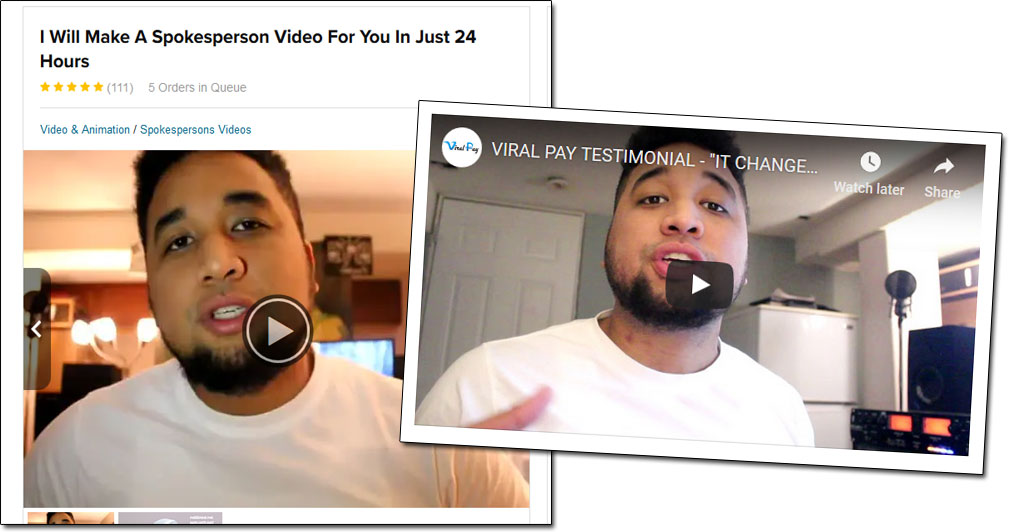 But those aren't the only lies on the Viral Pay website… In fact the website is actually full of lies.
For example, the website claims to have been around since 2005 – but that's not true at all. I ran a lookup on the domain name & the results (as shown below) highlighted that the site has only been online for 40 days at the time of writing this review:

On top of that the website claims to have 65,000 members & to have paid out $20 million… But the maths of that doesn't add up.
Take a look here: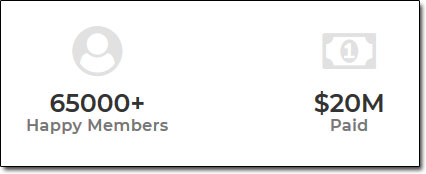 If they were paying $10 per invited member (as they claim) then 65,000 members would equate to a total payout of $650,000 – not $20 million… Therefore clearly those figures are just completely made up.
But regardless, I can say with 100% certainty that Viral Pay does not pay.
As I mentioned earlier in this review they're just trying to use you to bring other people into their scam by making you think that you're earning good money for inviting them – but the truth is there is no money.
Sure, your account balance increase accordingly with each person you invite – but it's just numbers, there is no actual money & so when it comes to withdrawal time you'll just find out the hard way that you did all the work of promoting it for nothing.
But There Are Other Real Ways To Make Money
If you signed up to the Viral Pay website hoping that you were going to be able to earn some extra money then don't worry as all is not lost. Yes the Viral Pay website itself may be a fake, but there are plenty of other legitimate ways you can make money online.
One of my all-time favourite ways is something called affiliate marketing, which is where you connect people with the products that they're looking for & get paid commissions in return (as shown below):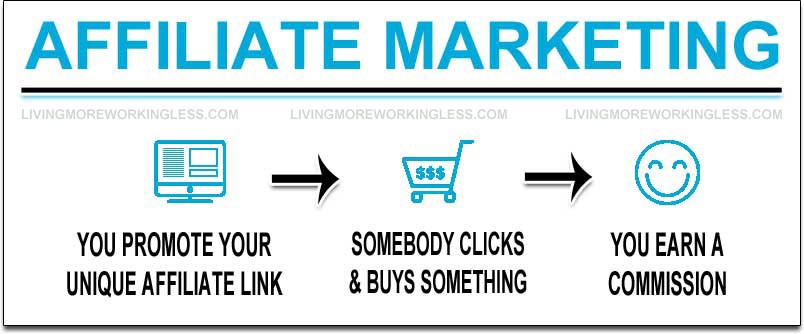 The reason I like affiliate marketing so much is because you can earn great money with it (I personally earn a full-time income with it) and despite what you might think it's actually very easy to get started with.
There are places you can even get started with it for free, such as Wealthy Affiliate.
And also if you're interested in really building a good sustainable income online for the long-term then you can check out my guide on how to start a blog for free & make money with it (even if you're brand new).
So whilst the Viral Pay website itself may not work, as you can see there are still plenty of other opportunities for you.
However what I will point out here is that it's worth noting if something sounds too good to be true (like the Viral Pay website does), then as the saying goes – it usually is… And it should be avoided as it is likely a scam.
It's definitely possible to make good money online but you must be prepared to put in the work to make it happen. You are not just going to be able to make lots of money with little to no work (like Viral Pay claims you can).
Which brings me onto…
My Verdict – Is Viral Pay a Scam?
Yes, there's absolutely no doubt about it – Viral Pay is a scam & a very dangerous one at that. It's also a very cunning scam too as they trick you into luring others into the scam by making you think that you're making money…
The reality is that the creators of Viral Pay are out to do one thing & one thing, which is get your data… They'll then attempt to break into any accounts associated with your data & they'll also then sell it onto third party companies as well.
So if you have already signed up to Viral Pay (and use the same username/password combination elsewhere) then you should change your details on those sites immediately. If you have also already invited friends to Viral Pay then you should definitely share this post with them as well, otherwise if they end up getting scammed you could be held responsible for inviting them.
And it comes without saying that if you haven't yet signed up to Viral Pay, don't – because it is nothing but bad news. Just stick with one of these proven & legitimate ways to make money instead.
Or be sure to check out Wealthy Affiliate – my top recommended place for learning how to make good money online.
But whatever you decide to do I sincerely hope my review here has given you a good insight into how the Viral Pay scam works & I also hope that it has helped you to avoid getting caught out by it.
If you do still happen to have any questions or comments about it though then of course don't hesitate to leave them below & as always I'll do my best to respond back to you as quickly as I can. 🙂