Notion Cash is a brand new website that claims it can enable you to easily earn lots of money directly from your smartphone or PC – and you're even promised that you'll get a whopping $25 just for signing up…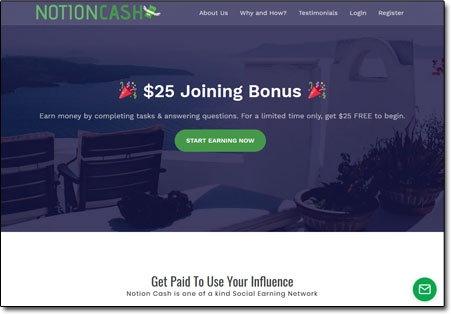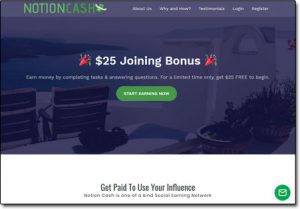 But are the bold income claims made by Notion Cash really true? And does it really pay its members the money that they earn? Or is Notion Cash a scam that'll just leave you disappointed & feeling like you've wasted your time?
Thankfully you've landed in exactly the right place to find out the TRUTH about Notion Cash as I myself have personally taken a closer look into it & in this honest review I'll be uncovering how it really works, whether or not you can make money with it and most importantly why it's so dangerous. So keep reading for everything you need to know.
What Is Notion Cash?   |   How Does Notion Cash Work?   |   Fake Testimonials & Payment Proof   |   The Lies & Deceit   |   Is Notion Cash a Scam?   |   A Better Alternative
What Is Notion Cash?
At a glance Notion Cash looks like an easy way to make lots of money online as the website claims that you can get $25 just for joining, that you can get $10 for every friend you invite, and that you can get $30 for every app that you test…
They call themselves a "social earning network" & promise that you can literally earning hundreds of dollars per day, all from just a few minutes of work.
But no doubt you'll agree with me when I say that sounds WAY too good to be true, right?
And you know what they say about stuff that sounds too good to be true… It usually is.
So is Notion Cash actually legit? And do they actually pay?
Sadly the answer to both of those questions is a big fat no – and I can actually tell you here right from the off that Notion Cash is nothing but a dangerous scam that's set out to steal your data & trick you into inviting others so that it can do the same to them too.
The reason I can say that so confidently is because I've already exposed this exact scam many times before. The creators just keep changing the name of it in an attempt to escape the negative reviews so that they can continue luring in unsuspecting victims.
Some of its past names include Viral Pay, Kids Earn Cash & Influencer Club.
Those websites all launched promising the exact same things as Notion Cash but surprise surprise when it came to payout time they simply disappeared, and now they all redirect through to Notion Cash.
So as you can likely imagine, when it comes to payout time for the members of Notion Cash then that website too will also bite the dust & the scam will just launch under yet another new name. But how exactly does the scam work? Let me explain…
How Does Notion Cash Work?
The way the Notion Cash scam works is actually quite clever, because since it's free people don't really see a way it could possibly scam you – and the temptation of the "big money" offered by Notion Cash is enough to make them try it out.
However what I can tell you is that Notion Cash is actually one of the most dangerous scams in existence & there are a couple of reasons for that…
The first reason the Notion Cash scam is so dangerous is because it's what's known as a data-harvesting scam. So whilst they may not taking your money, they are taking your data & selling it to third party companies.
What's worse though is that they're also attempting to break into the accounts associated with the username/email you signed up to their site with. They're basically hoping that you used the same username/password combination on their website as you do on others (as many people do).
If they manage to get into your accounts then they'll then attempt to steal money from you – and potentially even your identity.
So as you can likely see the whole thing is VERY dangerous indeed – and so if you have already signed up to Notion Cash (and use the same username/password combination elsewhere) then you must change them immediately.
But it gets worse…
On top of what they're doing with regards to the data, the other very cunning thing they're doing is they're actually getting the members to promote the scam & lure other people into it without them knowing about it.
So they promise that you'll earn $10 for every person that you invite, but there isn't really any money to be paid out. Instead they're just "using you" to promote the scam & get other people to sign up… Then they'll try to break into their accounts too.
Which means if you've already shared the Notion Cash website with anyone (and even if you haven't) I absolutely urge you to share this post with them to let them know how the dangerous the whole thing is & to make sure they don't get caught out by it.
What About The Testimonials & Payment Proof?
The Notion Cash website is packed full of video "testimonials" and payment proof which may be making you lean towards thinking that it's actually legit, but I can also tell you that all of the "proof" is fake.
The images of transfers have been photoshopped, and the people in the videos are paid actors from the website Fiverr (as shown below):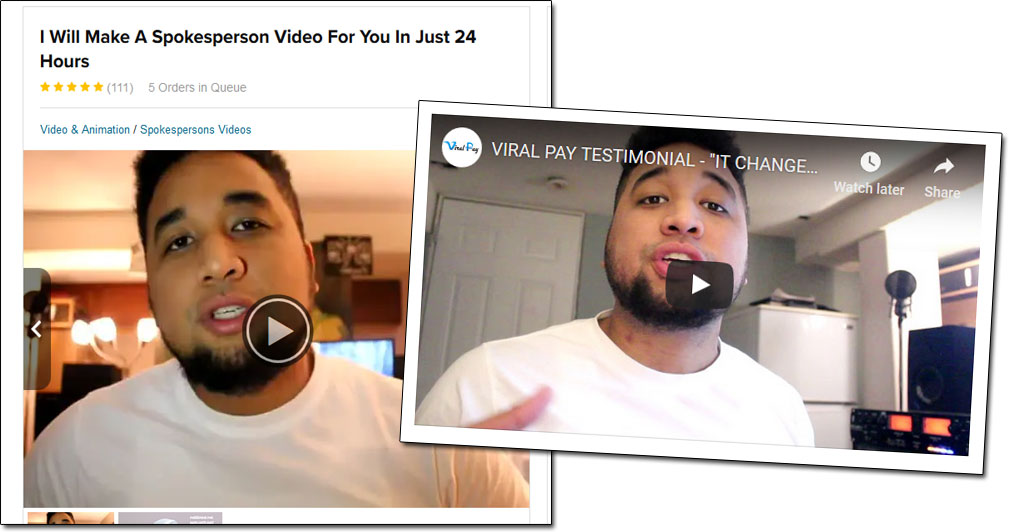 I can say with 100% certainty that nobody is getting paid through Notion Cash. I mean sure, they have made it so that your account balance increases accordingly to the tasks that you complete (to make you think it's legit) – but this money doesn't really exist, it's just fake numbers & therefore it'll never get paid out to you.
That's the reason they've set their withdrawal limits so high.
Most legitimate money making websites have very low withdrawal limits, often of around $10 or even less – yet the Notion Cash website has an extremely high one of over $500. They've set it so high so that you'll have to bring in a whole bunch of people before you're able to find out that it's fake.
So take my advice & just don't bother bringing anybody in at all.
You Might Also Like:
The Whole Website Is Full of Lies & Deceit
Honestly there isn't a single truthful statement to be found on the Notion Cash website – literally everything they say & claim is a complete lie. They've tried to portray themselves as a legitimate company & failed miserably.
For example they claim their company details are as follows:
NotionCash LLC.
420 Lexington Ave
New York, NY 10170
But surprise surprise NotionCash LLC doesn't exist – it never has done, and 420 Lexington Ave is a virtual address offered out by a company named Davinci Virtual.
On top of that they also claim to have been in business for 3 years (as shown below) and to have paid out over 4.2m in earnings to their members:

However the weird thing about that is a quick domain WHOIS lookup reveals that their website is just 37 days old, as shown below:
So yep, just more lies – which brings me onto…
Is Notion Cash a Scam?
Yes there's absolutely no doubt about it, Notion Cash is a scam & a very dangerous one at that. Not only is the Notion Cash scam out to steal your data & use it for illicit purposes but it's also set out to trick you into bringing others into the scam too by pretending to pay you money.
The whole thing is totally fake & not one single member of Notion Cash will find themselves getting paid. Instead the website will just close when it comes close to withdrawal time & will likely relaunch under yet another new name as it has already done several times before.
The use of a fake company name & paid actors in the so-called "testimonials" should on it's own highlight that the website is set out to do nothing but defraud you and as a result I would strongly advise against joining. If however you have already joined then I would recommend you urgently change your username/passwords if you use the same ones elsewhere.
Also if you have already shared Notion Cash with anyone then I strongly recommend you share my post here exposing Notion Cash with them too so that they can also take action to protect themselves as well.
And finally if you're still looking to earn money online then I suggest you stick with one of these proven & legitimate methods.
Or alternatively you could get started with Wealthy Affiliate which is one of my all-time recommendations for building a substantial & sustainable income online.
Whatever you decide to do though I just sincerely hope that my honest review of Notion Cash here has given you a good insight into how it all works & hopefully it has also helped you to dodge it. If you do happen to still have any further questions though or comments you'd like to add then don't hesitate to leave them below & I'll get back to you as soon as possible. 🙂
A Better Alternative
The sad truth is that unfortunately most of the programs promising to help you make money online are scams. I can say that confidently after exposing over 500+ of them here on this blog.
But the good news is that even though most of them are indeed scams, there are actually some very good programs in amongst them - some programs that can truly help you to earn money.
And out of all of the legit programs I've seen, the one I would recommend the most to anybody looking to get started online is Commission Academy. In my own opinion, that's the best place to start.
At Commission Academy, you'll be provided with everything you need (including the training & tools) to begin earning real money by promoting products or services for companies like Amazon online.
The best part is that there's literally no limit on the amount you can earn with it & the process is pretty simple which means that it's absolutely perfect for people that don't have much experience.
Some wealthy affiliates even earn as much as 5-figures per month... Or more!


I mean don't get me wrong, that kind of money won't just fall into your lap without doing any work... But the harder you're willing to work at it, the more you stand to earn with it.
So if you're looking to get started but don't know which route you should go down or which program you should join (and don't want to waste money on bogus things that don't actually work), then I'd highly recommend checking out Commission Academy first. You can learn more about it here.