This morning I happened to receive a random email from somebody promoting a system named the Online Profit Shortcut which could supposedly (according to this random person) see me generating upwards of $1,000 just by "plugging in".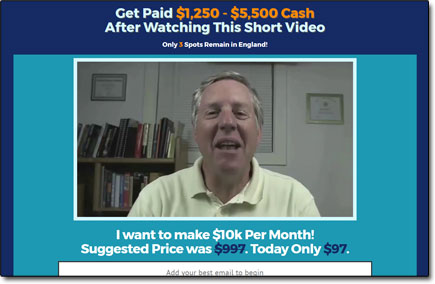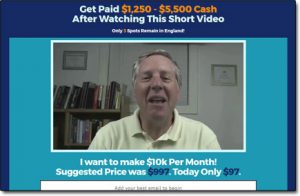 According to the email, it was a "done-for-you" system meaning that no work was required on my part, all I literally needed to do to begin earning was sign up & activate the system.
Of course, naturally, this started to ring alarm bells, especially since the email was sent to me from a completely random person who was talking to me as if I was his best buddy & he had known me for years.
However, since I just so happen to run a website where I expose scam systems to keep people safe (yes – the one you're on right now) I thought what the heck I may as well check it out to see what it's all about & see if any of these claims do actually hold true.
So if you've also come across the Online Profit Shortcut system (or received an email like me) & you're wondering whether or not you can really make money with it then it's you're lucky day because you've landed in exactly the right place to find out.
In this review of the Online Profit Shortcut system, I'll be uncovering literally everything there is you need to know & determining whether or not it's a genuine system that actually works.
What Is The Online Profit Shortcut?   |   How Does The Online Profit Shortcut Work?   |   Is The Online Profit Shortcut a Scam?   |   A Better Alternative
What Is The Online Profit Shortcut?
Well upon landing on the homepage for the OPS system I immediately knew exactly what it was as I've seen the exact same system being launched several times before under various different names.
The most recent name it launched under was "Online Profits Breakthrough", though as I say it's launched under several more before that too.
I'm going to be fairly blunt & tell you that it's a pretty deceiving system that's been put together with the simple intent of parting you with your hard-earned cash (I know – it's sad but true).
However, it's not quite as clear cut as it might seem – this isn't just your "traditional scam". It's actually a low-quality over-hyped product that then also goes on to lead you into a high-ticket network marketing opportunity, basically, it's a "gateway" that seems to have been created by a rogue affiliate of something called MOBE.
Despite coming under a lot of scrutinies, technically MOBE itself is a legitimate opportunity – however, I really don't like the way it is being marketed through the Online Profit Shortcut as it makes it seem like you can literally just sign up & begin earning (which is totally not true).
You can potentially make money with MOBE but it would take a lot of hard work & dedication, not the mention that in order to earn commissions through the MOBE opportunity you have to first purchase the products yourself and these products in total cost around $50,000.
So what starts as a "one-time" $97 fee through Online Profit Shortcut can quickly escalate to thousands, even tens of thousands of dollars yet of course there is absolutely no mention of this in the OPS sales video or on the website.
How Does The Online Profit Shortcut Work?
Firstly I want to tell you to ignore all the false-hype that you're presented with on the website of the OPS system – it's nothing but complete BS. This is not some sort of autopilot money-making system that will make you thousands of dollars daily as it's made out to be – it's actually nothing more than an educational course (and an overly priced one at that in my opinion).
When you purchase the "OPS system" for $97 what you are actually purchasing is a weekly training series that goes on to teach you how to make money through affiliate marketing.
They claim that the $97 fee gets you access to 2 separate products which usually have a combined value of $498 but this is complete BS – it's just a ploy to make you think you're getting a great deal for your money when in actual fact you can get affiliate marketing training for free right here.
If you're already fairly experienced in affiliate marketing & you buy into the OPS system then you'll probably be left disappointed as it only really covers the basics. If however, you're a newbie then you could potentially be left feeling fairly satisfied (even though the training IMO doesn't provide value for money) but that's how they want you to feel because essentially OPS is a gateway into another product – MOBE.
And regardless of whether you feel dissatisfied or not there is probably very little chance of you getting your money back so unfortunately, you'd just have to suck it up.
But basically the weekly training you get through OPS is designed to sell you into the MOBE business opportunity & this is where things start getting expensive. Initially, you'll be offered access to MOBE for a seemingly small fee but then a "coach" will begin to push you into the higher levels by promising you amazingly easy riches.
Of course, it's all hype yet again but often people are so excited about their new venture they don't realize what's happening until they end up parting with thousands upon thousands of dollars… Then when they do realize it's unfortunately too late to do anything about it.
Don't get me wrong in its own right MOBE technically isn't a scam, not at least when it's being sold properly – but when people are selling it by promising easy riches without doing anything in my opinion it becomes very dodgy indeed.
You Might Also Like:
Is The Online Profit Shortcut a Scam?
The Online Profit Shortcut system is going to be getting a big thumbs down from me because it's full of misleading hyped up information & lacks real substance, not to mention the fact that it then draws you into a business opportunity that could set you back around $50k before you even get the ball rolling.
Don't get me wrong affiliate marketing, in general, is proven & it's one of the best ways to make money online but systems like the OPS system just give it a really bad name. If you want to learn how to get started with affiliate marketing the real way then you can click here for completely free training.
You certainly won't be able to make money overnight with affiliate marketing as the OPS system promises you (unless you're very, very lucky) but in the long run, you can definitely build a real sustainable income which is what it's all about.
It might take hard work but the hard work will certainly pay off providing you go about it the right way – but definitely avoid scammy systems like Online Profit Shortcut. When it comes to the internet you gotta use the good old rule that if it sounds too good to be true then it probably is.
Anyway, on that note I just want to add that if you have any further questions about the Online Profit Shortcut system then don't hesitate to leave them below in the comments – as always I'll do my best to respond as quickly as possible.
And just to reiterate – steer clear of the Online Profit Shortcut system! Peace out & thanks for reading.
A Better Alternative
The sad truth is that unfortunately most of the programs promising to help you make money online are scams. I can say that confidently after exposing over 500+ of them here on this blog.
But the good news is that even though most of them are indeed scams, there are actually some very good programs in amongst them - some programs that can truly help you to earn money.
And out of all of the legit programs I've seen, the one I would recommend the most to anybody looking to get started online is Commission Academy. In my own opinion, that's the best place to start.
At Commission Academy, you'll be provided with everything you need (including the training & tools) to begin earning real money by promoting products or services for companies like Amazon online.
The best part is that there's literally no limit on the amount you can earn with it & the process is pretty simple which means that it's absolutely perfect for people that don't have much experience.
Some wealthy affiliates even earn as much as 5-figures per month... Or more!

I mean don't get me wrong, that kind of money won't just fall into your lap without doing any work... But the harder you're willing to work at it, the more you stand to earn with it.
So if you're looking to get started but don't know which route you should go down or which program you should join (and don't want to waste money on bogus things that don't actually work), then I'd highly recommend checking out Commission Academy first. You can learn more about it here.