Up to $100 for each completed survey – that's what the Paid For Research sales page claims. Well, obviously it is a pretty indigestible claim and you shouldn't swallow it.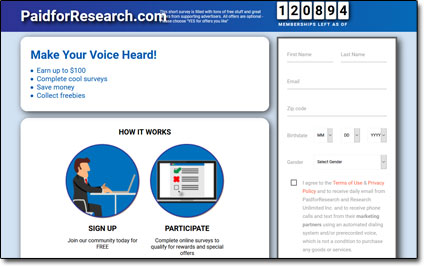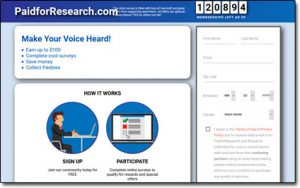 Sadly though there are countless amounts of survey platforms using hyped promotional tactics to get people to join.
We have investigated this platform and now we are in a position to write an honest Paid For Research review.
Most of the survey sites offer no more than $5 per survey and even then you mostly don't get more than $2 for completing a survey (at a push).
This Paid For Research review will show you what is actually happening behind the scenes. We will tell you if it is really designed to help you generate some income or if the sole purpose is to simply generate money for the owners of this platform from you instead.
What Is Paid For Research?   |   How Does Paid For Research Work?   |   Is Paid For Research a Scam?   |   A Better Alternative
What Is Paid For Research?
One thing for certain is that no legitimate paid survey site offers $100 for completing a survey. So right away, we can easily anticipate what else they are going to promise.
The Paid For Research website tells you that the surveys are simple and cool and you can collect freebies as well as money by completing these surveys… However, unfortunately, the truth it the exact opposite of these claims.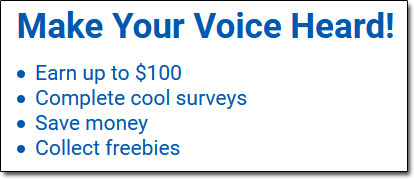 Right from the word go, we are getting ready to expect that Paid For Research is a scam because the claims have elevated above the roof… And the first impression of the website also convinces us that something malicious is going on as it looks very unprofessionally built.
But we have put together this review, all the same, to see if there is anything, no matter how negligible, on offer…
Sadly though it seems that instead of providing people with legitimate surveys, Paid For Research is basically promoting other scams.
The website is nothing more than trash and it doesn't reflect even a hint of professionalism. Even the text on the website has spelling mistakes, especially in the FAQ section.
Paid For Research is available only for US residents. But the problem is that the content on the website doesn't look like the content from a native speaker. It is clearly the work of a non-English speaking individual.
Well, we'll give them the benefit of the doubt… Maybe the team has outsourced a freelancer to come up with the written content.
Let's take a closer look into it to find out if there's really anything worthwhile inside…
How Does Paid For Research Work?
The Paid For Research presenters are making use of misleading information. They want you to believe that you only have to complete surveys in order to earn rewards and cash, but that's not true…
We gave it a chance only to see what exactly they are doing. We registered with Paid For Research by giving the basic information including email, name, and some personal details & found that instead of providing legitimate surveys, Paid for Research redirected us to something surprisingly different.
Shockingly the page was actually promoting personal loan schemes… Just like the Fresh Gigs scam that I recently exposed.
Then came the second fake-survey – yet again an annoying promotion and we kept checking them all and found nothing impressive. There were free trials of digital products, biz-ops, political promotions, loan schemes, supplements, life insurance, and flooring services, etc.
Here is an example of the types of thing you're pushed via Paid For Research:

We didn't even come across so much as one single legitimate survey. All that happened was basically data collection. These pages required some personal information before showing up.
So in short, it appears that Paid For Research is actually contributing to the sale of personal data of internet users. Digital marketing agencies buy such information to promote different schemes and products (and often scams).
Then came the real annoying promotion. A page called Paid Surveys At Home popped up claiming to offer $450 and more for each completed survey. Well, this is the point where we decided to shut it down.
There is nothing to look for because there is nothing significant on offer. The major scam is basically promoting more scams and all of them are making false claims.
The information is completely misleading and there is no logical reason why you need to trust these people, which brings me onto…
Is Paid For Research a Scam?
Paid For Research is basically one of the ugliest promotions of any scam we have reviewed to date. Moreover, they talk about surveys and opinions. But there is no such thing.
They are not in need of your opinion but in reality, they are in search of your personal information. And then they are making pathetic attempts to sell more scams.
Don't waste your time thinking about Paid For Research no matter what they tell you, it is no more than stinky trash. Better stay away from stepping on this contagious BS as it'll only waste your time & potentially see you losing money.
Instead, if you really want to make good money online I would advise that you stick with one of these legitimate & proven methods.
Or you can also learn more about the same method that I personally use to make most of my own money online which is something called affiliate marketing. The great thing about affiliate marketing is that it's easy to get started with & the amount you can earn with it is totally uncapped.
The more work you put in, the more you can get out – and you can learn more or get started with it over at Commission Academy if it sounds like something you might be interested in.
But whatever you decide to do I just hope that my review of Paid For Research here has helped you to see the truth about this so-called paid surveys company & hopefully it has helped you to dodge it. If you still happen to have any further questions or comments about it though then, of course, don't hesitate to leave them below. 🙂
A Better Alternative
The sad truth is that unfortunately most of the programs promising to help you make money online are scams. I can say that confidently after exposing over 500+ of them here on this blog.
But the good news is that even though most of them are indeed scams, there are actually some very good programs in amongst them - some programs that can truly help you to earn money.
And out of all of the legit programs I've seen, the one I would recommend the most to anybody looking to get started online is Commission Academy. In my own opinion, that's the best place to start.
At Commission Academy, you'll be provided with everything you need (including the training & tools) to begin earning real money by promoting products or services for companies like Amazon online.
The best part is that there's literally no limit on the amount you can earn with it & the process is pretty simple which means that it's absolutely perfect for people that don't have much experience.
Some wealthy affiliates even earn as much as 5-figures per month... Or more!

I mean don't get me wrong, that kind of money won't just fall into your lap without doing any work... But the harder you're willing to work at it, the more you stand to earn with it.
So if you're looking to get started but don't know which route you should go down or which program you should join (and don't want to waste money on bogus things that don't actually work), then I'd highly recommend checking out Commission Academy first. You can learn more about it here.