Panel Pay Day poses as a reputable paid survey website & allegedly offers you the chance to earn between $25 & $75 per survey which is way, way higher than the typical payouts offered by most legitimate paid survey sites.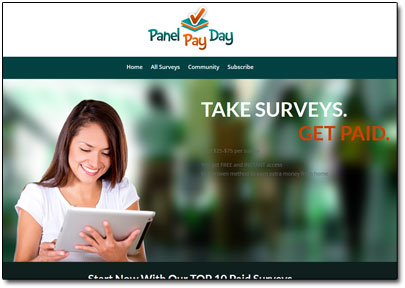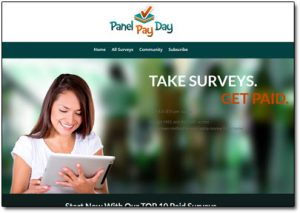 So what's the deal here? Is it actually a legit site or is Panel Pay Day a scam that's just tricking you with false claims? I'm immediately leaning towards the latter but don't worry you've landed in exactly the right place to find out for sure.
I've done the digging & in this Panel Pay Day review I'm going to be uncovering literally everything there is you need to know, so if you've been thinking about signing up with them then make sure you read this page first.
What Is Panel Pay Day?   |   How Does Panel Pay Day Work?   |   Is Panel Pay Day a Scam?   |   A Better Alternative
What Is Panel Pay Day?
At a glance you might think that Panel Pay Day is just like any other paid survey website & your eyes might light up when you see the promise of earning between $25 & $75 for every survey you complete…
I'll admit that it almost sounds like a dream come true because if that kind of income was true then you could pretty much make a living from just completing surveys through this one site – something I imagine quite a lot of people would be very happy with.
However unfortunately I've got to burst the bubble (sorry) but the truth is that Panel Pay Day is not legit, it is indeed a big fat scam. The reality here is that Panel Pay Day itself isn't actually a paid survey website at all, it's what's known as a "paid survey aggregator".
Let me explain what that means…
Basically a real legitimate paid survey site works with a bunch of brands who are looking for opinions on their products/services (and willing to pay for them). They then allow you to sign up, provide you with surveys & you get a chunk of the cash that these brands are paying to the survey company… So basically the survey company is just a middleman handling everything in between, making sure you get paid & making sure the brands are getting the opinions.
Panel Pay Day does not operate this way – instead, it's merely an "aggregator" which basically means that all they are doing is listing a whole bunch of various paid survey sites on their website & referring you to them.
So Panel Pay Day will not actually be sending you any surveys at all, instead, they'll just be sending you off to third-party survey sites & you'll be required to sign up with them to start making any money.
Now this in itself isn't really a problem, I myself have put a list of paid survey sites here. However, the problem comes when Panel Pay Day not only start telling lies about the survey sites they are recommending you to (such as the fake income claims), but also start recommending scams in among their listings too.
Yep, that's right – on their website they claim to have added these following "survey companies" to their website recently:
Ipsos Panel
MOSSP
Countdown To Profits
I can tell you that from the list above only one of those companies is a paid survey company & that is Ipsos Panel. Yes, that particular company is legit but the other 2 are not – they're not even paid survey companies they are work from home scams.
I've previously exposed Countdown To Profits right here on this blog so I can say that for certain.
But anyway after seeing how it works you'll see what's really going on here…
How Does Panel Pay Day Work?
This website works in a fairly similar way to a scam I recently exposed named Take Surveys For Cash which was another site that promised ridiculous income through paid surveys.
Basically the owners of Panel Pay Day are not really interested in helping you make money, they just want to make money from you instead. There are a couple of ways they do this…
Firstly, they are affiliated with all of the survey companies that they list on their website. This means if you click on any of the companies listed on their website & sign up then the creators of Panel Pay Day will earn a commission. Honestly, this alone isn't too bad because it doesn't affect you in any way shape or form since the survey companies are free to join.
The problem is that they have got greedy and to get as much cash as they can from you they've listed scams on their site too. This is bad news because the ones they recommend involve you spending money, so ultimately if you follow their links & sign up with the programs they recommend then you'll end up out of pocket.
There are some legitimate work-from-home programs like Commission Academy for example but honestly, all of the ones recommended by Panel Pay Day are just complete junk, you will not earn anything as a result of signing up to them.
Also, the whole promise of earning $25 to $75 per survey thing is just a complete gimmick too, they've just put this on their site in the hope that it will get more people to sign up with the scams that they recommend… Don't fall for it.
Is Panel Pay Day a Scam?
Yes in my opinion Panel Pay Day is indeed a scam. The reason I have come to that conclusion is that whilst Panel Pay Day itself may be free, it's clear that the website has been set up with the simple intention of pushing you into various scams so that the creators can make money at your expense.
On top of that, the promises they make on the site are just totally unrealistic and there is no way that you see earnings as high as $25 to $75 per survey, that's just unheard of in the paid survey industry.
Yes, there are a few legitimate companies which pay fairly high amounts (such as Crowdology) but overall in the grand scheme of things paid surveys always have done & always will pay very poorly since they are so easy to complete. There is really no need for these companies to pay extremely high amounts because it's so easy to find other people online who will complete the surveys for less.
In reality when you actually work it out on average paid survey companies pay much, much less than the minimum wage. That's why although they provide an easy way to make a little bit of extra money I don't really recommend them because they'll just see you wasting your time & being paid very poorly as a result.
But anyway on that note I hope this review provided you with the insight you were looking for into Panel Pay Day & helped prevent you from falling victim to this scam. If you do happen to have any further questions or comments don't hesitate to leave them below.
A Better Alternative
The sad truth is that unfortunately most of the programs promising to help you make money online are scams. I can say that confidently after exposing over 500+ of them here on this blog.
But the good news is that even though most of them are indeed scams, there are actually some very good programs in amongst them - some programs that can truly help you to earn money.
And out of all of the legit programs I've seen, the one I would recommend the most to anybody looking to get started online is Commission Academy. In my own opinion, that's the best place to start.
At Commission Academy, you'll be provided with everything you need (including the training & tools) to begin earning real money by promoting products or services for companies like Amazon online.
The best part is that there's literally no limit on the amount you can earn with it & the process is pretty simple which means that it's absolutely perfect for people that don't have much experience.
Some wealthy affiliates even earn as much as 5-figures per month... Or more!


I mean don't get me wrong, that kind of money won't just fall into your lap without doing any work... But the harder you're willing to work at it, the more you stand to earn with it.
So if you're looking to get started but don't know which route you should go down or which program you should join (and don't want to waste money on bogus things that don't actually work), then I'd highly recommend checking out Commission Academy first. You can learn more about it here.