Crowdology is a paid survey website – a website which as you can probably guess pays you in return for completing short surveys. However, unlike many other paid survey sites Crowdology actually claims to pay you for every single survey that you complete and sometimes even up to £10 per survey too.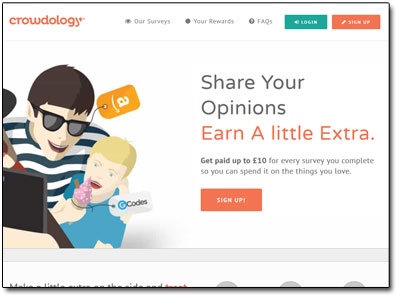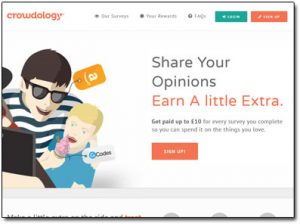 So what's the deal here? Is Crowdology legit or with those seemingly bold promises is it some sort of paid survey scam that'll just see you wasting your time? Thankfully you've landed in the right place to find out…
In this Crowdology review, I'll be taking a closer look at the company & uncovering literally everything there is you need to know. More importantly, I'll also be determining whether or not you can actually make good money with them & if the opportunity is really worth your time.
What Is Crowdology?   |   How Does Crowdology Work?   |   How Does It Compare?   |   Is Crowdology a Scam?   |   A Better Alternative
What Is Crowdology?
As I briefly touched on above Crowdology is paid survey website, and I'm going to start out this review by firstly saying that yes, it is indeed legit. If in doubt though it's always good to question it because I've exposed several paid survey scams on this blog (such as Take Surveys For Cash) so you really can never be too careful.
Anyway, as you can probably guess Crowdology will basically pay you in return for your time – so you sign up as a member, then they send you surveys & you earn money each time you complete one.
And that's what splits Crowdology apart from many of the other survey sites, because I've reviewed several over the years such as Global Test Market, American Consumer Opinion etc & I haven't yet seen one that pays you for literally every single survey you complete (which Crowdology claim they do).
It's actually normally one of the things I find most annoying about paid surveys, the fact that you could be halfway through one having spent around 5 minutes answering questions & then get booted out of it with nothing to show for it… So at least that should be an issue with Crowdology – a nice plus point to kick off the review.
But yeah, on top of that there's another plus point to kick off this review too – Crowdology also claims to pay you up to £10 per survey, with minimum earnings per survey starting at a still fairly whopping 40 pence.
And yeah I know 40 pence might not be whopping in the grand scheme of things but compared to other paid survey sites as a "minimum earnings per survey" that's a pretty darn good amount in my opinion.
The amount you'll earn per survey will depend on the length of it with the longer ones obviously paying the higher amounts. So how long do Crowdology surveys take? With those payout amounts, you might be expecting LONG surveys of 30-60mins but nope, they're not too bad. Crowdology says that on average their surveys only take around 2 to 15 minutes to complete… Not bad at all.
So from the off, it's actually looking pretty good for Crowdology… Let's just a look at how it works…
How Does Crowdology Work?
When I write these paid survey company reviews I often get people asking where the money is coming from – one of the biggest things people seem to wonder is how they're actually able to pay you for just completing simple surveys, so let me run over what happens…
Basically sites like Crowdology work with various brands & advertisers. The people they work with are looking for opinions on their products/services (and willing to pay for them) & so they connect these people through their platform with you, a person who is looking to make a bit of extra money & willing to share your opinions to do so.
The brands/advertisers pay Crowdology for sourcing the opinions, Crowdology takes a little cut for themselves for handling everything & the rest of the money is passed down to you since you're the only that's actually doing the work.
Now it might sound easy, and well, to be honest, that's because it is – but if you're thinking that you've found your dream job or something then I'm sorry but you'll need to think again. Even though at a glance Crowdology seems to pay a large amount for completing surveys, sadly overall you are not going to see any sort of life-changing amounts of cash through opportunities like these.
Paid survey sites will usually earn you a little bit of extra cash per month but that's about it. I'm talking around $10 to $50 per month (and probably only towards the higher end if you're signed up to multiple sites).
Ultimately these are very low paying opportunities & if you factor in the amount of time the surveys take then, in reality, they actually pay much, much less than minimum wage overall so you certainly couldn't make a living from them.
But as I say if you're just looking to make a little bit of extra cash without any real level of commitment then they are not a bad little way to earn money.
You Might Also Like:
How Does Crowdology Compare?
If you've come here looking to find out how Crowdology stacks up against the other big-name paid survey companies such as Global Test Market, EarnHoney, Daily Rewards etc then let me help you out by giving you the top "need to knows"…
Get paid for every survey you complete
Earn a minimum of 40p per survey & up to as much as £10
Surveys take on average around 2 to 15 minutes to complete
Withdraw through PayPal with a minimum balance of just £4
Convert cash to Amazon gift vouchers with just £10
Get entered into random prize giveaways
In my opinion, although I don't personally really rate paid surveys too highly (because I think there are better alternatives) I do believe Crowdology to be one of the better companies out there – plus it operates in many different countries all over the world too whereas many only operate in the USA or UK.
Is Crowdology a Scam?
Overall it's looking pretty good for Crowdology & just in case you've jumped straight down to this section of the review to get my conclusion I do want to stress once again that it is definitely legit.
Though whilst as far as paid survey sites go Crowdology is pretty good, I still don't really rate paid survey sites too high in general. They'll just see you wasting a whole load of time & not really earning a great deal in return.
Sure you can make a few extra bucks a month with these kinds of things (and maybe a little more if you sign up to multiple companies) but overall they're not going to provide you with any kind of life-changing money & things will never become passive no matter how much time you were to dedicate to them each day.
In my opinion, your time would be better spent building a little online affiliate business (which you can learn how to do for free through Commission Academy), that way you can scale your income up & eventually things could even become passive for you meaning you could step back & continue earning even without doing any more work.
That's just my two cents anyway but other than that I hope this review provided you with the insight that you were looking for into Crowdology & that you were able to find out everything you wanted to know. If you do still happen to have any questions or comments feel free to leave them below.
A Better Alternative
The sad truth is that unfortunately most of the programs promising to help you make money online are scams. I can say that confidently after exposing over 500+ of them here on this blog.
But the good news is that even though most of them are indeed scams, there are actually some very good programs in amongst them - some programs that can truly help you to earn money.
And out of all of the legit programs I've seen, the one I would recommend the most to anybody looking to get started online is Commission Academy. In my own opinion, that's the best place to start.
At Commission Academy, you'll be provided with everything you need (including the training & tools) to begin earning real money by promoting products or services for companies like Amazon online.
The best part is that there's literally no limit on the amount you can earn with it & the process is pretty simple which means that it's absolutely perfect for people that don't have much experience.
Some wealthy affiliates even earn as much as 5-figures per month... Or more!

I mean don't get me wrong, that kind of money won't just fall into your lap without doing any work... But the harder you're willing to work at it, the more you stand to earn with it.
So if you're looking to get started but don't know which route you should go down or which program you should join (and don't want to waste money on bogus things that don't actually work), then I'd highly recommend checking out Commission Academy first. You can learn more about it here.