When it comes to make-money-online opportunities it's always a good idea to be careful. There are some legitimate programs out there but sadly they are few & far between.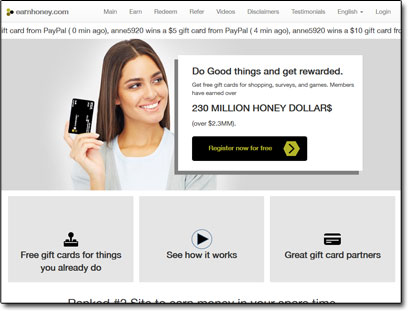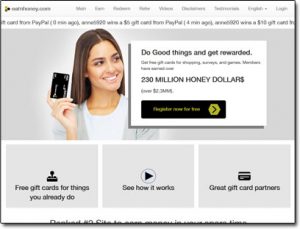 Today in this review I'll be taking a look at a new company I recently came across named EarnHoney which claims to pay you in return for completing small tasks via their website.
It's not the first website of its kind that I've come across, in fact, I've come across quite a few similar ones. They are typically referred to as Get-Paid-To websites or GPT for short – sadly though not all of them are legit.
So what's the deal? Is this one legit, or is EarnHoney a scam?…
Thankfully you've landed in the right place to find out because in this EarnHoney review I'll be leaving no stone unturned – I'll be outlining what it is, how it works & whether or not it's worthwhile joining, so keep reading to find out everything you need to know before joining.
Psst, small hint – it is legit, but I don't recommend it (you'll find out why below).
What Is EarnHoney?   |   How Does It Work?   |   How Do You Make Money?   |   How Much Can You Earn?   |   Is EarnHoney Legit?   |   A Better Alternative
What Is EarnHoney?
As I briefly mentioned above EarnHoney is what's known as a GPT website, which stands for Get-Paid-To. As the name suggests, these types of websites pay you in return for completing small simple tasks which can range from anything such as filling in a survey to playing games or watching videos…
Whilst initially it might sound fantastic that you can get paid for such simple things, the bad news is that typically these websites pay out very little. The reason for that is simply because the tasks are so easy which means there are many people willing to complete them so they don't really need to offer out big bucks to make it an attractive opportunity.
To make any sort of decent money through these companies you'll likely have to sign up to several, and that still probably won't see you making anything life-changing. It'll probably just see you spending every other spare minute you have sitting behind the computer all in return for a $50 or so check at the end of the month if you're lucky.
So yeah, first things first if you think this is a website that could provide you with job replacing income (or something even close) then think again. It's just a website that will provide you will a little extra spare change. Don't fret though, there are other legit opportunities through which you can earn more (like Commission Academy).
Also whilst on that note I want to make it clear that there are indeed several Get-Paid-To opportunities like EarnHoney which claim to offer large payments in return for completed tasks but be aware that these companies are NOT legitimate. If the money you will receive seems too good to be true, it is likely a scam. I have exposed several on this blog such as Teens Earn Cash & PayTime – they are all fake.
Anyway with that warning aside let's carry on taking a look into EarnHoney…
How Does EarnHoney Work?
The process is quite simple – EarnHoney basically acts as middlemen between companies looking for consumer opinions (and willing to pay for them) and consumers willing to give their opinions in return for money.
Naturally, as you can imagine EarnHoney will take a small cut from the money they get from advertisers but the rest is passed to you. So basically you can sign up with EarnHoney, they fix you up with tasks, you complete them & you get paid… They handle everything in between so there's nothing for you to worry about.
You don't have to complete all the tasks you are given either as there are no commitments – but be aware that the more tasks you do complete the more you will be likely sent in the future, so if you really want to get the most from the opportunity then it's wise to remain as active as you can.
How Do You Make Money With EarnHoney?
The primary way that you will make money through EarnHoney is via paid surveys, but there are a couple of additional ways to make money with them too.
The first way is by watching videos that they recommend to you through the platform. Generally, these videos will contain advertisements or they will ask you for your opinion after watching it. They call their video money-making section "BeeTV".
The second way you can make money with EarnHoney is by playing games. Yes, they really will pay you for playing games & there are all sorts of games for you to play such as driving games & even first-person shooter games. This works in a similar way to their BeeTV model in that you'll be shown adverts throughout your gaming or you'll be asked for opinions after you finish.
The additional ways to make money are pretty easy & straight forward, but after getting immersed in the videos or games you'll find that the ads can become a little annoying… But hey ho, you can't complain because at least you're getting paid.
How Much Money Can You Earn?
The website is slightly misleading in this department because I feel like you're kinda let to believe that you'll earn more than you actually will. As I mentioned at the start of this EarnHoney review realistically the amount you'll be able to earn will be very low.
The reason I feel the website is kinda misleading is that it almost looks as if you'll be getting paid $50 to $500 per survey (as you can see from the screenshot below) but this is obviously not true. Instead, you'll earn between $50 to $500 HD per survey which stands for Honey Dollars, not real dollars… It's their own internal currency like a points system.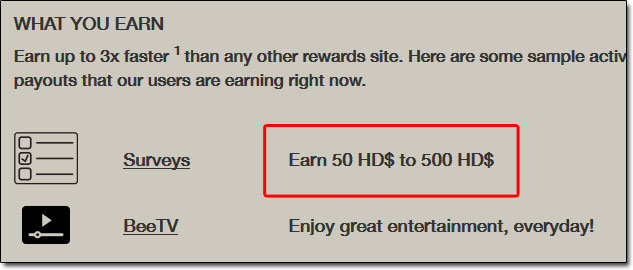 These Honey Dollars can then later be converted & withdrawn as cash but this is where your excitement will likely drop because it takes 100 Honey Dollars just to earn a dollar. So yes, just to reiterate:
100 Honey Dollars = 1 USD
So yeah, not so great… However, there is a plus side here & that's the fact that the withdrawal limit is super low compared to other similar Get-Paid-To sites like Global Test Market.
With EarnHoney you only need to earn $1 before you can withdraw you earnings as an Amazon gift card as they offer gift cards in amounts of $1, $5, $10, or $25. You can also withdraw as cash via PayPal once you've accrued at least $5 which is pretty cool.
You Might Also Like:
Is EarnHoney Legit?
I'm happy to say the answer to that question is yes, it is legit – however as we've discussed it clearly isn't going to see you earning any kind of life-changing amounts of money, but it's a good site to help you earn some extra pocket change.
One of the best things I noticed about EarnHoney is that they have really low withdrawal limits so you don't have to wait around a super long time or complete a huge bunch of tasks before you can get paid. Instead, you can get paid relatively quickly after joining (but remember it'll only be a few dollars nothing massively exciting).
So yeah overall it's a good site if you're looking for a straight forward way to make a little bit of extra cash without any real commitment – but to be honest if you value your time then I'll admit it's a bit of a drain and there are better alternatives to boost your income.
Still, it's nice to see a legitimate site for a change in among all the scams & I hope you found my review useful.
A Better Alternative
The sad truth is that unfortunately most of the programs promising to help you make money online are scams. I can say that confidently after exposing over 500+ of them here on this blog.
But the good news is that even though most of them are indeed scams, there are actually some very good programs in amongst them - some programs that can truly help you to earn money.
And out of all of the legit programs I've seen, the one I would recommend the most to anybody looking to get started online is Commission Academy. In my own opinion, that's the best place to start.
At Commission Academy, you'll be provided with everything you need (including the training & tools) to begin earning real money by promoting products or services for companies like Amazon online.
The best part is that there's literally no limit on the amount you can earn with it & the process is pretty simple which means that it's absolutely perfect for people that don't have much experience.
Some wealthy affiliates even earn as much as 5-figures per month... Or more!

I mean don't get me wrong, that kind of money won't just fall into your lap without doing any work... But the harder you're willing to work at it, the more you stand to earn with it.
So if you're looking to get started but don't know which route you should go down or which program you should join (and don't want to waste money on bogus things that don't actually work), then I'd highly recommend checking out Commission Academy first. You can learn more about it here.