Payzeno is an affiliate marketplace – and admittedly one I hadn't heard of until quite recently (despite being in the affiliate marketing game myself for several years). Anyway, the thing that particularly stands out about Payzeno is the fact that they claim to offer "proven blueprints" which according to their website will help even new beginners to start making money by promoting products from their site.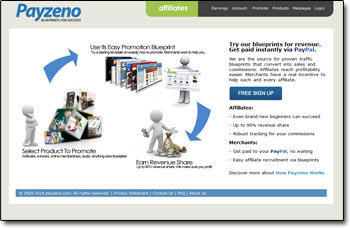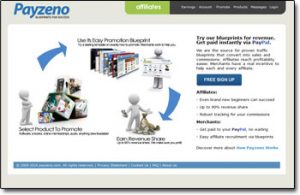 But I mean as I say the place doesn't really seem to be all that popular compared to other networks, so what's the deal here – is it actually legit & can you really make money with them or is Payzeno a scam?
I decided to take a closer look into it to find out what it's all about & in this review, I'll be uncovering everything you need to know, including how it all works & whether or not it will really be worth your while as both a merchant or an affiliate.
What Is Payzeno?   |   How Does Payzeno Work?   |   The Pros & Cons   |   Is Payzeno a Scam?   |   A Better Alternative
What Is Payzeno?
As I briefly touched on above Payzeno is what's known as an affiliate marketplace. This basically means that they enable people to sell products through their network & similarly they enable people to sign up & promote them for commissions as affiliates.
If you don't know a great deal about affiliate marketing then that's where Payzeno claims to come in, because unlike many other networks alongside the ability to merely promote the products they also claim to provide you with "proven blueprints" to help you succeed…
They claim that thanks to these blueprints even new beginners can find success through their site as affiliates.
And I'll point out here that affiliate marketing as a whole is indeed a great way to make money online – it's actually the exact same way that I personally make my own income & I highly recommend it.
The question is, are Payzeno's proven blueprints really so proven? Let's take a look…
How Does Payzeno Work?
Payzeno is totally centred around these so-called proven blueprints, and here's how the concept works…
Basically merchants who have products to sell can approach the Payzeno network & have their products listed on their network for affiliates to promote – but in order to be accepted the merchant must provide their potential affiliates with a "blueprint".
Payzeno feels that it's in the merchant's interests for affiliates to succeed, which I can agree that essentially it is – since the more sales the affiliate makes the more sales the merchant makes as a whole.
So Payzeno assumes that merchants will likely go out of their way to create these "proven blueprints" that will really help affiliates get started.
It's a good concept in theory, and I'm sure there are some merchants that really do go out of their way – however from the few that I have seen after joining the network I came to the conclusion they were not that great.
The ones I have seen certainly wouldn't have helped any beginners anyway, put it that way. It seemed like they had just thrown some generic/basic marketing tips together so that they could get their product approved onto the network.
Here's an example of a blueprint for the "Mass Mobile Money System" sold via their network: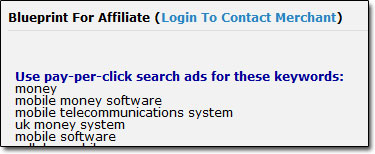 Obviously this isn't really Payzeno's fault though – since it's not them creating the blueprints, it's the merchants.
The truth is I actually quite like the concept Payzeno have tried to run with, it's just that ultimately merchants are merchants – they're not providers of training & there's so much training freely available online that the merchants are unlikely to go out of their way to create even more.
Especially not when they know that they could just take their product to another network and get pro-marketers to jump straight on it. After all who wants to list their product on a network full of beginners?
Not many people I know that.
You Might Also Like:
The Pros & Cons of Payzeno
As I mentioned at the start of this review Payzeno is an affiliate marketplace that I've only just recently come across, so compared to the others at least it's clearly not as popular… So you might be wondering, why would you choose Payzeno over the other networks?
I figured to help you make that decision I'd put a list of pros & cons together…
Starting with the PROS:
Some merchants may provide fairly helpful blueprints
Payouts are instant via PayPal
High commissions of up to 90%
Simple to use interface/dashboard
Now onto the CONS:
Most merchant's blueprints (the ones I came across at least) were garbage
Many of the products are of low-quality, some are even complete scams
The network doesn't carry as much trust as larger more well-known networks do
Is Payzeno a Scam?
As far as I'm concerned the Payzeno affiliate marketplace isn't a scam, but it's really not as great as it's made out to be. Don't get me wrong, I do like the concept & I feel the network has been built with the intention of actually helping affiliates but overall it just hasn't been executed very well & the blueprints provided by merchants aren't so great.
Also, another big problem is that if you actually take a moment to browse through the products listed within their marketplace you'll quickly see that the majority seem to be make-money scams. Firstly, these are not the types of things you want to be promoting, and secondly, this will mean many consumers will probably already have distrust in the network which could affect your sales.
Overall though Payzeno is what it is, it's a marketplace. You sign up, you choose what you want to promote & you get paid commissions on any sales you make. As far as I can see the pay affiliates & merchants in a timely manner & there doesn't seem to be any problems on that front.
So Payzeno, in my opinion, is a legitimate website, but due to the lack of high-quality products, it might not necessarily be the best network for you to join, unless of course, you are looking to promote a specific product which is only sold exclusively through Payzeno.
Anyway, hopefully, my review gave you the insight that you were looking for into this company. If you do happen to have any further questions or comments about it then don't hesitate to leave them below.
A Better Alternative
The sad truth is that unfortunately most of the programs promising to help you make money online are scams. I can say that confidently after exposing over 500+ of them here on this blog.
But the good news is that even though most of them are indeed scams, there are actually some very good programs in amongst them - some programs that can truly help you to earn money.
And out of all of the legit programs I've seen, the one I would recommend the most to anybody looking to get started online is Commission Academy. In my own opinion, that's the best place to start.
At Commission Academy, you'll be provided with everything you need (including the training & tools) to begin earning real money by promoting products or services for companies like Amazon online.
The best part is that there's literally no limit on the amount you can earn with it & the process is pretty simple which means that it's absolutely perfect for people that don't have much experience.
Some wealthy affiliates even earn as much as 5-figures per month... Or more!

I mean don't get me wrong, that kind of money won't just fall into your lap without doing any work... But the harder you're willing to work at it, the more you stand to earn with it.
So if you're looking to get started but don't know which route you should go down or which program you should join (and don't want to waste money on bogus things that don't actually work), then I'd highly recommend checking out Commission Academy first. You can learn more about it here.