The Press 1 Cash website leads you towards believing that it provides a really simple way for you to begin making money online by leveraging something that they refer to as an "automated text responder"…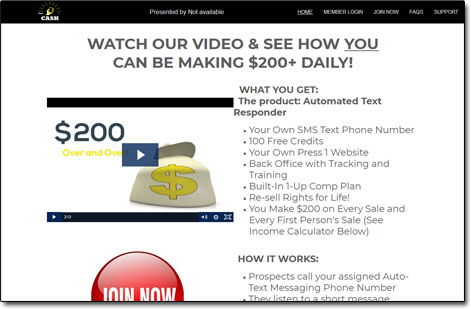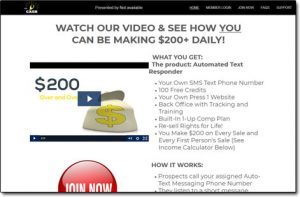 You're told that all you need to do is sign up, get your assigned number, and that you can begin making daily commissions of $200+ every time somebody calls the number & presses "1" on their phone.
But is it really legit? Can you really make money so easily with it? Or is Press 1 Cash a scam that you should just avoid?
Well I'm glad you decided to do your due diligence before joining & came to this review first because the Press 1 Cash system is NOT what it seems & in my opinion it'll actually make it harder for you to make money (as you'll soon see in this review).
What Is Press 1 Cash?   |   How Does Press 1 Cash Work?   |   The Big Problem   |   The Reality   |   Is Press 1 Cash a Scam?   |   A Better Alternative
What Is Press 1 Cash?
Essentially Press 1 Cash promotes itself as two things – it promotes itself as an opportunity for those who don't have a business to make money, and it promotes itself as an opportunity for those that DO have a business to grow it & make more money.
Visitors are led to believe that by using the Press 1 Cash "automated text responder" they'll be able to easily generate sales online & earn commissions either via their own businesses or by reselling Press 1 Cash onto others.

You see Press 1 Cash isn't free, it actually costs a whopping $297 & as you'll see further down in this review in my opinion I think the whole thing is actually kinda pointless & nowhere near worth that money…
But either way they have a referral scheme in place which means that if you recruit others into Press 1 Cash & get them to purchase the system for $297 then you get paid $200 of that at their expense.
And despite claiming to be built to "help you promote your business", in my opinion the reality is that Press 1 Cash is just a Ponzi style referral scheme in which money is passed directly from one person to another.
This means of course that realistically only those at the top would be seeing the true benefits & that they'd just be earning their money at the expense of those coming in further down…
So as an "average Joe" joining Press 1 Cash you'd likely find it VERY difficult to actually make money, and as you'll see when I explain how it works in finer detail below I actually believe that Press 1 Cash will make it MORE difficult to make money than if you weren't to use it all.
Keep reading to see why…
How Does Press 1 Cash Work?
The concept of Press 1 Cash is pretty straight forward, and I'll break it down for you now:
You pay $297 & you get assigned a unique phone number & a special link to the Press 1 Website which makes it display the assigned number
Your job is then to send people to that special link so that they're taken to the Press 1 Website & get told to call the number
When they call the number they hear an automated message which says "For information on how to make daily cash from home press 1"
If they press 1 they receive a text message with a custom URL that you can set inside of the Press 1 Cash system
So the idea is that you set your business URL as the URL inside of the Press 1 Cash system, or if you don't have a business you just set your Press 1 Cash referral link & hope that they sign up just like you.
If they sign up & pay the $297, you get $200.
However whilst the thought of getting a $200 commission might sound nice, there are a few BIG problems with Press 1 Cash.
Firstly there's the fact that whilst the Press 1 Cash website makes out like it will do everything for you & automate your sales, in reality it doesn't & it's still your job to market your referral link (which they call "your own Press 1 Website").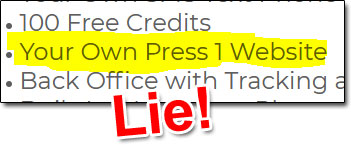 If you can't get people to your referral link then you're not going to make any money, simple.
And I can tell you that even if you do manage to get people to the Press 1 Cash website, very few of them are going to sign up. $297 is a LOT of money to pay on a whim & in my opinion the website screams "SCAM".
One of the other problems as well is the fact that all payments are made directly member to member, which means that if you sign up & decide you want a refund this would likely be VERY difficult to obtain.
And if you end up signing others up & they decide they want to complain & get a refund, it'll mean your payment/bank accounts will end up getting closed due to potential fraud alerts. It happens all the time in these member to member schemes.
The same thing happened with many people inside of Share The Number & Automated Income Systems – and this new Press 1 Cash system just basically looks like a re-hashed version of both those things.
But There's An Even Bigger Problem…
The biggest problem of all is that in my opinion the whole thing is just freaking pointless! You'll be paying $297 for a system that'll ultimately just make making money even more difficult than if you weren't to use it all.
You see the concept is that you send people to the Press 1 Cash website, get them to call a number, then get them to press 1, then it sends them a text message which tells them to visit your website.
So, you know… Why not just send them your website in the first place rather than the Press 1 Cash website? LOL.
Why on earth would you want to add in all of those extra steps?
How many people are going to visit a website, call a number, press 1, open a text, then click a link?
Not many – it's hard enough to get people to just click on a link… So as far as I'm concerned by using the Press 1 Cash system you'll just ultimately be making your life harder for yourself than it needs to be.
And rather than wasting money on a gimmicky system like Press 1 Cash to make money, why not just join a legitimate place like Commission Academy instead which is actually free to get started with?
Makes more sense right? Forget the hyped up nonsense – join Wealthy Affiliate & actually give yourself a solid chance of making money legitimately.
You Might Also Like:
Press 1 Cash – The Reality
In my opinion the reality here with Press 1 Cash is that the whole thing is just a cover up for a member to member cash gifting scheme. Members sign up, pay money, then are encouraged to get others to do the same.
There is no real "product" here.
And sure, the creators of Press 1 Cash claim you can use it to market "any" business, but it's quite clear that they want you to simply push Press 1 Cash onto others which ultimately would make it a Ponzi scheme.
In case you don't know not only are Ponzi schemes illegal, but they're also extremely difficult to make any money from unless you're at the top. Most people who join them just end up losing money instead.
I mean just take a look at this BS from their FAQ page: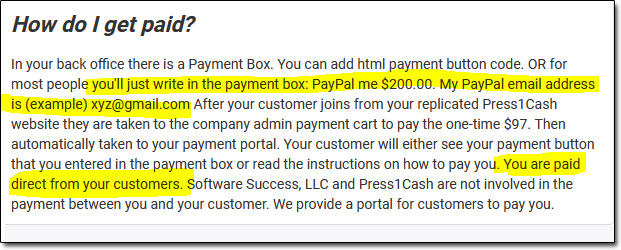 They want you to just write "PayPal me $200" & leave your PayPal address on the checkout page LOL.
That's a joke… And if it were legit, then why could the company behind Press 1 Cash (Software Success, LLC) not just take the payment directly & then pay you the commissions you are owed, like other legit companies?
Why do they take their money separately? That's a HUGE red-flag, which brings me onto…
Is Press 1 Cash a Scam?
I'm confident the founders & the MLM'ers promoting it will argue until they're blue in the face that it's legit, but in my opinion it's quite clear to see that the whole thing is just a dressed up cash-gifting scheme that's primarily geared towards making the creators wealthy, not you.
The truth is that they're isn't really anything special inside of the Press 1 Cash system & if you sign up you're still going to have to market your Press 1 Cash link in order to actually generate any sales. No marketing is "done-for-you" like they make out it is.
In fact as I mentioned further up in this review I believe that the Press 1 Cash system will actually make making money harder for you than if you were to just try & make money without it because it adds so many extra unnecessary steps.
Your prospects have to visit the Press 1 Cash site, call a number, listen to a message, press 1, open a text, then click a link… So you know, rather than getting them to do all that why not just send them your link in the first place rather than the Press 1 Cash site?
It doesn't make sense to use Press 1 Cash & for that reason (alongside the fact that I think you'll just lose money instead of make it by signing up) I am not going to be recommending that you join.
In fact if you're still serious about making money online then I'd recommend you just pick an alternative legitimate method from my top picks page here.
Or you could always check out my all-time top recommendation which is affiliate marketing. That's the same way I personally make most of my own money online & you can learn how to get started with it for free over at Wealthy Affiliate.
Whatever you decide to do though I just sincerely hope that my review of Press 1 Cash here has given you a good insight into how the system works & hopefully it's helped you to save paying that hefty $297 fee. If you do happen to have any further questions or comments though then don't hesitate to leave them below. 🙂
A Better Alternative
The sad truth is that unfortunately most of the programs promising to help you make money online are scams. I can say that confidently after exposing over 500+ of them here on this blog.
But the good news is that even though most of them are indeed scams, there are actually some very good programs in amongst them - some programs that can truly help you to earn money.
And out of all of the legit programs I've seen, the one I would recommend the most to anybody looking to get started online is Commission Academy. In my own opinion, that's the best place to start.
At Commission Academy, you'll be provided with everything you need (including the training & tools) to begin earning real money by promoting products or services for companies like Amazon online.
The best part is that there's literally no limit on the amount you can earn with it & the process is pretty simple which means that it's absolutely perfect for people that don't have much experience.
Some wealthy affiliates even earn as much as 5-figures per month... Or more!


I mean don't get me wrong, that kind of money won't just fall into your lap without doing any work... But the harder you're willing to work at it, the more you stand to earn with it.
So if you're looking to get started but don't know which route you should go down or which program you should join (and don't want to waste money on bogus things that don't actually work), then I'd highly recommend checking out Commission Academy first. You can learn more about it here.