Automated Income Systems (which has been created by a guy named John Valley) claims to be a "stupidly simple done-for-you system" that can apparently see you generating profits of up to $1,300 per day with relative ease.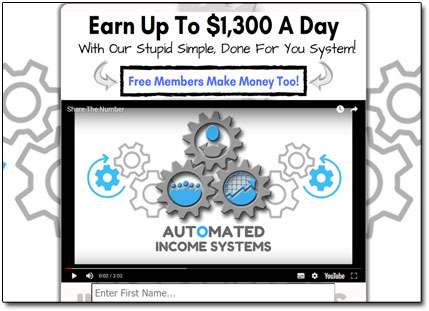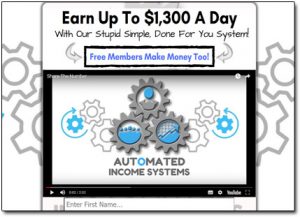 But what's the deal? Is it actually legit or is Automated Income Systems a scam?
Well, you've landed in the right place to find out because in this review I'm going to be uncovering everything there is you need to know & whether or not you can really make money with it.
So if you've been thinking about signing up with this program then be sure to read this review to the very end before you part your cash because *spoiler alert*, this program is actually part of a scheme I recently exposed on this blog named Share The Number & you'll definitely want to stick around to see why I didn't recommend it.
What Is Automated Income Systems?   |   Is Automated Income Systems MLM?   |   Is Automated Income Systems a Scam?   |   A Better Alternative
What Is Automated Income Systems?
At a glance Automated Income Systems seems like something through which you can make money very easily. You're led to believe that all you need to do is share a number & that once you do you can begin making thousands of dollars pretty much on auto-pilot.
Sadly the reality isn't quite so great.
Automated Income Systems is a program that has been put together by a guy named John Valley & as per my initial suspicion it is tied to John's other program which he recently released named Share The Number.
Automated Income Systems is basically the "product" sold by Share The Number… If you can really call it a product. Essentially this is a scheme where people make money by bringing other people in on the promise of making money.
The "product" that is being sold through AIS is biz-opp leads. If you don't know what these are, they are basically details of people who are apparently interested in learning how to make money.
So the idea is that you buy into the Automated Income Systems program, you get your leads, you share your number with them & you make money when they call the number, listen to the automated voice message & sign up via the website just like you did.
BUT there are a few problems…
The first one is the quality of the leads that are sold through this program & the concern of where they came from. Let me first show you a pricing structure of the lead packages that are sold via AIS (and know that you MUST purchase at least one of these packages if you wish to get started with the opportunity):
Starter – $97 – 10,000 biz-opp leads
Silver – $297 – 50,000 biz-opp leads
Gold – $597 – 100,00 biz-opp leads
Platinum – $997 – 250,000 biz-opp leads
Diamond – $1,497 – 500,000 biz-opp leads
OK, so as you can see the minimum amount of leads you can buy is 10,000 leads. This is a substantial amount of leads yet they are being sold for a mere $97. What does this say? It says to me that the leads are VERY poor quality – it's likely that the "leads" are not even leads at all.
A "lead" means they opted in to get more information about something – so basically these people have supposedly opted-in to find out more about starting their own business. Due to the sheer amount being supplied for the price I suspect that these are just randomly generated contact details.
If that's the case then this is BAD news. Contacting people without their permission is against the law according to the CAN-SPAM act & it could land you in a lot of trouble. I would never, ever recommend you purchase leads until you have solid proof as to how they are being generated. It's very risky.
Anyway, problem number 2…
OK so the leads are clearly questionable, but on top of that, there is another problem. This system claims to be stupidly simple, all you have to do is share a number and you can begin making money.

Basically, the concept is that when you share the number somebody will call it & they'll be presented with an automated voice message that tells them to visit the Automated Income Systems website where they'll be presented with the sales video. If they enter the code given to them on the call which is unique to you then you will earn the credit for their referral, so if they purchase a product then you'll get paid.
This SOUNDS simple but honestly do you know how hard it would be to get somebody to convert in this manner? Very few people would even ring the number, fewer would listen to the voice message, and even fewer would ever visit the website…
So how many would actually purchase something? Heck even if those 10,000 leads were red-hot legitimate leads I think you'd have a hard time getting so much as 1 person to buy something through this sales funnel LOL.
That's just my personal opinion anyway & I've been doing this marketing thing a long time. There are many better techniques to make money by marketing things online, much easier ones too, you can learn them for free through Commission Academy.
You Might Also Like:
Is Automated Income Systems MLM?
One of the weird things about this opportunity is that John really goes to some extent to stress that the company is not an MLM (multi-level-marketing) company. If this were true it would mean you would only be able to earn money from people you directly referred.
However, after just going a few steps into the program it becomes very clear that this is indeed an MLM or network marketing company which basically means the company operates on multiple levels like a pyramid structure. The difference between a pyramid scheme & a legitimate MLM is the products – a pyramid scheme either has no products or has products in place purely to cover up the scheme. If more people are signing up purely to promote the program than the number of people signing up to actually just purchase the product then it's likely a pyramid scheme.
What's the case here? Well without seeing the actual "behind the scenes" financial info I couldn't comment specifically on that, but just know that even with the most legitimate MLM's there is a very fine line between them & a pyramid scheme… That's why I personally avoid them.
It just seems strange that they hide the fact they are an MLM. But they definitely are because that's how they encourage you to upgrade to the highest package. They basically say that you are only able to earn commissions on the level you are personally at.
So for example, if you are a $97 Starter member you can only earn commissions on the Starter level through this program. If somebody buys in at the Diamond level for $1,497 you won't earn anything for it, instead it will be passed up to the next person who is Diamond qualified above you (in traditional multi-level marketing fashion).
This means that ultimately unless you initially invest for $1,497 you won't be able to get the full benefits of this program, but of course, investing that amount of money introduces a lot of risks. It's what's known as a pay-to-play program & personally, I don't believe you should have to pay money to make money when there are so many free alternatives.
Is Automated Income Systems a Scam?
Well, I guess it's not a scam since albeit very small there is the potential to actually make money through this program, but in my opinion, it's a little dodgy & I'd say it's more of a scheme than a scam.
Ultimately it just screams unsolicited marketing to me & as I mentioned earlier in this Automated Income Systems review that kind of thing could land you in a lot of trouble if it happens to be the case.
There are no details as to where the leads came from, you don't even know if the "leads" are really leads at all, yet you are told to basically "spam" them with a random number & encourage them to listen to an automated voice message… The whole thing just sounds a little crazy.
It's basically been designed to sound super easy but after investing your money you'll find out that's not really the case. In my opinion, there are many better ways to make money which I feel overall are also much simpler. Therefore I won't be recommending Automated Income Systems to you because I feel that if you do join you will only find yourself disappointed.
A Better Alternative
The sad truth is that unfortunately most of the programs promising to help you make money online are scams. I can say that confidently after exposing over 500+ of them here on this blog.
But the good news is that even though most of them are indeed scams, there are actually some very good programs in amongst them - some programs that can truly help you to earn money.
And out of all of the legit programs I've seen, the one I would recommend the most to anybody looking to get started online is Commission Academy. In my own opinion, that's the best place to start.
At Commission Academy, you'll be provided with everything you need (including the training & tools) to begin earning real money by promoting products or services for companies like Amazon online.
The best part is that there's literally no limit on the amount you can earn with it & the process is pretty simple which means that it's absolutely perfect for people that don't have much experience.
Some wealthy affiliates even earn as much as 5-figures per month... Or more!


I mean don't get me wrong, that kind of money won't just fall into your lap without doing any work... But the harder you're willing to work at it, the more you stand to earn with it.
So if you're looking to get started but don't know which route you should go down or which program you should join (and don't want to waste money on bogus things that don't actually work), then I'd highly recommend checking out Commission Academy first. You can learn more about it here.