The newly launched Push Money App has allegedly been created by a guy named Dennis Moreland & you're led to believe that it can provide you with a way to generate an income on demand.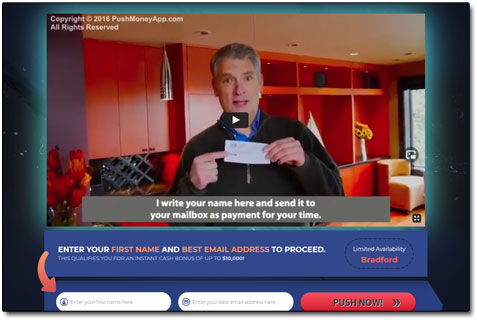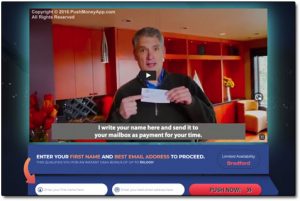 All you need to do, according to Dennis, is simply sign up & make a deposit with the broker that he recommends. Then, after doing that, you can then activate the system & begin generating automated profits…
Or so you're led to believe.
But is it really legit? Or is the Push Money App a scam?
Well, I actually first came across the Push Money App way back in 2016 & I can immediately tell you that it is indeed a scam.
You will NOT really generate money with Push Money App & in this review, I am going to explain why. I'll also explain what you can do instead to legitimately generate an income online.
So without further ado, let's dive right in…
What Is Push Money App?   |   Who Is Dennis Moreland?   |   How Does Push Money App Work?   |   The Red Flags   |   Is Push Money App a Scam?   |   A Better Alternative
What Is Push Money App?
The Push Money App is an app that, as the name suggests, can supposedly enable you to simply just "push a button" & begin making money.
You're led to believe by the website promoting it that the app has been created by a man named Dennis Moreland & Dennis claims that he wants to give you completely free access to try it out.
In fact, Dennis claims that he so desperately wants to prove that it's real that he is willing to send you an immediate $1,000 cheque just for joining.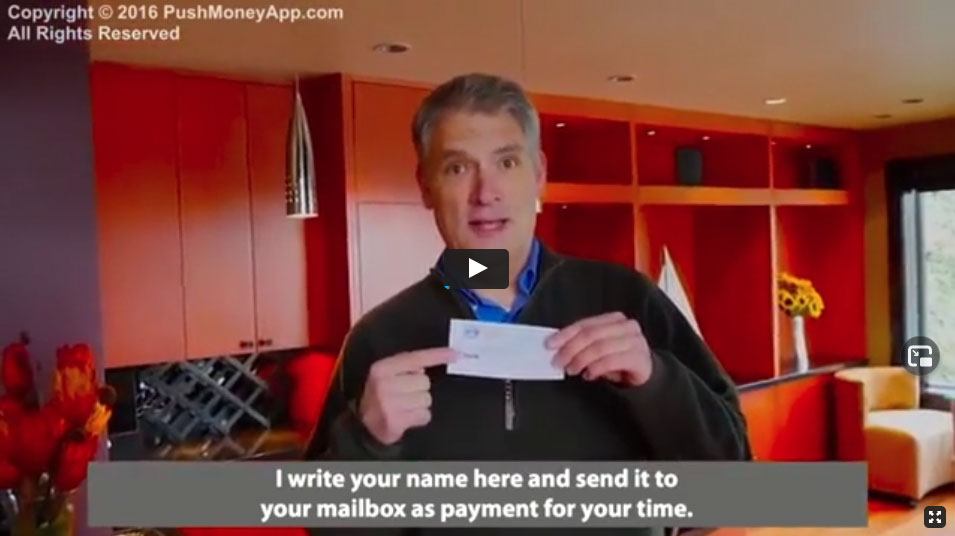 And no doubt you'll be thinking that sounds like a pretty attractive deal.
After all, who doesn't want to make more money? Especially if it is as easy as Dennis makes it out to be.
But you're probably also thinking, there must be a catch…
And you'd be right. There is a catch.
The catch is that, in reality, the Push Money App is nothing more than a scam. It's all just a trick to get you to make a deposit with an unlicensed binary options broker.
If you make a deposit, the person behind the Push Money App scam gets paid a commission.
And the reason I know that it works like that is that I actually came across this exact same scam way back in 2016. The people behind it have just relaunched it once again to try & lure more people in.
Thankfully, however, you're smart & came here to this Push Money App review first before you joined meaning that you're going to learn exactly how it all really works (and what you can do to legitimately make money instead).
But first, before I explain how it really works & what you can actually do instead let's take a closer look into the man who's supposedly behind it…
Who Is Dennis Moreland?
Dennis Moreland is the guy that you're led to believe is behind the Push Money App. He's also the guy that features in the promotional video on the Push Money App homepage as shown below: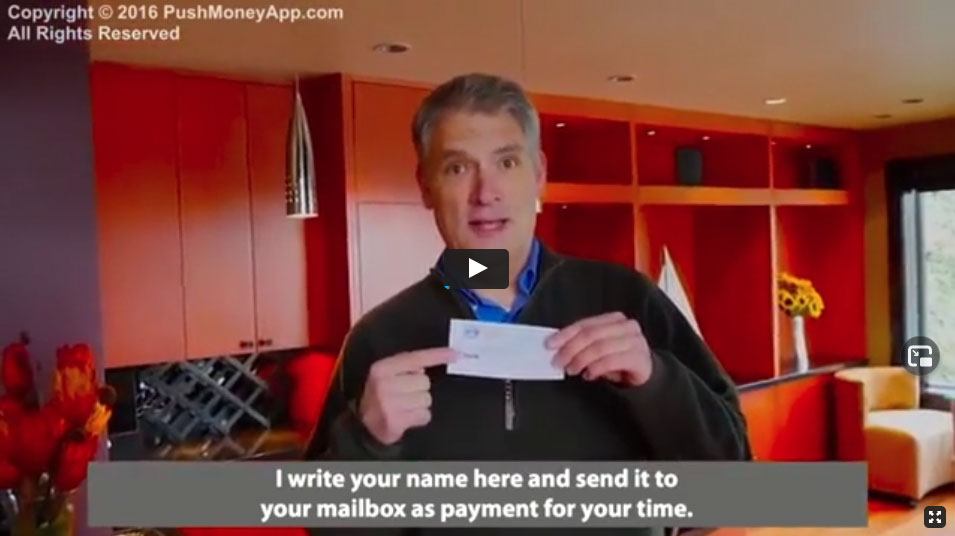 The problem, however, is that Dennis Moreland isn't real.
The name is fictitious (meaning that it's made up) and the guy that you're shown in the video is just an actor. The guy's real name is David Williams and below, you can see his acting profile: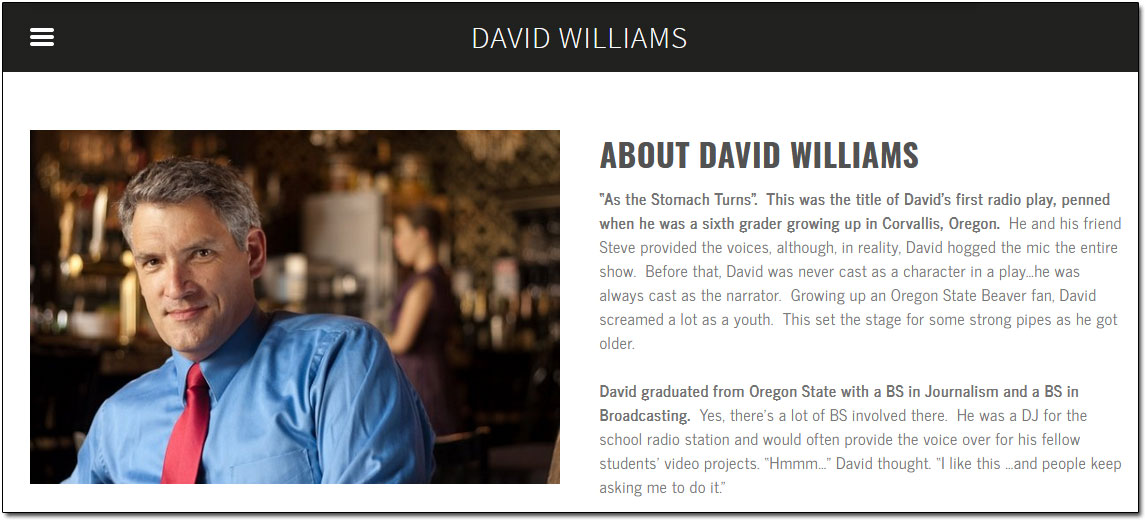 And as you've probably guessed, the reason the creators of the Push Money App have chosen to use an actor & fake name in their video is so that they can hide their true identities.
The reason they want to do that, of course, is because they know that it's all just a big fat scam.
You'll also be able to see that clearly for yourself as I explain exactly how it all really works in the next section below.
How Does Push Money App Work?
You're essentially led to believe that the Push Money App is a completely free app that will provide you with a guaranteed way to begin making lots of money really & quickly online.
The app has supposedly been built around a proven algorithm for making profitable trades so that you can simply "push a button" to activate it & have it begin generating profitable trades entirely on your behalf.
From there, you are told you can just sit back & watch the profits come rolling in.
But what you might have noticed is that in order to get started with the Push Money App you are required to firstly make a deposit of at least $250 with a "recommended" binary options broker.
And that is exactly where the scam lies.
You see, the Push Money App is basically just a trick to make you believe that you will be able to start profiting without any risk & it's a trick that's been created by the brokers themselves.
They know that if they can make you believe you will profit, you will be much more likely to deposit.
But here's the deal… The broker that you're recommended to deposit with is what's known as a binary options broker & let me tell you that these types of brokers are very bad news.
In fact, binary trading, in general, is VERY bad news.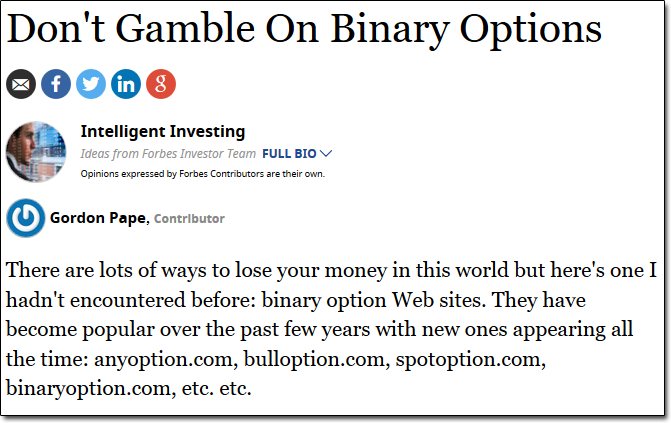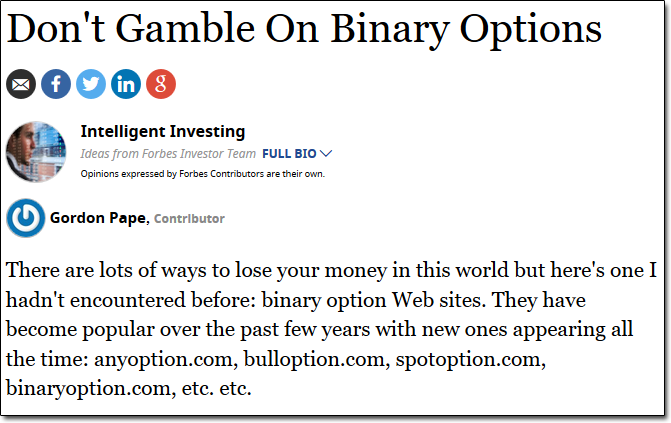 The reason for that is because with binary trading you don't actually make any investments. Instead, you just place bets on whether you think the value of something will rise or fall over a certain period of time (usually under 60 seconds).
And the odds are 100% set against you.
That's why most people aren't interested in binary trading whatsoever & that's why the brokers go to the extreme lengths of creating these fake systems to trick people into depositing.
So, in short, after depositing your money to get started you'll just be left to find out the hard way that it doesn't really work as promised & that instead of making money, you will have actually just lost $250.
Not good!
You Might Also Like:
The Red Flags
Well, as I mentioned further up in this review, the creator of the app (Dennis Moreland) doesn't even exist. The guy shown in the video is just an actor & the true owners have used him to hide their real identities
That in itself is a HUGE red flag, I think you'll agree.
But then on top of that, there's also the fact that the entire thing simply sounds WAY too good to be true.
I mean, if the Push Money App really worked as promised then why on earth would people still be working at jobs? Why wouldn't everybody know about this money-making system?
The answer, of course, is because it simply doesn't work as promised.
Yes, it's possible to make money online but you cannot make money fast & easily. In order to make money, you must be prepared to put in some work to make it happen… There are no "magical" money-making systems.
The good news, however, is that if you are prepared to put in the work then are legitimate ways that you can begin making money.
You can check out the top-rated ones on my top picks page here.
Is Push Money App a Scam?
Yes, Push Money App is a scam. The entire thing is just a ploy to trick you into making a deposit with an unlicensed binary options broker who will then just attempt to take even more of your cash.
The reason I can say that so confidently is because not only have I already exposed many similar "apps" here on this website but I have actually come across this exact same app in the past.
Push Money App was actually first launched in 2016 but disappeared for some years & now it has just made a recent re-appearance in an attempt to lure in more unsuspecting victims.
Don't fall for it.
If you really want to generate an income online then I would recommend that you look into affiliate marketing instead. As far as I'm concerned, that's the safest & easiest way to generate revenue online.
It's also the same way that I personally generate most of my own revenue online too… And I've put together my very own free course that shows you step-by-step how you can get started.
The course is called Commission Academy.
But either way, whatever you decide to do I just hope that you found my review here insightful & I hope that it has helped you to save some of your hard-earned cash.
Feel free to leave any comments or questions below.
A Better Alternative
The sad truth is that unfortunately most of the programs promising to help you make money online are scams. I can say that confidently after exposing over 500+ of them here on this blog.
But the good news is that even though most of them are indeed scams, there are actually some very good programs in amongst them - some programs that can truly help you to earn money.
And out of all of the legit programs I've seen, the one I would recommend the most to anybody looking to get started online is Commission Academy. In my own opinion, that's the best place to start.
At Commission Academy, you'll be provided with everything you need (including the training & tools) to begin earning real money by promoting products or services for companies like Amazon online.
The best part is that there's literally no limit on the amount you can earn with it & the process is pretty simple which means that it's absolutely perfect for people that don't have much experience.
Some wealthy affiliates even earn as much as 5-figures per month... Or more!

I mean don't get me wrong, that kind of money won't just fall into your lap without doing any work... But the harder you're willing to work at it, the more you stand to earn with it.
So if you're looking to get started but don't know which route you should go down or which program you should join (and don't want to waste money on bogus things that don't actually work), then I'd highly recommend checking out Commission Academy first. You can learn more about it here.