I frequently come across different programs, systems and websites offering seemingly great online income-generating opportunities and each week I get people reaching out to me asking for the truth about them. SenseDrill is yet another addition to the list of the websites promising an easy way to make hundreds of dollar per week.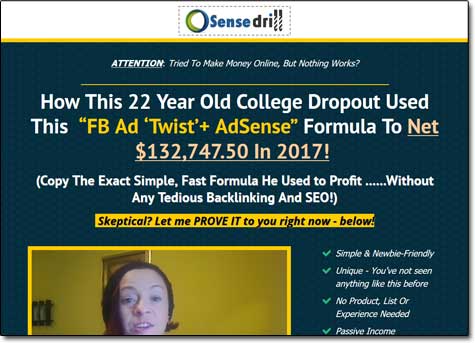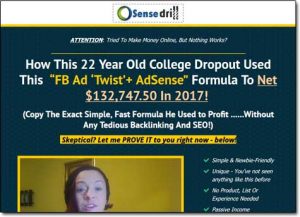 As it happens quite often, I came to know about this website through an affiliate link. The style of the website is identical to most of the get-rich-quick style income-generating programs & I've put together this honest SenseDrill review to help you discover the legitimacy of this opportunity.
By the end of this review, I'll conclude whether SenseDrill is a scam or a legitimate program. In this review, I'll walk you through all the important aspects of the website including its how it works & what it offers.
What Is SenseDrill?   |   How Does SenseDrill Work?   |   Is SenseDrill a Scam?   |   A Better Alternative
What Is SenseDrill?
Upon visiting SenseDrill website, you'll be welcomed by a huge claim stating that this system helped a college dropout to make over $132,000 in 2017. The advertisement talks about a simple formula which allegedly doesn't require working on complex SEO and backlinking strategies.

Like most of the online income generating programs I see, this system is also backed by hyped-up claims which try to convince you that SenseDrill is capable of bringing a dramatic and pleasant change to your life.
According to the advertised claims, the system is basically based on AdSense and the secret formula – on which the system is based – helps you make lots of money in a surprisingly short time.
You know… Just like a get-rich-quick scam.
And again like most of the other online money making systems, the SenseDrill website also features a demonstration video. The administrators call it a newbie-friendly program which doesn't require prior experience.
It's not only a system that works well to generate income but it also allegedly teaches the subscribers to earn over $9,000 a month, says the website creator. It is further stated on the website that the program also provides a complete training program which is more like a step by step tutorial to guide the users on how to get started.
What's The Training About?
The training is primarily focused on generating traffic from FB Ads at a cheaper price. It teaches you the art of setting up WordPress websites and it'll supposedly lead to you generating promising profits through AdSense.
$9000 a month is a hyped-up claim so take it as a marketing strategy to grab the visitor's attention. This was what the website content said about SenseDrill, and now it is the time to move on and see what the truth is.
How Does SenseDrill Work?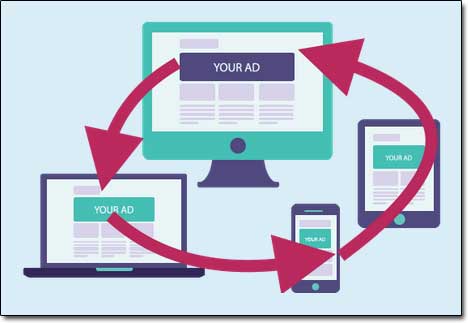 To make SenseDrill work, you need to have a website or set up a new one if you don't already have one. Then the next step is to populate your website with catchy articles… So you'll either need to be a competent content writer or you may outsource one or two.
Google AdSense, as you likely know, is a promising advertisement service which seeks accommodation on different websites to place ads. Once your website qualifies to display ads from AdSense, you generate income that is paid by Google. The income level depends on the number of clicks & impressions that the ads posted on your website receive.
The game is simple, you need a website good enough to post ads and the rest depends on the number of visitors your website manages to attract. Your income depends on the traffic to your website because you don't get anything if the ads don't receive any clicks. So, it comes down to bringing in traffic to your website.
I've seen people seeking help from expert marketers to generate traffic. There are multiple paid methods which really do well in a short period of time. The problem is, in the beginning, you don't find yourself in a good position to set your budget. Yes, paid methods do bring in traffic in quick successions but these methods may cost you more than you earn. You can't force the visitors to click on the ads. Suppose your website is receiving 10k visitors per week, the number of clicks on the ads may still be negligible. On the other hand, you don't have any other option because traffic holds the key to success.
The SenseDrill guide is more focused on using the Facebook Ads platform to generate traffic to a website. As per the claims, FB ads cost you somewhere around $0.0018 for each click.
On the other hand, a click on the AdSense ad on your website will earn you much more. Again, the calculations will be based on assumptions. You can't guarantee that each visitor that comes from FB will click on the AdSense ad placed on your website.
And $0.0018 is ridiculously cheap for Facebook clicks so I assume in reality the cost of advertising will either be higher or the traffic you get from Facebook will be extremely poor. Google Adsense doesn't pay much money for clicks that come from certain countries & if the price of Facebook advertising is really as low as SenseDrill claims then the people are probably coming from the countries Adsense doesn't favour.
Does SenseDrill Really Work?
Well, the cost of $16.41 to get access to the program is not a big deal but in my view, the whole thing doesn't really feature anything more than ordinary guides available free on the internet. The displayed discount from $47 down to $16.41 is also just an advertising trick to encourage you to buy the program at the drop of a hat. I really don't anticipate anything beyond ordinary will be provided to you via the SenseDrill platform.
Is SenseDrill a Scam?
Well, I wouldn't go as far as to call SenseDrill a scam. You're promised that you'll get training on how to set up a website, how to profit from Adsense & how to use Facebook ads & that is what you get (kinda)…
However, what I will say is that in my opinion the whole thing is extremely over-hyped and I really don't believe it will work out as promised. If you could really make money so easily by just getting visitors from Facebook & clicks on Adsense then everybody would be doing it… The truth is that it's a very difficult game doing that & it could actually result in you spending more than you ever make back.
So ultimately I won't be recommending the SenseDrill program because I feel that if you buy into it you'll just end up disappointed. Instead, if you really want to make good money online I suggest you just go through a legitimate & proven platform like Commission Academy which is actually free to join. It's there that you'll properly learn how to make money (without the hyped-up claims).
But hopefully my review here has given you a better insight into how the whole thing works & hopefully you can see why I've come to the conclusion that I have. If you still have any further questions though on anything you feel I haven't covered then don't hesitate to leave them below & I'll do my best to get back to you as quickly as I can.
A Better Alternative
The sad truth is that unfortunately most of the programs promising to help you make money online are scams. I can say that confidently after exposing over 500+ of them here on this blog.
But the good news is that even though most of them are indeed scams, there are actually some very good programs in amongst them - some programs that can truly help you to earn money.
And out of all of the legit programs I've seen, the one I would recommend the most to anybody looking to get started online is Commission Academy. In my own opinion, that's the best place to start.
At Commission Academy, you'll be provided with everything you need (including the training & tools) to begin earning real money by promoting products or services for companies like Amazon online.
The best part is that there's literally no limit on the amount you can earn with it & the process is pretty simple which means that it's absolutely perfect for people that don't have much experience.
Some wealthy affiliates even earn as much as 5-figures per month... Or more!

I mean don't get me wrong, that kind of money won't just fall into your lap without doing any work... But the harder you're willing to work at it, the more you stand to earn with it.
So if you're looking to get started but don't know which route you should go down or which program you should join (and don't want to waste money on bogus things that don't actually work), then I'd highly recommend checking out Commission Academy first. You can learn more about it here.