Simple Income Method is the name of a new system which has been launched by an online marketer going only by the name of "Tim"…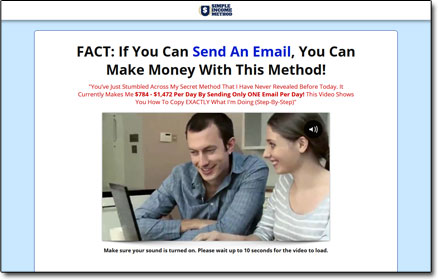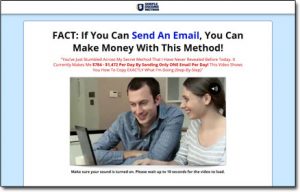 The system promises to provide you with access to a simple way for making $784 to $1,472 per day online & Tim the system's founder claims that so long as you know how to send emails, you'll be able to make money.
But I'm sure you'll agree $784 to $1,472 per day is an awful lot to be earning just for sending emails, so what's the truth about all of this?
Is it actually legit? Or is the Simple Income Method a scam to avoid?
Well, I'll start out by saying it's not a scam as such, however, I am glad that you came to this review before joining because as you'll soon see it's also not quite what it's made out to be (and you'll be unlikely to make any money).
What Is Simple Income Method?   |   How Does Simple Income Method Work?   |   The Problems   |   The Costs   |   Is Simple Income Method a Scam?   |   A Better Alternative
What Exactly Is Simple Income Method?
As I briefly touched on above, Simple Income Method is a brand new system that's been brought out by a guy named Tim who refers to himself as being an "affiliate millionaire" & he promises that through the system he'll be sharing his secrets so that you can earn big money just like he does.
He literally says that by using his Simple Income Method system you'll be able to earn $784 to $1,472 per day just by sending ONE email – and I've included a screenshot of the proof of that below: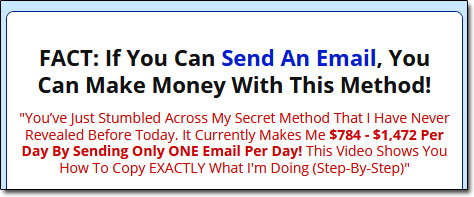 That's literally what the sales page for his new system states, but obviously, I think you'll agree with me when I say that's a pretty darn bold claim.
$1,472 per day just by sending ONE email? Could it really be possible?
And if it is possible then why on earth is Tim selling access to this method for just $37?
Well as you can probably guess, the reason is because the method doesn't really work quite like you're told (otherwise Tim would simply just be using it himself to earn money rather than trying to sell his system to people).
But it's not all bad – there is *some* substance to it & it is potentially possible for you to actually make a little bit of money with it… However as you'll soon see there isn't really any need to hand over money for it.
And I also believe that there are better alternatives for making money in general.
But nevertheless, I'll continue to explain how it all works in finer detail below so that you can get a better idea of exactly what's going on and better understand how you're supposed to make money with it…
How Does The Simple Income Method Work?
Honestly, you may as well disregard all of the information on the promotional page of the Simple Income Method system because frankly, it's all complete utter hyped-up nonsense just to get you to hand over your cash.
You're led to believe that it'll all be super easy & that you'll be able to make a whole load of cash in a relatively short space of time but none of that's true – it's not going to happen like that.
For example, the Simple Income Method sales page states the following:

However, in short, this is how the "Simple Income Method" works:
You'll build a capture page (a website)
You'll send traffic to the capture page (paid advertising)
You'll collect email addresses (building an email list)
You'll promote affiliate products to your email list (by sending them emails)
So basically it's nothing new whatsoever – and there are no "secrets" inside of the program either.
And you're not just going to make money by sending ONE email like Tim claims… As you can see from the steps above there's a lot more you need to do than just send a mere single email.
Now don't get me wrong I'm not totally bashing it because it is indeed of course actually possible to make money with this method, however, I just personally don't believe Simple Income Method is the right system to get started with.
Plus I think it's WAY too hyped-up… It's quite clear that the creator of it (Tim) is more bothered about earning money for himself by getting you to sign up than he is about actually providing genuine training & information.
You'd be better off just checking out my own free guide for making money online.
Here Are The Other Problems I Have With It…
My first concern is that if you pay $37 to access to the Simple Income Method system all you actually get access to is the "method"… You don't get access to any of the tools you actually need to get started.

So you'll get the know-how, but you'll have to pay out even more money if you actually want to put it into action & try to make money with it. This could literally set you back hundreds of dollars.
Other programs like Commission Academy come with the required tools included (so in my opinion that's a much better place for beginners since there are no additional costs to be surprised by).
Then on top of that, you might have noticed that I mentioned above that the Simple Income Method focuses on paid traffic as a means of showing you how to get visitors to your capture page… And I don't believe this is a good idea for newbies at all.
You see yes, paid traffic can most definitely be effective – but it's also VERY risky and expensive. It involves a lot of trial & error (even for expert marketers) and all of that trial & error costs money.
I, therefore, believe it's better to start out with free methods of getting traffic because if you go down the route of paid traffic as a newcomer you're just likely going to spend more than you ever actually make.
And the good news is that Commission Academy focuses on free methods too.
So basically whilst the Simple Income Method may "work" in theory, I believe there are simply better programs out there that will give you a much greater chance of seeing success (for less money)… Like Commission Academy.
You Might Also Like:
The System Will Likely Also Cost a Lot More Than $37…
You're repeatedly told by Tim that you'll be able to get access to everything he has to offer for just a mere $37 but I happened to notice a so-called "bonus" on the sales page which made me highly doubt that.
You see Tim states that as a bonus you'll get direct access to "Tech Tutors" as shown below:

These "Tech Tutors" are made to sound like mentors or personal coaches but there's absolutely no way that those could be funded by a one-time fee of $37… It's physically not possible.
On-going personal support typically either requires a HUGE one-off fee or a repeated on-going subscription in order to pay for the staffs hours.
So I believe that like I've seen with many other programs, these "Tech Tutors" are probably just going to more likely be salespeople that are really there to simply try to encourage you to spend more cash.
They give themselves fancy names like "Tech Tutors" so that you'll be more inclined to call them up but once you do you'll probably find out that it's just a sales call designed to get you to buy into higher tiers of the program.
And there's simply no need for any of that because like I mentioned in the previous section of this review there are already other places where you can get started without all of the hype & BS, like Wealthy Affiliate.
Which brings me onto…
My Verdict – Is Simple Income Method a Scam?
Well, it's not a scam as such, I think that would be an overly harsh verdict to arrive at… However, it is quite clearly WAY over-hyped & I just personally don't believe there's any reason to spend money on this system.
All you're told to do is build a capture page, send traffic to it & promote affiliate products… There's nothing new or revolutionary & you don't even get access to any of the tools you need either.
In my opinion, the Simple Income Method system has just been launched with the primary intention of making its creator Tim wealthy at your expense. He doesn't really seem to be too bothered about your success.
So with that in mind, it's safe to say that I won't be recommending it to you & instead, if you truly want to stand the best chance of seeing success promoting products as an affiliate then I would urge you to check out a legitimate program like Wealthy Affiliate instead.
Or alternatively, there are also these other great ways to earn aside from affiliate marketing too.
But whatever you decide to do I just sincerely hope that my honest review of Simple Income Method here has given you a good insight into what you can expect from it & I hope that it's helped you to save some money.
If you still happen to have any further questions or comments then, of course, don't hesitate to leave them below. 🙂
A Better Alternative
The sad truth is that unfortunately most of the programs promising to help you make money online are scams. I can say that confidently after exposing over 500+ of them here on this blog.
But the good news is that even though most of them are indeed scams, there are actually some very good programs in amongst them - some programs that can truly help you to earn money.
And out of all of the legit programs I've seen, the one I would recommend the most to anybody looking to get started online is Commission Academy. In my own opinion, that's the best place to start.
At Commission Academy, you'll be provided with everything you need (including the training & tools) to begin earning real money by promoting products or services for companies like Amazon online.
The best part is that there's literally no limit on the amount you can earn with it & the process is pretty simple which means that it's absolutely perfect for people that don't have much experience.
Some wealthy affiliates even earn as much as 5-figures per month... Or more!

I mean don't get me wrong, that kind of money won't just fall into your lap without doing any work... But the harder you're willing to work at it, the more you stand to earn with it.
So if you're looking to get started but don't know which route you should go down or which program you should join (and don't want to waste money on bogus things that don't actually work), then I'd highly recommend checking out Commission Academy first. You can learn more about it here.