My Super Affiliate Mentor is a newly launched program that claims it can help you make thousands of dollars online from the comfort of your own home even if you have little to no experience in online marketing.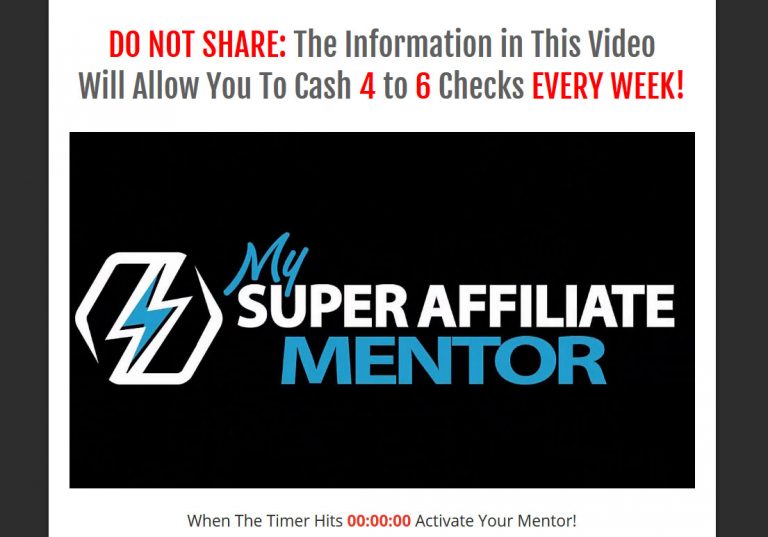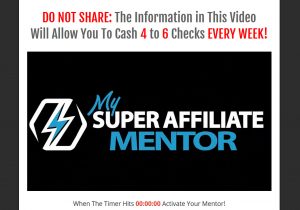 The creator of the program also claims that a 76-year-old who'd never made a penny online before was able to earn $10,238.44 in her first 2 months – which probably leaves you wondering is it actually legit?
Or is My Super Affiliate Mentor a scam?
Well, you've landed in the right place to find out as I've done the digging & in this review, I'll be uncovering the truth.
What Is My Super Affiliate Mentor?   |   How Does It Work?   |   The Costs   |   Is My Super Affiliate Mentor a Scam?   |   A Better Alternative
What Is My Super Affiliate Mentor?
My Super Affiliate Mentor is a training program that teaches you how to make money through something called affiliate marketing, which is basically where you promote products online & get paid for each of the sales that are generated as a result on people clicking on your promotions.
But as well as being just a training program My Super Affiliate Mentor also claims to provide you with access to a "done-for-you" profitable business model so that you can get started super-fast (their words not mine).
Hence the name you're also said to be able to get 1-on-1 coaching through the program too, so essentially you're led to believe that there will be someone there to guide you right through the entire process.
It's also linked with a program named The Super Affiliate Network – despite having 2 different names they are essentially exactly the same thing (just to clear that up in case you happen to come across that system too).
How Does It Work?
The reality is that My Super Affiliate Mentor is a high-ticket program similar to MOBE & Digital Altitude through which yes, you can learn about affiliate marketing, but you will be heavily pushed into promoting the My Super Affiliate Mentor program itself onto other people.
So basically it's a "learn how to make money, then make money by selling this make money training onto other people" type program…
And don't get me wrong I mean technically there is nothing wrong with doing that but lot's of people associate those kinds of things with pyramid schemes & don't want to get involved so I just want to make you aware of how the program really works.
I am not personally saying it's a pyramid scheme but to be honest, I'm not really too fond of programs that push a heavy push on promoting the same program to other people – I prefer programs like Commission Academy that actually teach you how you can create your own stand-alone business & make money from whatever it is you're interested in.
The other problem with My Super Affiliate Mentor is that it's what you call a pay-to-play program which basically means you can only earn commissions up to the level you are personally at inside the program – so if you want to make the big money that's shown in the promo video then you will need to personally upgrade to the highest level yourself.
This means that the program will require quite a lot of investment before you're even able to properly get the ball rolling. Again MOBE & Digital Altitude work in a similar way & that's why I decided not to recommend them because I believe it's just too risky especially if you're only just starting out online.
How Much Does My Super Affiliate Mentor Cost?
The base-level membership of My Super Affiliate Mentor costs $37 per month – so after paying $37 you will get access into the system however you will not access to everything as there are various more upgrades inside.
You don't have to upgrade if you don't want to but just know that you will be heavily pressured into doing so & also if you don't upgrade you won't be able to earn any commissions on the level above you because as I mentioned above this is what's known as a pay-to-play program.
Also when you join you will get assigned a personal coach as promised but the reality is that whilst yes these coaches do help you a little bit it's clear that their main job is to push you into upgrading.
This means that you'll find that your coach will tell you that if you want them to keep on giving you the assistance you'll need to keep on upgrading otherwise they won't be able to give you as much help with the program.
Of course, they'll also play heavily on the fact that if you upgrade you'll have the potential to earn more money too, but basically just know that these "coaches" are essentially salespeople.
It can be kind of annoying as you go through the process yourself but essentially if you do decide you want to promote the My Super Affiliate Mentor opportunity then these coaches will work in your favour because ultimately they'll be upselling the people that you refer into the program so you'll be able to make more money because they'll be doing the selling for you.
But keep in mind that they'll only be doing the upselling, not the actual selling itself so it will still be your job to bring people in meaning if you can't bring people in then they won't be able to help you make any money.
You Might Also Like:
Is My Super Affiliate Mentor a Scam?
The program is not a scam it's actually a legitimate opportunity through which you can learn about affiliate marketing & earn money by promoting it but in my opinion, it's a little bit too hyped up when it comes to the income potential.
You're kinda let to believe that you can simply buy into the program and start making lot's of money through some sort of "done-for-you" system but in reality that's not the case. Yes, they have helped you out with some bits but you will still be required to promote the program to make money which takes quite a lot of work.
On top of that, they don't really mention about the additional investment that's involved with the program until after you actually hand over the $37 which I find to be a little bit sneaky, to be honest. Plus it's a bit frustrating because you buy into the program only to find out that you keep needing to buying more stuff to make the money that they initially promised you.
So whilst My Super Affiliate Mentor isn't a scam I wouldn't say it's exactly the best program out there because in my opinion there are better places to learn how to make money through affiliate marketing especially if you're just starting out.
For those reasons whilst I do find this program to be legit overall, I won't be recommending it you because as I said above I just feel that there are better alternatives out there at the moment. Plus I think that because of the way this particular program hypes up the earning potential I think you'll probably be a little bit disappointed when you get inside the training & realize that it will take quite a bit of time before you start making money.
Don't get me wrong that's not just the case with this program – if you want to make money online then it is bound to take time because at the end of the day online business is still a business & it needs to be treated like one, you can't just expect to get rich overnight… If you could everyone would be doing it.
It's just that the My Super Affiliate Mentor program kinda leads you into thinking that you can make money really quickly which is something I don't like because essentially you can't – it's simply not possible. The internet can help you start a business for much less money & it can help you reach a lot more people but it's not magical & it can't provide you with overnight results.
A Better Alternative
The sad truth is that unfortunately most of the programs promising to help you make money online are scams. I can say that confidently after exposing over 500+ of them here on this blog.
But the good news is that even though most of them are indeed scams, there are actually some very good programs in amongst them - some programs that can truly help you to earn money.
And out of all of the legit programs I've seen, the one I would recommend the most to anybody looking to get started online is Commission Academy. In my own opinion, that's the best place to start.
At Commission Academy, you'll be provided with everything you need (including the training & tools) to begin earning real money by promoting products or services for companies like Amazon online.
The best part is that there's literally no limit on the amount you can earn with it & the process is pretty simple which means that it's absolutely perfect for people that don't have much experience.
Some wealthy affiliates even earn as much as 5-figures per month... Or more!

I mean don't get me wrong, that kind of money won't just fall into your lap without doing any work... But the harder you're willing to work at it, the more you stand to earn with it.
So if you're looking to get started but don't know which route you should go down or which program you should join (and don't want to waste money on bogus things that don't actually work), then I'd highly recommend checking out Commission Academy first. You can learn more about it here.