The Super Affiliate Network is an online training program that's been put together by a guy named Misha Wilson & it claims to be able to "take you by the hand" & show you how you can build a successful business online.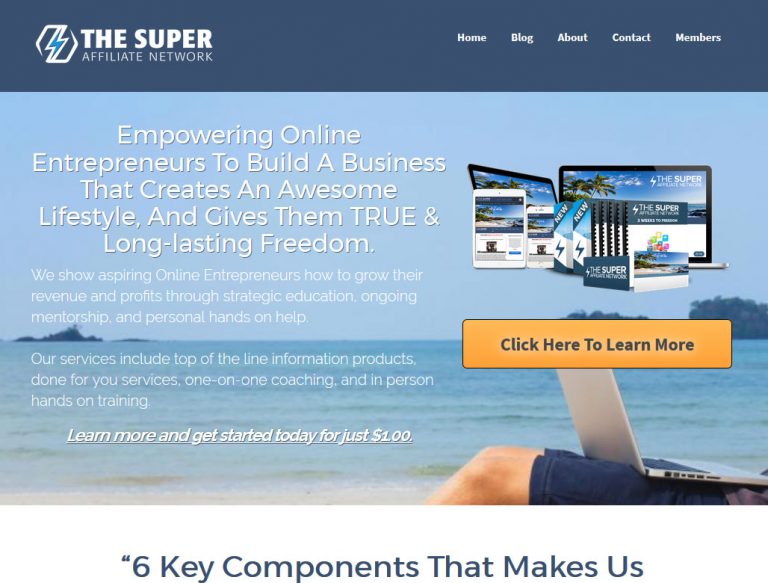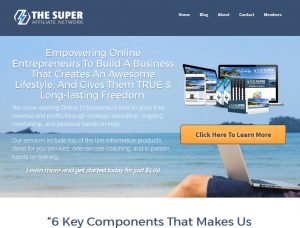 It also claims that you can get started with the program for just a dollar… But is it actually legit?
Or is The Super Affiliate Network a scam that's simply out to part you with your hard-earned cash?
I've taken a closer look & in this honest Super Affiliate Network review, I'm going to be sharing what I've found.
What Is The Super Affiliate Network?   |   How Does It Work?   |   Can You Make Money With It?   |   Is The Super Affiliate Network a Scam?   |   A Better Alternative
What Is The Super Affiliate Network?
As I briefly touched on above The Super Affiliate Network is an online training program that's supposedly been designed to teach you how to make money online through (as the name suggests) something called affiliate marketing.
Affiliate marketing in itself is a legitimate way to make money online & it's basically where you promote products online from various companies & have the ability to earn commission on any of the sales.
It's actually the same method I personally use to make money online, though I learned how to get started through Commission Academy which is a program that's free to join.
You have to be careful because some programs claim to help you get started with affiliate marketing but in actual fact, they're just set out to take advantage of you, like the Cash Relief Now system that I recently exposed as a scam for example.
Despite The Super Affiliate Network only just seeming to gain popularity over the past couple of weeks it's actually not a new program at all – I've previously seen it being promoted through something called My Super Affiliate Mentor & there's a bunch of other sales funnels containing the word "super" that will lead you into it too.
Maybe a big marketer has just recently joined & started heavily promoting it, because as well as giving you training it also gives the opportunity to earn money by reselling the program itself onto other people.
Which brings me onto my next point…
How Does The Super Affiliate Network Work?
Basically, once you buy into The Super Affiliate Network program you will be taken through a series of steps which teach you various things related to affiliate marketing such as what it actually is, how you can get started, how you can build an email list & how you can begin generating traffic to make sales.
The training is actually pretty good but there's a couple of problems with it in my opinion…
The first one is that the training pushes you quite heavily into promoting The Super Affiliate Network itself – so whilst yes you do learn how to make money as an affiliate the chances are you will find yourself working in the make money online space selling the same program onto other people.
Basically what I am saying is that it doesn't go into great detail on starting your own website which would enable you to promote any products that you are interested in not just The Super Affiliate Network itself.
The second problem is that to become successful with this program you will need quite a few online marketing tools but none of these are included with the program so you will be required to buy quite a lot of things elsewhere.
And whilst we are on the topic of spending more money as you can imagine the $1 doesn't get you access to everything, that is literally just a trial & if you wish to continue with the program you will need to pay a monthly recurring fee (which will be taken from automatically if you happen to forget to cancel).
Now the third problem & this is the big one for me is that it's actually a pay-to-play program & it works in a similar way to the Aspire Today & 21 Step Millionaire Coach programs in the sense that if you want to make money from the program you will need to actually purchase all the products yourself to become eligible to earn commissions on them by reselling them to others as an affiliate.
This might not initially sound too bad but when you realize that the products inside The Super Affiliate Network can add up to a grand total of several thousand dollars you will probably see why I class it as a big problem.
It also means that many of the people going through this program are not buying the products based on the value they provide, they are just buying them purely so that they can make money by reselling them onto other people.
This is the reason some people class these type of things as pyramid schemes because they claim that the focus is more on the money-making opportunity as opposed to the products & to be honest I can kinda see where they're coming from when they say that.
Can You Make Money With The Super Affiliate Network?
Don't get me wrong you can actually make money as a result of going through this program & there are a couple of different ways that you will be able to do that…
The first one is that you will be able to promote products unrelated to The Super Affiliate Network as an affiliate (but this will require you to purchase additional tools to be able to do that).
The second one is that you will be able to resell The Super Affiliate Network onto other people (which you will be pushed into doing as you don't need additional tools to do this)
It's worth pointing out though that as mentioned earlier in this review The Super Affiliate Network is a pay-to-play program so whilst you don't need additional tools to resell the program you will need to personally purchase all of the products inside the program to actually be eligible to earn any commissions on them.
If you don't personally own the products & you make sales on them then you won't earn any commissions which makes it pretty pointless.
You Might Also Like:
Is The Super Affiliate Network a Scam?
No, it's not a scam – but at the same time, it's not going to be a program that I'll be recommending & there are a couple of reasons as to why I've decided to come to that conclusion despite it not being a scam.
The main one is the fact that it's an expensive pay-to-play program which is something that I really don't like because being pushed into spending a ton of money before you can even get the ball rolling just introduces way too much risk in my opinion.
I prefer programs like Commission Academy which allow you to get started for free.
Aside from that, I think the training is a bit too heavily focused on actually reselling The Super Affiliate Network itself & it doesn't teach you the fundamentals for promoting other stuff (like setting up your own website & branding) nor does it provide you with any of the tools to enable you to actually do any of those things.
I admit that yes you could make money just by promoting The Super Affiliate Network itself but essentially if that's your only source of income then you have put all your eggs in one basket which is always a risky move. It's better to learn how to promote anything because that way if the company happens to close one day then you have gained the knowledge to simply switch & promote something else.
So whilst you could potentially make money with it I think in this instance the risk simply outweighs the reward – and if you're brand new to online marketing then I don't personally think it's a good starting point because in my opinion there is just far too much upfront investment involved which is completely unnecessary when you can get started elsewhere for free.
A Better Alternative
The sad truth is that unfortunately most of the programs promising to help you make money online are scams. I can say that confidently after exposing over 500+ of them here on this blog.
But the good news is that even though most of them are indeed scams, there are actually some very good programs in amongst them - some programs that can truly help you to earn money.
And out of all of the legit programs I've seen, the one I would recommend the most to anybody looking to get started online is Commission Academy. In my own opinion, that's the best place to start.
At Commission Academy, you'll be provided with everything you need (including the training & tools) to begin earning real money by promoting products or services for companies like Amazon online.
The best part is that there's literally no limit on the amount you can earn with it & the process is pretty simple which means that it's absolutely perfect for people that don't have much experience.
Some wealthy affiliates even earn as much as 5-figures per month... Or more!


I mean don't get me wrong, that kind of money won't just fall into your lap without doing any work... But the harder you're willing to work at it, the more you stand to earn with it.
So if you're looking to get started but don't know which route you should go down or which program you should join (and don't want to waste money on bogus things that don't actually work), then I'd highly recommend checking out Commission Academy first. You can learn more about it here.