In this review, I'm going to be taking a closer look at the My Millionaire Mentor program which is something that's supposedly been launched by a guy named Ryan Matthews who claims it can help you earn commissions of between $1,250 to $5,500 online almost immediately after watching the video.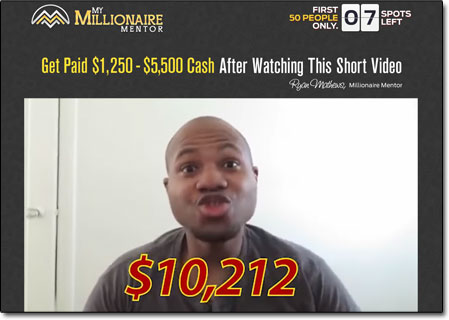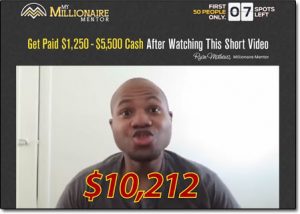 You're even promised a cash sum of $500 just for literally sticking around until the end of the video, but is it legit? Or is My Millionaire Mentor a scam that's simply out to part you with your hard-earned cash?
That's exactly what I'm going to be finding out right here in this My Millionaire Mentor review where I'll be uncovering what it's all about, how it works if it's legit & whether or not you can actually make any money with it.
What Is My Millionaire Mentor?   |   How Does My Millionaire Mentor Work?   |   The Problem   |   Is My Millionaire Mentor a Scam?   |   A Better Alternative
What Is My Millionaire Mentor?
Ryan Matthews, who you're led to believe created the My Millionaire Mentor system claims that it's something which can provide you with a "done-for-you" online business which generates $1,250 to $5,500 commissions.
As if that wasn't already a bold enough claim as it is Ryan then also goes on to state that you'll begin earning the money just literally moments after joining & that he'll even give you $500 cash just for watching the video.
Now it was at this point for me personally that alarm bells started ringing because I've recently come across a number of systems offering people money to watch the video which turned out to be complete scams.
They basically promise you a cash sum which will be paid out after you finish watching the video but then when you come to the end of the video you're left to find there's no money at all and that it was instead just a ploy to get you to watch the full video so that they could try & convince you into signing up.
The other systems I have recently seen using this tactic where the My Online Dream Biz & Matt Driscoll's My Online Business systems – both promised money for watching the video but it never materialized.
How Does My Millionaire Mentor Work?
Well firstly just like with the other systems I've reviewed similar to this one I can confirm that the offer of $500 cash for watching the video doesn't materialize with this particular system either.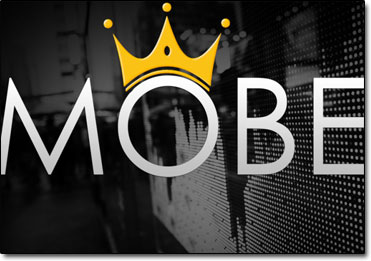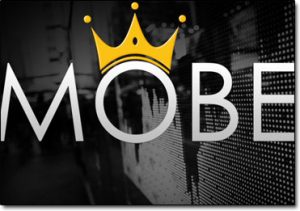 Instead what I found after watching the entire video is that the My Millionaire Mentor system isn't actually a system at all – it's merely a sales funnel that's been designed to get you to buy into the MOBE business opportunity.
MOBE claim to offer a guarantee through which if you don't make money within 30 days of starting their program they'll refund you your money & give you $500 in cash – this is where the My Millionaire Mentor promise of $500 comes from, so you're not actually given $500 cash just for watching the video as you're led to believe.
However, don't let MOBE's guarantee fool you – I've met several people who haven't made a penny through MOBE but I've personally not met a single one that has been paid out the $500 guarantee. All of these people I know of that "failed" with MOBE were simply told that they didn't properly follow the instructions & that it was basically their fault they failed so no money would be refunded or paid out.
But despite that MOBE in itself is technically a legitimate opportunity – though it's what's known as a high-ticket network marketing opportunity. In short that basically means it sells expensive products & it gives people the ability to earn commissions by signing up as an affiliate & reselling the products onto other people.
And with it being a network marketing company as opposed to purely earning from your own efforts you also get the opportunity to earn from the efforts of others by recruiting people in & getting them to promote the products too.
However, the problem is that it's also what's known as a pay-to-play program which means that in order to earn commissions on the products you must first purchase them yourself.
This might not initially sound too bad, but as I said it's a high-ticket opportunity which means it's expensive & the product line adds up to around $50,000 – so as a member of MOBE you'll be pushed into spending a LOT of money before you even get the ball rolling which in my opinion makes it way too much of a risky opportunity.
The other downside is that whilst it is technically legit as it does have products, it's kind of one of those "make money online by reselling this training onto other people who want to make money online" type products, kinda like the Digital Altitude Aspire system.
Basically what I'm saying is that whilst the training inside does have some takeaways that can be applied elsewhere, ultimately it's very heavily geared towards re-promoting the MOBE program itself.
The Problem With My Millionaire Mentor
To be honest, I feel like I've kinda slated MOBE a little bit throughout this post – but other than being very expensive MOBE in itself isn't too bad, it's the My Millionaire Mentor system that causes the big problem here.
You see the real problem is the way you're being sold into MOBE by the My Millionaire Mentor system. Through MOBE you do have the potential to make money & with it selling expensive products you can earn quite substantial commissions, but like with any business it's going to require a lot of hard work to become successful & it certainly isn't going to happen overnight like the My Millionaire Mentor system makes out.
So ultimately the My Millionaire Mentor system is just misleading you into thinking that you'll be able to make some quick & easy cash which in reality isn't the case – in fact, it couldn't be more of the opposite.
Not to mention the fact that the My Millionaire Mentor system doesn't talk about the true costs involved with MOBE or even what the opportunities really about – it just sells you on a bunch of hype & makes out like you can get a "done-for-you" profitable business for just $47 which is completely not true.
You Might Also Like:
Is My Millionaire Mentor a Scam?
To be honest I'm going to say yes it is a scam. Whilst you can potentially make money with MOBE (the opportunity it's selling you in on) I believe that the My Millionaire Mentor system is very misleading & has clearly only been designed to part you with your cash. After buying into the program I think you'd find yourself disappointed at what you actually received.
As a standalone product MOBE, itself is technically legitimate, but as I mentioned above here the problem is the way you're being sold into it which is the fault of the My Millionaire Mentor program which has probably been launched by an affiliate of MOBE who's just trying to earn more commissions by suckering a whole bunch of people in on false promises.
If the My Millionaire Mentor program was more honest & upfront about what you're actually buying into then I could have potentially recommended it, but as it is at the moment it's going to be getting a big thumbs down from me.
So just to confirm overall I believe I do believe the My Millionaire Mentor program to be a scam & for that reason, I won't be recommending it you as I believe you'd find yourself disappointed with your purchase if you bought in.
A Better Alternative
The sad truth is that unfortunately most of the programs promising to help you make money online are scams. I can say that confidently after exposing over 500+ of them here on this blog.
But the good news is that even though most of them are indeed scams, there are actually some very good programs in amongst them - some programs that can truly help you to earn money.
And out of all of the legit programs I've seen, the one I would recommend the most to anybody looking to get started online is Commission Academy. In my own opinion, that's the best place to start.
At Commission Academy, you'll be provided with everything you need (including the training & tools) to begin earning real money by promoting products or services for companies like Amazon online.
The best part is that there's literally no limit on the amount you can earn with it & the process is pretty simple which means that it's absolutely perfect for people that don't have much experience.
Some wealthy affiliates even earn as much as 5-figures per month... Or more!

I mean don't get me wrong, that kind of money won't just fall into your lap without doing any work... But the harder you're willing to work at it, the more you stand to earn with it.
So if you're looking to get started but don't know which route you should go down or which program you should join (and don't want to waste money on bogus things that don't actually work), then I'd highly recommend checking out Commission Academy first. You can learn more about it here.