Cash Relief Now is a website that claims it can help you make quick & easy money from the comfort of your own home, it also claims that you can there's no prior experience or special skills required.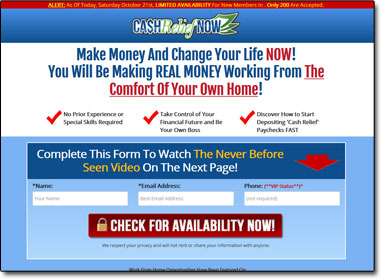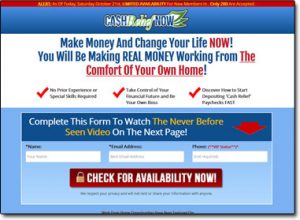 Allegedly, all you need to do is buy into the program & you'll be shown how you can start making money almost right away, but is it actually legit? Or is Cash Relief Now a scam?
I've taken a closer look & in this review, I'll be sharing what I've found.
What Is Cash Relief Now?   |   How Does Cash Relief Now Work?   |   Is Cash Relief Now a Scam?   |   A Better Alternative
What Is Cash Relief Now?
The Cash Relief Now website makes you feel like you can start making money very quickly through their program & it almost leads you into believing that you'll be getting access to some kind of "job" which isn't actually the case…
I can tell you right from the off that Cash Relief Now is a classic get-rich-quick scam & the reason I can say that confidently is because I've reviewed hundreds of similar programs over the years right here on this blog & I've seen this exact same program being promoted under various different names.
The same thing was recently being promoted under the name My Online Dream Biz & whilst the sales page itself looks a little different ultimately what's behind the scenes is exactly the same (and it's bad news).
As mentioned above the program leads you into believing that you'll be getting access to some kind of online job which will pay you directly in return for your time but in reality that's not how it works – you'll actually just be getting access to some low-quality online marketing training that is supposed to be designed to teach you how to start your own online business.
Don't get me wrong you can certainly make money through online marketing (and lot's of it too) but there are 2 main problems here with the Cash Relief Now system…
Firstly the training you get is very low-quality & you can much better training elsewhere for free through the Wealthy Affiliate program. Secondly whilst online marketing is a legit & very good way to make money the way they sell you into it is completely misleading as it's not something that will start generating you an income overnight.
Essentially yes, the internet can give you a lot of leverage when it comes to making money but you still have to put in some work to make it happen & it will take time before you start seeing the money coming in.
Basically what I am saying is that as great as the internet is it's not a magical tool that can just enable you to start making tons of money without doing anything like the Cash Relief Now system makes out, if it was then everybody would be doing it.
They're just trying to trick you into believing it is so that you'll be more likely to hand over your cash because ultimately that's all they're after, your money.
How Does Cash Relief Now Work?
OK so after you hand over your $97 you will get access to the Cash Relief Now members are & you'll see the training videos inside. These videos are designed to teach you how to make money through something called affiliate marketing which is basically where you promote 3rd party products online & get paid commissions for any sales you generate.
Affiliate marketing is a great way to make money but the training inside the Cash Relief Now system is very low quality & the majority of the methods are completely outdated – as a result, you will find it very difficult to make any money even if you followed the program to the letter.
On top of that, you will be pitched upsell after upsell throughout the program so if you think the $97 will be all you'll be required to pay then think again because you could realistically see yourself paying thousands as they pitch higher & higher-priced products throughout the program which each claim to have the missing component that will help you succeed.
Quite often these programs are linked with an opportunity named MOBE which is a high-ticket opportunity & could see you spending in excess of $50k if you were to follow it right through (which I think you'll agree is a crazy amount of money).
Throughout the program, it's just like they are dangling a carrot in front of you & expecting you to keep throwing money at them but unfortunately, their sales pitches are often very convincing & many people who haven't done their due diligence like you will end up falling for it, that's why I keep seeing these programs time & time again.
As an example just yesterday I exposed 2 other scams named Mommy Jobs Online & Laser Online – these things are just preying on inexperienced people (or desperate people) who want quick & easy money.
Let me tell you again that quick & easy money doesn't exist and if you keep on searching for it then you will only find yourself getting burned by scams as a result.
You Might Also Like:
Is Cash Relief Now a Scam?
Yes, it is, I am going to be blunt and tell it is as it is because it's clear to me that this program is just a flat out scam that is giving you misleading information to part you with your cash & make the creators wealthy at your expense.
I've seen this exact same program launched under various different names time & time again & I know exactly how it works. Over all that time I've never seen any of the people who bought into it find success as a result of following the training.
That's because the training you're delivered is overpriced, low-quality junk & the methods taught are totally outdated. Basically, they're just sucking you in on false hype to get your money off you.
It's a classic get-rich-quick scam that promises the world but then doesn't deliver & sadly I know that it won't be the last but hopefully by doing your due diligence you were able to avoid it.
Therefore it's safe to say that overall I will be giving the Cash Relief Now program a big thumbs down & I certainly won't be recommending it because I know it won't provide you with any real value & that it will just ultimately leave you disappointed if you happen to buy into it.
A Better Alternative
The sad truth is that unfortunately most of the programs promising to help you make money online are scams. I can say that confidently after exposing over 500+ of them here on this blog.
But the good news is that even though most of them are indeed scams, there are actually some very good programs in amongst them - some programs that can truly help you to earn money.
And out of all of the legit programs I've seen, the one I would recommend the most to anybody looking to get started online is Commission Academy. In my own opinion, that's the best place to start.
At Commission Academy, you'll be provided with everything you need (including the training & tools) to begin earning real money by promoting products or services for companies like Amazon online.
The best part is that there's literally no limit on the amount you can earn with it & the process is pretty simple which means that it's absolutely perfect for people that don't have much experience.
Some wealthy affiliates even earn as much as 5-figures per month... Or more!

I mean don't get me wrong, that kind of money won't just fall into your lap without doing any work... But the harder you're willing to work at it, the more you stand to earn with it.
So if you're looking to get started but don't know which route you should go down or which program you should join (and don't want to waste money on bogus things that don't actually work), then I'd highly recommend checking out Commission Academy first. You can learn more about it here.