The Conversion Pros claim they can provide you with cutting edge conversion tools & hyper-responsive leads to help you increase (or start seeing) the profits from your online business ventures…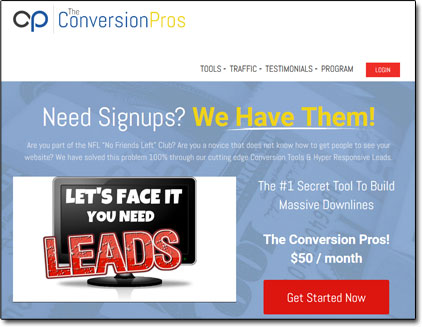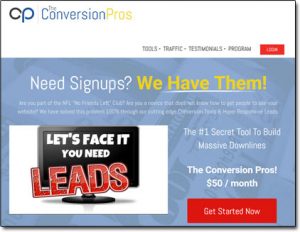 They make it seem like you can just sign up & use their tools to start making money from your business, even if you're no good at getting traffic or leads… But is it actually legit, or is The Conversion Pros a scam?
Thankfully you've landed in the right place to find out because I've taken a closer look into this company to see if what they offer really lives up to what they promise & in this review I'll be uncovering everything there is that you need to know.
What Is The Conversion Pros?   |   The Tools   |   The Leads   |   The Conversion Pros Affiliate Program   |   Is The Conversion Pros a Scam?   |   A Better Alternative
What Is The Conversion Pros?
If you've joined an MLM, business opportunity or have any kind of offer that you're trying to promote online & struggling in doing so then The Conversion Pros website claims it has the answer.
They claim to provide you with all of the tools & responsive leads you could ever need so that you can build a thriving business online, even if you're no good at generating traffic & leads yourself – which as you likely know are the lifeblood of any online business.
It seems that The Conversion Pros primary target audience is as I mentioned above, people inside of MLM or network marketing business opportunities – but ultimately there service is open to anyone looking to succeed online… Even if you're just a newbie trying to push some affiliate offers.
The tools inside of The Conversion Pros include things like capture page creators, email auto-responders, text message followups, lead auto-diallers & more. I'll go into them in a little more detail in a moment…
But on top of the tools they also offer lead packages – so basically they claim to fix you up with people who are already interested in whatever it is you have to offer, which should ultimately help you to generate more sales.
And it's worth pointing out that it's not traffic or "clicks" they're providing you with (like many other companies do) – with The Conversion Pros you'll be handed actual leads, so names, email addresses & phone numbers of people allegedly looking for whatever it is you're offering. So if you're pushing a weight loss product, The Conversion Pros claim they'll be able to fix you up with people looking to lose weight.
The only problem here though is that the selling is still left down to you – so if you haven't quite mastered the art of selling then it doesn't really matter how many leads you get, you're still probably not going to break a profit… In fact if this is the case then spending money on leads might only end up see you losing money instead.
Personally whilst I'm sure some people will find The Conversion Pros service helpful, I always recommend mastering the art of generating leads yourself rather than buying them. It comes back to the old saying "give a man a fish, you feed him for a day – teach a man to fish, you feed him for a lifetime" saying…
But each to their own! Anyway let's take a look at the tools…
Are The Conversion Pros Tools Any Good?
At a cost of $50 per month The Conversion Pros for many will likely be deemed a pretty expensive program – so the question you're likely wondering is are you really going to get good bang for your buck?
Well I'll be honest & say that yes, in my opinion The Conversion Pros do actually provide a pretty awesome array of tools that could certainly help you generate leads & effectively follow up with them / convince them to buy.
Here's an overview of what's currently included (and note that they often add more stuff too):
Capture Page Creator
Email Auto-Responder / Broadcaster
Text Message Broadcaster
Blog Creator
Mobile Website Creator
Invoice Generator
URL Shortener
Link Rotator
Link Tracker
QR Code Generator
Marketing Training Videos
Plus soon they will also be introducing a voice message broadcaster & lead auto-dialler…
In my opinion it's therefore pretty much safe to say that they do provide pretty good value for money. Some services like LeadPages for example charge $25/month just for you to create capture pages – and realistically this is only their introductory plan… Their Pro plan (the one you'll likely need) actually costs $49/month.
So money wise The Conversion Pros isn't too bad at all… But what about the leads?
Are The Conversion Pros Leads Any Good?
Well as far as I'm concerned no purchased leads are ever as good as leads you generate yourself – and another issue is that obviously it's not just the quality of the leads that matter, it's how good you are at selling them…
That's because once you've bought the leads you're going to be entirely responsible for getting them to purchase whatever it is you're promoting. If you can't do that, then you ain't gonna make any money even with the best leads in the world.
But yes, from what I've seen it does seem that as far as leads go, The Conversion Pros apparently provide some pretty decent ones!
Though it is worth pointing out that at present they only provide the following leads:
Generic biz-opp leads
Real-time weight loss leads
Real-time female leads
Obviously out of the three you're likely going to find better results from the weight loss leads than the other 2 since these are already narrowed down. The biz-opp & female leads are a bit more generic, meaning less chance of them being interested in specifically whatever it is you're offering.
I would like to see a wider variety of leads being introduced, as at the moment they're pretty limited – but who knows this may happen in the future as The Conversion Pros as a whole is still relatively new.
You can also earn money by promoting The Conversion Pros website itself, which brings me onto…
The Conversion Pros Affiliate Program
The likelihood is if you're looking at The Conversion Pros website then you're probably already involved in some sort of business opportunity or have your own offer that you're trying to promote online…
However if you don't then you can actually promote The Conversion Pros website itself & earn money by getting people to sign up. It seems like that's what quite a lot of people are doing, and that's likely the reason why The Conversion Pros has quickly become so popular.
I've even seen dedicated websites being setup (such as the TCP Lifestyle System) promoting The Conversion Pros membership so clearly people are hoping to make some good money from it.
And there definitely is the potential to do so because The Conversion Pros offer 50% commission on all sales… So if you make a sale of the $50 per month membership then you'll earn yourself $25 per month in recurring income for as long as that person stays a customer.
It all works in a similar way to Online Sales Pro which is a very similar company that launched a company of years ago. When that company first launched it too gained a lot of fast traction like The Conversion Pros has, but then it died down shortly after and to be honest I haven't actually seen anybody promoting it in a while.
So The Conversion Pros may be a pretty hot offer to promote right now whilst it's new, but with regards to it's longevity it might not be so great… Unless of course they really do keep on improving it & keep on top of the market.
Only time will tell though! But the commission rates certainly not too shabby & they do definitely provide some pretty useful tools.
You Might Also Like:
Is The Conversion Pros a Scam?
No, it's definitely not a scam – in my opinion The Conversion Pros is actually pretty cool & the tools they provide you with could certainly prove to be useful if you're looking to increase sales or build an MLM downline online.
The only slight concern I have about it is that because of the fairly lucrative affiliate program, many people are trying to get you to buy into it by promising that you'll be able to make money with it… Rather than promoting it for the tools it actually provides you with if that makes sense?
This obviously isn't the fault of The Conversion Pros itself, it's just the way affiliates are trying to get people to sign up it. I've heard them saying that all people need to do is sign up, purchase biz-opp leads & that they can make a fortune by selling The Conversion Pros to the leads they get…
Sure you might be able to make money by doing this but if you're sold into The Conversion Pros this way then you'll likely find yourself a little bit disappointed & you could potentially end up losing money rather than making it.
Overall though The Conversion Pros could come in pretty handy if you're already involved with a business opportunity or promoting an offer of your own. If you don't happen to yet have anything to promote then rather than jumping in at the deep end & trying to promote The Conversion Pros without training, I'd recommend you get started with a free program like Commission Academy where you'll actually learn how to promote things & make money online first.
If you happen to have any further questions or comments about The Conversion Pros then feel free to leave them below but hopefully my review covered most of them & helped you out.
A Better Alternative
The sad truth is that unfortunately most of the programs promising to help you make money online are scams. I can say that confidently after exposing over 500+ of them here on this blog.
But the good news is that even though most of them are indeed scams, there are actually some very good programs in amongst them - some programs that can truly help you to earn money.
And out of all of the legit programs I've seen, the one I would recommend the most to anybody looking to get started online is Commission Academy. In my own opinion, that's the best place to start.
At Commission Academy, you'll be provided with everything you need (including the training & tools) to begin earning real money by promoting products or services for companies like Amazon online.
The best part is that there's literally no limit on the amount you can earn with it & the process is pretty simple which means that it's absolutely perfect for people that don't have much experience.
Some wealthy affiliates even earn as much as 5-figures per month... Or more!

I mean don't get me wrong, that kind of money won't just fall into your lap without doing any work... But the harder you're willing to work at it, the more you stand to earn with it.
So if you're looking to get started but don't know which route you should go down or which program you should join (and don't want to waste money on bogus things that don't actually work), then I'd highly recommend checking out Commission Academy first. You can learn more about it here.