In this review, I'm going to be taking a closer look at The Job Quitter system (thejobquitter.com) which claims that it can enable you to generate "huge automatic income" of up to $3,568.92 per day even if you've never previously made a penny online before.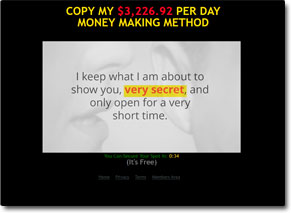 The creator of the system who keeps himself anonymous claims that it's literally as easy as simply pushing a button & copying his entire online business, so all you need is a computer or mobile phone & 5 minutes to get started.
But is it legit? Or is The Job Quitter system a scam that's going to see you out of pocket? And if you really can make money with it then where does the money actually come from?
Those are exactly the things I'll be finding out right here in this review of The Job Quitter system so if you've been thinking about trying it out then you can rest assured that you've landed in the right place to find out everything you need to know about it before you do.
What Is The Job Quitter System?   |   How Does The Job Quitter System Work?   |   Affiliate Marketing Explained   |   Is The Job Quitter System a Scam?   |   A Better Alternative
What Is The Job Quitter System?
As I briefly touched on above The Job Quitter system is something that claims to enable you to literally "copy" a done-for-you $3,568.92 per day online business so that you can immediately start seeing similar results for yourself.
The creator congratulates you on finding the website & claims that the system can replace your job's salary in as little as just one month, which as you've probably already guessed is why it's called The Job Quitter system.
He also claims that what he's showing you through the website is very secret & that he's only going to be leaving access open for the first few hours & accepting just 100 students into the system.
However I can tell you right from the off that's a complete lie – you see I actually came across this system yesterday but didn't get around to reviewing it until today, yet guess what? The system is still open & accepting new "students" therefore it's clearly just a marketing ploy that's intended to get you to rush into signing up.
This is a common trait associated with a scam & I've seen it with several scams I've reviewed recently such as the Push Button System which used similar tactics to rush you through. Basically, they do this to make you feel like you don't have time to check the web for reviews because they know if you find a review that you'll find out the system doesn't work as promised.
How Does The Job Quitter System Work?
The sales video for this system doesn't really go into any detail whatsoever with regards to explaining how it actually works, instead, it just focuses on getting you hyped up about the potential opportunity of being able to make lot's of easy money online through this "secret" system.
To keep you hooked on the video the anonymous creator even goes on to claim he'll give you $500 if you continue watching to the very end – but as you can probably guess this offer doesn't materialize.
Instead what you find out is that he's actually supposedly giving you $500 off the price of his system. He claims that the usual price is $597 but he is willing to give you access for just $97 (what a guy).
This is a similar tactic to the one we saw used in Matt Driscoll's My Online Business system – he also claimed he was giving away $500 & it sucked a lot of people in but turned out not to be true.
Anyway, basically, after you hand over your $97 what you get access to is some affiliate marketing training – NOT a done-for-you $3,568.92 per day business as you promised the whole way through.
And whilst you can make money through affiliate marketing, sadly the training provided by The Job Quitter system is very poor-quality & therefore even if you followed it to the letter I doubt you would make a penny.
But aside from that, there are plenty of high-quality affiliate marketing programs that you can get started with for free like Commission Academy, for example, so not only is The Job Quitter training low-quality it's also over-priced.
Rather than teaching you how to do affiliate marketing properly it basically tells you that you'll be able to make a fortune by simply posting your affiliate links all over the web – essentially it's teaching you how to be a spammer.
Affiliate Marketing Explained
As I mentioned above affiliate marketing itself is actually legitimate, it's The Job Quitter system that's not – but if it's the first time you've heard about affiliate marketing you might be wondering how it works.
Basically, it's where you promote products online for third-party companies like Amazon, Best Buy etc & earn commissions on any sales that are made from the people you refer. It's actually a very good way to make money online.
Getting started is very easy – you sign up for an affiliate program, they give you a unique tracking link & all you need to do is send people to their website through your unique link. They track whether or not the visitor makes a purchase & if they do you get paid a commission.
But to be really successful at affiliate marketing you need to know how & where to promote your links properly – this is where The Job Quitter system falls down as it gives you a bogus outdated method.
Plus it also makes out as you can simply sign up & start making money right away without really doing anything which absolutely isn't true. Yes, affiliate marketing is a good way to make money but it takes time to get started & whilst it can potentially become passive it definitely takes a lot of work when you're just first getting started.
You Might Also Like:
Is The Job Quitter System a Scam?
In my opinion yes it is because it's clear to me that this is just an over-hyped system that's misselling you into buying some bogus training in an effort for the creator to make himself/herself rich at your expense.
I am confident that if you handed over any money to The Job Quitter system you would only find yourself thoroughly disappointed at what you received in return. The full thing is built on lies.
Whilst the internet provides you with a lot of opportunities to generate extra income sadly there is no such way to make so much money so easily – think about it, if there was then everybody would be doing it.
These systems are basically set out to take advantage of people who are new to online marketing & don't really know how it works, or people who are in desperate financial situations & willing to try anything.
For that reason, as you can probably guess I will be giving this system a big thumbs down & I certainly won't be recommending it to you as I feel that it's out to do nothing other than part you with your hard-earned cash.
A Better Alternative
The sad truth is that unfortunately most of the programs promising to help you make money online are scams. I can say that confidently after exposing over 500+ of them here on this blog.
But the good news is that even though most of them are indeed scams, there are actually some very good programs in amongst them - some programs that can truly help you to earn money.
And out of all of the legit programs I've seen, the one I would recommend the most to anybody looking to get started online is Commission Academy. In my own opinion, that's the best place to start.
At Commission Academy, you'll be provided with everything you need (including the training & tools) to begin earning real money by promoting products or services for companies like Amazon online.
The best part is that there's literally no limit on the amount you can earn with it & the process is pretty simple which means that it's absolutely perfect for people that don't have much experience.
Some wealthy affiliates even earn as much as 5-figures per month... Or more!


I mean don't get me wrong, that kind of money won't just fall into your lap without doing any work... But the harder you're willing to work at it, the more you stand to earn with it.
So if you're looking to get started but don't know which route you should go down or which program you should join (and don't want to waste money on bogus things that don't actually work), then I'd highly recommend checking out Commission Academy first. You can learn more about it here.