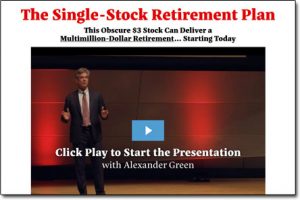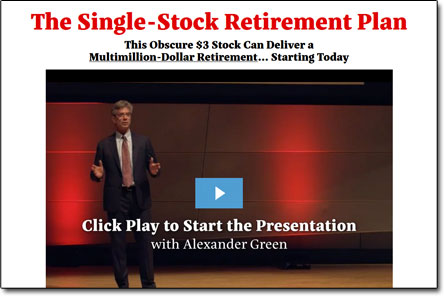 The Oxford Club is making a lot of noise yet again with a new financial newsletter gig. The teaser for it is literally being pushed out almost everywhere on the internet including in your emails.
This time it's a retirement plan gig which is said to be an investment opportunity as big as Amazon or Microsoft. They call it the Single Stock Retirement Plan.
We watched the teaser released by the Oxford Club and didn't like the sound of it one bit. It makes a huge deal about the price of a certain "secret" stock which can allegedly make a fortune for investors…
It's being marketed using nothing but big names and bigger numbers. That was enough to raise an eyebrow & so we decided to put together an honest Single Stock Retirement Plan review.
We discovered what the secret stock actually is and what its real standing is. Does the Oxford Club really have anything to pitch or is it just hearsay once again? Our Single Stock Retirement review reveals the stocking truth and outlines if it's a boat to take or not!
I'll point out firstly though before I get deep into the review that if you'd just prefer to head straight to something which has already been deemed legitimate & proven to work then you can check out my number 1 recommendation below:
Go here to see my no.1 recommendation for making money online
(This 100% free training shares my exact strategy for making 5-figures per month)
Click Here To See My #1 Recommendation For Making Money
Or simply keep on reading for the full review of the Single Stock Retirement Plan…
What Exactly Is The Single Stock Retirement Plan?
The Oxford Club has released a video teaser of its latest financial gig, the Single Stock Retirement Plan. In the video, you can see the club's editor Alexander Green pitching a low-priced secret stock which can allegedly turn it all around for you.

According to him, the stock is an undiscovered secret and if you don't hurry, you'd miss today's Amazon or Microsoft boat!
Green tells you that the Single Stock Retirement Plan will cost you as little as $3.00 This supposedly unnamed company deals in smartphones, gaming technology, medical tech, e-commerce, internet of things, robotics, artificial intelligence and what not…
But it doesn't end there as you're also told that this secret giant works with the biggest names like IBM, Intel, and Apple. Yes, more names and big ones!
In simple terms, Green tells you that there is an unnamed stock which can be compared to something like Amazon in its turnover value & according to him all you need to do is to invest a mere $3.00 in one stock…
Sounds great, right? But tastes really bad! What was the last secret stock success story any investor told you about? It doesn't happen… Instead keep on reading & I'll explain more on the "real deal" for this stock below…
How Does The Single Stock Retirement Plan Work?
It works as any other stock investment does. Green tells you to hurry up and purchase secret stocks of an unnamed company which is all set to outperform the S&P 500! Invest $3.00 today and wait for the returns to grow exponentially over the next decade. That's the pitch and this is how it works. At least we are told that it would…
But does it really? Let's take a look…
What's The Truth About The $3 Secret Stock?
We decided to join the dots and trace the stock being pitched to us. Who doesn't want their investment returns to explode over the decade? Guess what? We succeeded in identifying the "secret" giant the Single Stock Retirement Plan is all about.
The company being mentioned is Foxconn, a Taiwanese tech manufacturer! Yes, this East Asian tech label works for IBM, Apple, and the likes. The company also operates under the name Hon Hai having a ticker HNHPO!
You can purchase two shares of Hon Hai through an ADR. It's a real company so the stocks are real too. That's one doubt cleared but is Foxconn in for a race to match Microsoft? It isn't even getting close!
In my opinion the Single Stock Retirement Plan isn't going to change your life at all because from what I can see Foxconn won't have its stocks grow tenfold over the next decade… As far as I'm concerned it's just a pipe-dream to even think that.
In fact at the current time of writing this review their stocks are actually falling in price (as shown below):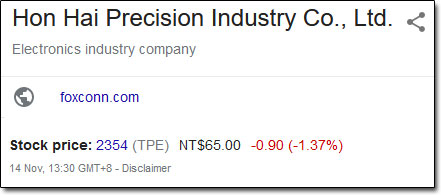 What's The Turnover Deal?
A little market research fort this Single Stock Retirement review gave us a lot of information about the stock. Foxconn is no way new outperforming S&P 500. The truth is that it has been underperforming since 2008 as shown below: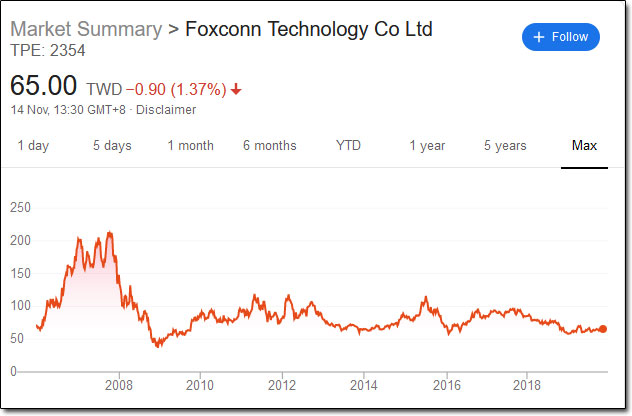 We checked the investor sentiment on a reputed market review portal as well. The majority believe that this trend is to last and Foxconn is to underperform the S&P 500 in the future as well. Rolling back of plants in the US has proved to be a buzz-kill as well.
So it doesn't look good for Foxconn & that means it doesn't look good for your investment if you were to follow the advice of the Single Stock Retirement Plan… It seems the only people really making money would be the Oxford Club.
And that brings me onto…
My Verdict – Is The Single Stock Retirement Plan a Scam?
Our Single Stock Retirement Plan review has revealed the stock's big fat secret. The stock isn't undiscovered. We were able to trace it very easily. There's no such thing as an unnamed secret stock anyway, it's just marketing hype…
Whether you want to call it a scam by the Oxford Club or not is up to you. Will it bear returns as big as promised and comparable to the big names mentioned? Not happening! It isn't an investment to make that is guaranteed!
And with that in mind it's worth pointing out that no investment you make in stocks is ever guaranteed – by nature it is a risky game. For some it pays off, but for most it just ends up being a way to lose money… That's why I don't really recommending investing or trading in general.
I personally believe that there are much better, safe ways to make money online.
Take the way I personally make money online for example which is called affiliate marketing. There is no risk involved – I am directly in control of what I earn through my efforts… The harder I work, the more I stand to earn… There's no need to put money on the line.
And just in case you're wondering, affiliate marketing basically involves you promoting products or services online (and in my opinion its a fantastic way to make money) – plus it's really easy to get started with.
If its something that interests you then you can learn more about it (or get started with it) for free over at Wealthy Affiliate.
But whatever you decide to do I just sincerely hope that my review of the Single Stock Retirement Plan here has given you a good insight what you can expect from it & hopefully you can now see why it may not be as profitable as its made out to be.
Whether you still choose to pursue it or not though, well that's up to you – but like I say I personally believe there are better alternatives available. Anyway if you happen to have any questions or comments then don't hesitate to leave them below. 🙂