The Wealth Network is a relatively new make-money-online program & it claims it can help you earn more in a single day than most people earn in an entire month simply be selling physical products through Amazon.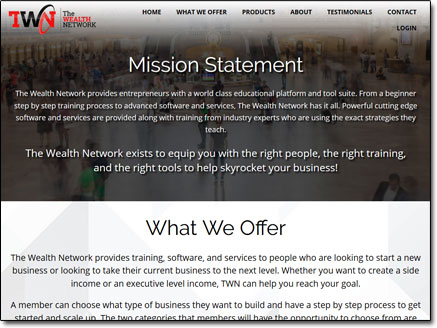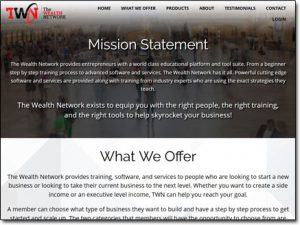 You're led to believe (according to their website) that you can start making money in just 48 hours of signing up and that they back you up with a 100% guarantee…
But is it actually legit or is The Wealth Network a scam that'll just see you parted from your cash?
I've done the digging & this review I'm going to be uncovering everything you need to know including what it's all about, how it all works & whether or not you can really make money with this program… So if you've been thinking about signing up then be sure to keep reading.
What Is The Wealth Network?   |   The Problem   |   How Does It Work?   |   The Truth   |   The Compensation Plan   |   Is The Wealth Network a Scam?   |   A Better Alternative
Important Update To This Review
As I mentioned above The Wealth Network is a pretty new program & as a result, to the frustration of many of its members, the creators keep on switching the prices of this program about.
Despite the program only costing $3 to "get started with", it could now see you spending over $10,000 before you get full access to everything that's inside that you will need to start earning money.
This is a huge increase on their initial fee of $149.99/mo which is what it was originally priced at when it first launched so I just thought I'd point that out to you before you dive into this review so that you are aware of the true costs involved.
What Is The Wealth Network?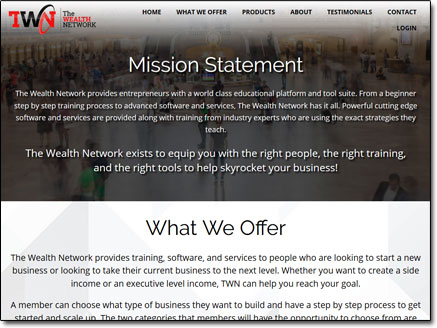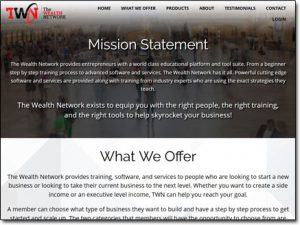 The Wealth Network is a "training" program that was launched a few months back & it originally started out with a sole focus on teaching something called dropshipping through Amazon.
I'll touch more on exactly what this is in a moment, but in case you don't know in short it's basically where you source cheap products from suppliers, then you list them for sale on Amazon at a higher price & when somebody purchases it, you order the cheap product & have it shipped directly to the customer. The idea is that you never need to hold inventory and that you're "guaranteed" to make money since you don't actually order the products until somebody buys them… That's the theory at least.
Anyway, recently the creators of The Wealth Network revamped their whole program & now they offer training on general online marketing too – so for example rather than selling physical products on Amazon you could also learn how to promote third party products as an affiliate instead.
I'll just point out here that personally I prefer affiliate marketing since you get the ability to earn money by promoting any products you wish without having to actually mess around placing orders or having things shipped – but I do know that dropshipping can definitely be a profitable business model too if you really put in the work.
And to date the best place I've found for people to get started with affiliate marketing is a place called Commission Academy – so will The Wealth Network turn out to be better? That's what I'm quite interested to find out.
But there was one immediate problem (in my opinion) with this particular program that I happened to pick up on though…
The Problem With The Wealth Network…
If you happen to land on their main website that it all looks hunky-dory, the site seems professional & if you're interested in learning more about dropshipping or online marketing then you might be inclined to sign up.
However, just by chance, I happened to notice there are several "funnels" that also lead you into The Wealth Network program – these are a different story entirely.
If you come through one of these funnels then you'll be fed a lot of extremely bold promises & sold on a lot of hype. It seems strange that they've done this because in my opinion these particular sales pages just resemble that of a typical get-rich-scam…
I'm not saying The Wealth Network is a scam, but here are a few things quoted from the sales pages:
"How We Make More Money Per Day Than the Average Person Does Per Month"
"Regularly $497 Today Only $3"
"How You Can Start Making Money In The Next 48 Hours"
And on top of that, you're shown a video which starts out with a bunch of people throwing huge income claims at you & saying how grateful they are for this system because it's helped them earn so much money…
I had really high hopes for The Wealth Network but after seeing this it immediately made me feel uneasy about the whole thing. Especially when the page also claims that you can get started 100% risk-free yet their disclaimer says (and I quote) "There is no assurance or guarantee that you earn any income".
So which is it? Are we going to make money or aren't we?
Let's take a look…
How Does The Wealth Network Work?
Okay, so it turns out that even if you land on the main website & try to purchase the products without going through the overly-hyped sales funnel, you can't – instead you're forced through the sales funnel.
You'll also be forced to sit through 5 minutes of the hyped-up sales video before you can access to the checkout button, but when you do finally get access to it you'll be told that luckily for you the system has just been reduced from $497 to $3…
Obviously that's just a marketing gimmick but chances are for $3 regardless you'll probably just think what the heck & give it a try…
Now, on the checkout page, this is where things get a little confusing… And again you're made to feel a little uneasy. That's because there's absolutely no information as to whether the $3 is a one-off charge, a recurring charge, or what…
Instead, you're just told that in return for your $3 you'll get access to what they call their 3 Day Pay System…

I find this a little strange because this so-called 3 Day Pay System wasn't listed anywhere on their website. If you hit the "products" link on their site the only 2 products listed are the eCommerce Wealth Center & the Marketing Wealth Center…
The 3 Day Pay System seems totally random… And what's the deal, are we going to be charged extra after these 3 days are up? There's just no way to tell!
I decided to do some research & thankfully I managed to find out how it really worked…
Here's How The Wealth Network Really Works…
It turns out that the $3 fee you're charged actually only gets you access to the "Starter" package. This basically just consists of an introductory to The Wealth Network & brief training on the whole dropshipping concept…
There is no real "meat and bones" in this package, it's just designed to get you wanting more & so that they can get your credit card details on file. The reason they want your details on file is that they know you'll be more likely to purchase additional things if it's just done with one-click (which it is from here onwards)…
Anyway, after going through the introductory training provided within the "3 Day Pay System" you'll be pitched their "real" package. This is where things start getting a lot more expensive, take a look:
TWN Gold Membership – $49.99/month
TWN Platinum Membership – $149.99/month
Smart Commerce – $997 (one-off)
It's worth pointing out that the fee for the Smart Commerce is a charge on top of the other fees, so if you purchased this then to continue with the program you would still need to stay subscribed to one of the other packages too.
To be honest, if you are really wanting to get the full thing from this program then you are realistically looking at the $149.99/mo package. This gives you access to all of the training inside The Wealth Network.
The Smart Commerce package is a completely optional package that's geared towards teaching you how to make money through Shopify. You'll learn how to actually set up a Shopify store, where to source products & how to promote it…
As I say it is optional but it's quite heavily pushed upon you.
I think their website actually does a good job of explaining what you can expect in return for your money so below, taken directly from their website you can see what to expect in their packages…
The eCommerce Wealth Center:


The Marketing Wealth Center:


What I will point out here is that in my opinion, I do feel like you actually get fairly good value in return for your money – however, there are a few slight downsides that I would like to make clear…
Firstly, one of the things most people seem to be interested in from The Wealth Network is their "Profit Spy" training. It's easy to see why… One of the hardest things of creating a successful dropshipping business is being able to find good products to promote.
The creators of The Wealth Network claim to be doing the hard work for you & you're led to believe that through Profit Spy you can simply log in, find profitable products, list them on Amazon & make money…
It would be great if it were so easy but sadly it's not. The Wealth Network guys do indeed provide you with a list of products, but what you have to remember is they are providing these same products to ALL the members inside this program, therefore the competition becomes immense.
Still, I guess it points you in the right direction to get started at least…
Secondly, their training is geared towards selling products pretty high on Amazon – for example they tell you that you can buy a Basketball from Dick's Sporting Goods for $24.99 & sell it on Amazon for $66.92, making a profit of $26.71 after Amazon takes their fees.
Obviously the problem with this is that whilst the profit sounds nice, realistically nobody is going to buy a basketball for such a high price… Especially when they could just purchase it from Dick's Sporting Goods directly.
And you may think that you'd just be able to reduce the price of the item, but you can't – not with dropshipping anyway. You need to keep your profit margins really high because if something goes wrong with an order you will be required to cover the costs since you're acting as a middleman between the supplier & customer.
It seems that rather than giving you the good places to buy things cheap they're just giving you the obvious places & telling you to sell high… That doesn't work, to win with dropshipping you need those really good suppliers… That's what it's all about.
If you just buy things from a store & sell it on the internet to make money then everybody would be doing it LOL.
And finally, this is a biggy… The Marketing Wealth Center does indeed provide you with tools & some fairly decent quality affiliate marketing as promised, however, this is where it becomes clear that the real intention here is to get you to promote The Wealth Network onto other people.
So whilst The Wealth Network does indeed provide you with some eCommerce, dropshipping & marketing training… The main concept behind the whole thing is for you to sign up, then to make money by getting other people to sign up…
This is where it becomes quite similar to the Digital Altitude & MOBE programs (though admittedly IMO The Wealth Network has better training). Still, I'm not really a huge fan of this business model but it brings me onto…
You Might Also Like:
The Wealth Network Compensation Plan
Yes, as I mentioned above you can make money by referring others to The Wealth Network – in fact, this is actually the reason why it's getting promoted so heavily at the moment because most of the people who have joined are just promoting it onto others. You're led to believe it's the easier option for you to start making money rather than setting up a dropshipping or eCommerce business.
Now, it might come as a surprise but despite how heavily it's being promoted The Wealth Network is not actually an MLM or network marketing company. They just offer a 1 level payout to affiliates, but it's a 40% commission on any sales generated so that's likely why quite a lot of people are pushing it because that's a fairly decent commission rate considering the prices.
It's also free to promote The Wealth Network as an affiliate, you don't need to sign up as a paying member or purchase any products.
**UPDATE**
As I mentioned at the start of this review The Wealth Network is a pretty new company, and as a result, to the frustration of many of their members, they keep on changing things about.
They have now changed the products they offer & the price of these products… As a result they've also changed the affiliate compensation plan. Whilst the company is still not an MLM, they have changed the commission rates… See the table below for more details:

It's also worth pointing out that in order to withdraw any earnings you must have accrued a balance of at least $20.
Is The Wealth Network a Scam?
Well, I certainly wouldn't go as far as to say The Wealth Network is a scam since you do get legitimate training in return for your money & there is the potential to make money as a result of going through the program, whether that be by promoting The Wealth Network itself or by launching your own dropshipping/eCommerce biz.
However what I will say is that in my opinion The Wealth Network is massively overpriced. When it first launched the "full cost" was around $149.99/month – that was still pretty expensive, but now you could be seen forking out over $9,997 for this program which in my opinion is just way too over the top.
As I say, yes you could make money as a result of following their training, but similarly there are other places you can get similar training for free… Such as Commission Academy for example which is actually one of my top recommendations.
Initially, at a cost of $149.99 I could have leaned towards recommending The Wealth Network to you, but now at a cost of over $9,997, there is just no way I could advise you join a program like that because as far as I'm concerned there is absolutely no need to spend that kind of money just to get started online.
So overall whilst I think the training is actually fairly good inside this program compared to other similar high-priced companies, I am not going to be recommending it because that high level of investment just introduces way too much risk.
Anyway, hope you appreciated this review & hopefully it provided you with the insight into this program that you were looking for. If you do happen to have any further comments or questions don't hesitate to leave them below.
A Better Alternative
The sad truth is that unfortunately most of the programs promising to help you make money online are scams. I can say that confidently after exposing over 500+ of them here on this blog.
But the good news is that even though most of them are indeed scams, there are actually some very good programs in amongst them - some programs that can truly help you to earn money.
And out of all of the legit programs I've seen, the one I would recommend the most to anybody looking to get started online is Commission Academy. In my own opinion, that's the best place to start.
At Commission Academy, you'll be provided with everything you need (including the training & tools) to begin earning real money by promoting products or services for companies like Amazon online.
The best part is that there's literally no limit on the amount you can earn with it & the process is pretty simple which means that it's absolutely perfect for people that don't have much experience.
Some wealthy affiliates even earn as much as 5-figures per month... Or more!

I mean don't get me wrong, that kind of money won't just fall into your lap without doing any work... But the harder you're willing to work at it, the more you stand to earn with it.
So if you're looking to get started but don't know which route you should go down or which program you should join (and don't want to waste money on bogus things that don't actually work), then I'd highly recommend checking out Commission Academy first. You can learn more about it here.