Toluna is a website that allegedly provides you with several ways to earn rewards online. You're led to believe that you can simply sign up, start sharing your opinion or engaging within the community & that you can begin earning points which can be later redeemed for cash.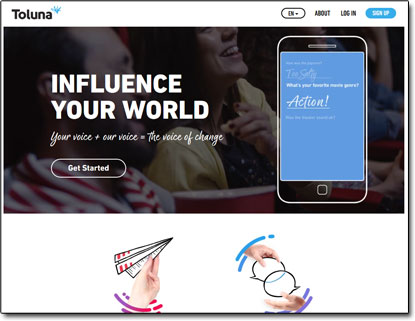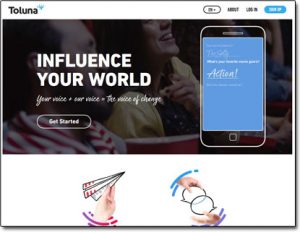 But despite the Toluna website looking pretty professional & trustworthy, there seems to have been an alarming number of complaints about it… So what's the truth?
Is it actually legit or is Toluna a scam that'll just see you wasting your time?
Thankfully if you've been looking into joining then you've landed in exactly the right place to find out because in this review I'll be uncovering everything there is that you need to know, including how it all works & whether or not you can really make good money with them.
What Is Toluna?   |   How Does Toluna Work?   |   How Much Are The Points Worth?   |   Toluna Complaints   |   Is Toluna a Scam?   |   A Better Alternative
What Is Toluna?
Toluna is quite similar to your average paid surveys company, but on top of merely providing surveys, they also provide a handful of other different ways that you can earn rewards too.
These include things like engaging with the community, testing products, participating in weekly lotteries or even simply asking questions yourself.
And the creators of Toluna claim that the opportunity provides not just a way to earn money or to share your opinion, but a way to make long-lasting friendships too thanks to their community-based business model.
Essentially Toluna is there so that you can vent about what you don't like about products (or praise what you do like about them) and get this information channelled through to the people who can actually make the changes.
Whilst obviously giving you the ability to earn rewards at the same time…
So it's kinda like heading to Facebook or Twitter to vent about something, but knowing that your opinion's actually going to get heard by somebody that matters & that you're going to earn a little something for your troubles.
You can also use the site to create your own polls so that you too can get your own opinions on things as well.
How Does Toluna Work?
First things first in order to get started with Toluna you'll need to create an account – now don't worry this is entirely free to do (as it should be with any legitimate paid surveys website) but it will require you to answer several questions about yourself.
They'll ask you things like your marital status, your employment status etc, they'll even ask for your address… All this is so that they can better match you to relevant surveys/brands inside the members' area.
Obviously you don't have to be totally honest with these questions if you don't want too or you're worried about your privacy… BUT know that if you're not honest it will make things harder for you in the long run. The reason for that is because you'll likely get matched to the wrong surveys or brands which will ultimately see you getting kicked out of things halfway through when they determine that you're not actually eligible.
So honesty is the best policy when signing up to Toluna or any other paid survey sites like it.
Anyway, as soon as you've got your account & got access to the members' area you'll be good to go. You can start doing tasks right away to begin earning points providing there are actually some available.
The primary way you'll collect points through Toluna will likely be with their paid surveys. As I mentioned above they do have several ways that you can earn but paid surveys are definitely "the main way".
Toluna Paid Surveys
The surveys inside of Toluna will generally take around 15 to 20 minutes to complete. Initially, when you start them you'll be asked a few questions purely to test your eligibility – usually, these "tests" only consist of around 3 questions, but if you're found not to be eligible you won't be able to proceed past these questions.
This is what's known as "getting kicked out of surveys" and it can be a bit frustrating since you've spent some time completing questions and get nothing in return for your time. I guess the good thing here though is that Toluna gives you this test before you actually get deep into the survey… Some other companies will kick you out around halfway through which as you can imagine is VERY frustrating.
Global Test Market on the other hand actually still give you some points even if you're kicked out (just putting it out there as a good alternative).
Toluna Product Testing
This is another one of the main ways you'll be earning points at Toluna & people seem to love the product testing because the good news is that after you've tested it you get to keep it.
The downside though is that the products are generally nothing really worthwhile… So if you're expecting to get & test an iPhone then think again LOL. More often it's things like washing powder, or foodstuff etc.
Still, freebies are freebies!
Once you've done your testing you'll just need to login to Toluna & provide some feedback – you'll then get awarded with points just like you would do if you'd have completed a paid survey.
Toluna Community Points
Whilst the paid surveys & product testing are the primary ways you'll earn points at Toluna, they do provide you with a handful of other ways that you can earn points with them too (and you can choose to do any you like).
Topics – create a discussion within the company & you'll be rewarded with points for doing so. You can ask anything & everything & I believe points are awarded based on the level of responses that come in (not 100% sure about that though).
Polls – ask a question to the community in the form of a poll & you'll get 100 points – easy peasy.
Battles – write about why you prefer one product over another & earn points for "battling" them against each other.
Thumb It – earn points for uploading photos which other members can vote on to decide if they like it or not.
Refer a Friend – for every member you invite to Toluna you'll earn an additional 500 bonus points.
How Much Are Toluna Points Worth?
With Toluna providing you with so many different ways to earn points it's pretty obvious you're going to be easily able to rack up quite a few, so you might be led towards thinking that you're going to be able to earn a ton of cash from Toluna…
Sadly though that couldn't be further from the truth. I've got to admit that whilst most survey sites generally only pay very small amounts anyway, Toluna has to be one of the lowest paying sites I've ever seen.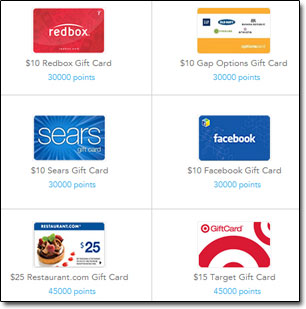 It will take you a whopping 3,000 converts before you can even convert them into so much as a single dollar…
And don't get too excited when you reach a dollar because you won't be able to redeem any rewards until you hit at least around $10.
As far as I can see it's $10 minimum to get yourself a gift card, and $30 minimum to get yourself a cash withdrawal through PayPal. That means if you're expecting Toluna to put money in the bank then you'll first need to earn yourself a whopping 90,000 points.
Truth be told I'm not a big fan of survey sites for this very reason… They simply pay out way too little. I mean sure, if you're looking for a way to earn a little bit of pocket change without any real commitment then yeah, they can be just the job… But honestly, if you value your time at all then they are simply not worth it.
In my opinion, there are much better things you could be doing with your time to earn more money, such as affiliate marketing for example. That's one of the best ways to earn money online & companies like Commission Academy make it very easy for you to get started (even if you're a newbie)… Definitely worth checking out.
You Might Also Like:
Toluna Complaints
I started out this review by saying that Toluna had a lot of complaints so I figured I'd list a few of them here so that you can see what sort of problems people are having with this site…
Shockingly they have just a 1-star rating on TrustPilot (as shown  below):

So what's going wrong then?
Takes a LONG time to earn rewards
Many reviewers have reported that it takes way too long to be able to earn a number of points that can actually be redeemed for some sort of reward.
One person said it took them over 4 months just to earn enough points to redeem £35 through PayPal… That's a grand total earnings of £8.75 per month & keeping in mind that the surveys take on average around 20 minutes to complete, I can see why they are frustrated.
They don't pay
Let me just make it clear that this isn't my personal comment – but several Toluna members on TrustPilot have stated that they simply do not pay. Not everybody though, I have seen some members who claim to have been paid, but take a look at this comment: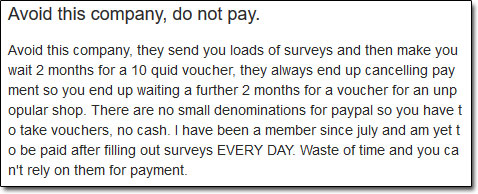 Very worrying indeed!
Getting locked out of your account
Many members claim that for some strange reason they've been completely locked out of their account. They reported that after using the site for a while they went to log back in & the system reported they were using an incorrect username & password combination… After following it up with Toluna they were told that there was no account associated with them.
Not sure what's going on with this, but seems a little strange – and it's just another thing that makes me feel pretty sceptical about the site.
Is Toluna a Scam?
Well, to be honest, I couldn't say for certain. I wouldn't like to call it a flat out scam since some people have reported they've been paid, but after reading several of the member reviews on Trustpilot I don't think I personally would be able to trust the site.
What I will say though is that I review a lot of scams on this blog & it certainly looks legitimate, so I believe that rather than being a "scam" as such I think they may just be having management issues or something, leading to delayed payments, problems & negative reviews…
Overall though I am not going to be recommending the site anyway because the payouts are simply way too low. You're going to be spending a LOT of time filling in surveys & not getting very much in return.
Honestly paid surveys seem like an easy way to make money online, and I'll admit they are pretty easy – but you should know that there are much better ways to make money online overall. I wouldn't bother wasting time with paid survey companies.
Anyway, hopefully you found my review useful & hopefully it gave you a good insight into this company. If you do happen to have any further questions or comments about them then don't hesitate to leave them below.
A Better Alternative
The sad truth is that unfortunately most of the programs promising to help you make money online are scams. I can say that confidently after exposing over 500+ of them here on this blog.
But the good news is that even though most of them are indeed scams, there are actually some very good programs in amongst them - some programs that can truly help you to earn money.
And out of all of the legit programs I've seen, the one I would recommend the most to anybody looking to get started online is Commission Academy. In my own opinion, that's the best place to start.
At Commission Academy, you'll be provided with everything you need (including the training & tools) to begin earning real money by promoting products or services for companies like Amazon online.
The best part is that there's literally no limit on the amount you can earn with it & the process is pretty simple which means that it's absolutely perfect for people that don't have much experience.
Some wealthy affiliates even earn as much as 5-figures per month... Or more!


I mean don't get me wrong, that kind of money won't just fall into your lap without doing any work... But the harder you're willing to work at it, the more you stand to earn with it.
So if you're looking to get started but don't know which route you should go down or which program you should join (and don't want to waste money on bogus things that don't actually work), then I'd highly recommend checking out Commission Academy first. You can learn more about it here.