U-Economy, one of the latest programs put together by Peter Wolfing claims that it can enable you to "create your own economy" (hence the name). You're led to believe that you can sign up, follow the training and start making money for yourself online.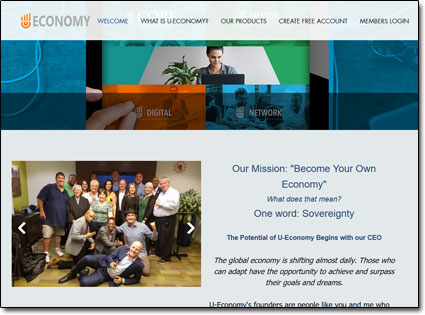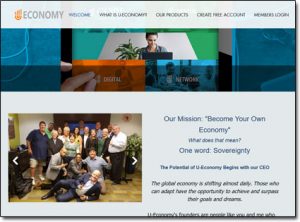 Now initially it might just sound like the typical biz-op, however, Peter claims that his system has been designed (and I quote) "to enable anyone to simply plugin for rapid success with maximum leverage for life-changing income"…
According to him, it's revolutionary… But is it? And is it actually legit, or is U-Economy a scam that'll just leave you high & dry?
I've done the digging & in this review, I'm going to be uncovering everything there is you need to know about it including whether or not you can really make money with it, so if you've been thinking about getting started with U-Economy you can rest assured that you've landed in the right place to find out if it will actually be worth your while.
What Is U-Economy?   |   How Does U-Economy Work?   |   Can You Make Money With It?   |   Is U-Economy a Scam?   |   A Better Alternative
What Is U-Economy?
According to Peter Wolf the programs creator, U-Economy is a revolutionary money-making program that will see you learning how to make lot's of money really quickly online, though I'll immediately point out that after taking a closer look I felt it was actually no different to other typical high-ticket business opportunities like Digital Altitude & MOBE.
You see the whole concept of U-Economy is that you sign up, purchase the "training" provided & then go on to promote the program to other people yourself this time earning commissions at their expense when they too sign up just like you did.
Since there are indeed products at hand the opportunity is technically legit, but it's not really a business model I'm a fan of personally since in my opinion it very closely resembles that of a pyramid scheme.
You're being sold on the opportunity of making money & then you're selling that same opportunity onto other people… Hardly the most revolutionary business model in the world anyway like Peter claims it is.
But I won't brush it off straight away, instead, let's take a closer look at how it all works… I highly doubt it, but maybe there is money to be here with this opportunity & maybe the products actually contain some substance? We'll soon see…
How Does U-Economy Work?
Okay so as I mentioned above U-Economy does indeed have "products" in place but it only takes one look at their website to see that you are being sold into the whole thing on the promise of making money as opposed to the value of the products. In my opinion, this is not a good start.
U-Economy is a networking marketing company & whilst I don't generally recommend network marketing companies, what I do always say is that if you are looking into one the first thing you should ask is would you buy the products without the attached opportunity?
So, would you buy U-Economy's products if they weren't promising you would make money by reselling them? The chances are you probably don't even know what they actually are because of the limited information provided through their website, so firstly let me start out by running through their "product" line…
U-Economy – The Products
All of the products inside of U-Economy are actually grouped into 3 different categories, these are as follows:
U-Crew (you need this if you want to get started making money) – $49.95/monthly fee
U-Marketplace (low ticket products) – range from $25 up to $500
U-Academy (high ticket products) – range from $1,500 all the way up to $50,000
So as pointed above whilst you can join U-Economy for free, if you want to actually get started with the opportunity then it's mandatory for you to sign up to their U-Crew package which will see you forking out $49.95 per month.
The U-Crew package simply unlocks the ability to earn residual commissions over 12 tiers of members – you'll just be getting a percentage of the $49.95/monthly fee paid by any members you or your downline refer (providing they actually upgrade to this level).
The U-Marketplace pretty much just consists of things like mindset training, marketing training etc. These are all low-ticket products that are geared towards teaching you how to get started with your new business.
Finally, the U-Academy is where the high-ticket products lie, and when they say high-ticket they certainly mean it as the products in this category range all the way up to a whopping $50,000. Plus on top of that if you wish to earn commissions by reselling these products you will also have to pay a licensing fee to do so which could set you back an additional $1,995 as well.
What justifies the cost of the U-Academy products? Well, in my opinion, I don't think anything could justify that cost LOL… Not unless they were guaranteeing I'd make it all back (and then some), which by the way they're not. But yeah, the U-Academy basically consist of "luxury" live events & 1-on-1 coaching… You're led to believe they'll help you take your business to the next level.
Anyway, back onto how all this connects together…
All of the products sold through the U-Economy platform are geared towards building a business, marketing a business & primarily marketing the U-Economy platform itself onto others.
The important thing to note is that if you do actually want to go ahead & join this business opportunity then you are going to need to purchase the products & pay a licensing fee on top of their purchase price if you want the ability to earn commissions.
Take a look: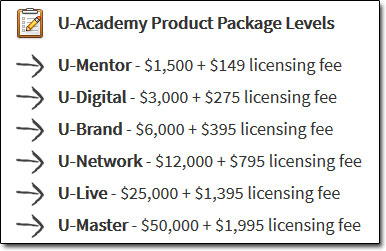 That means in order to get the full potential out of the opportunity you are going to be required to spend well over $50,000, along with subscribing to monthly fees & that is all before you even start making any money…
And as far as I'm concerned it's clear that most of the people getting involved with this opportunity are going to be purchasing the products purely on the fear of losing out on commissions rather than purchasing them because of the value they provide.
As I mentioned earlier in the review it's pretty much the same way a company called Digital Altitude works, though they recently got shut down by the FTC because despite DA claiming they had "products", the FTC decided that in reality, they were just a cover-up for the underlying money-making scheme.
In my opinion, at least, U-Economy seems to be working in the exact same way.
You Might Also Like:
Can You Make Money With U-Economy?
To be honest I don't doubt that you could make money with U-Economy, but what I will say is that it is certainly not going to come as quickly & easily as Peter Wolfing claims it is on his website.
And not only that but in order to get the full potential out of this program, you are going to have to invest an awful lot of money. With no guarantee of you actually making anything back (not even your investment) I feel that this particular business opportunity just poses far too much of a risk.
The truth is the majority of the people who join these things actually end up losing money. They sign up, invest, and then realize that it's actually a lot harder to get other people to sign up than they were led to believe.
So unless you are already an expert marketer the truth is you will find it difficult to gain momentum with the U-Economy program… And if you want to learn about making money by marketing online then there are better places to get started, such as Commission Academy which is free… You don't want to start out as a beginner by investing crazy money like $50,000.
But yeah, there's no denying that there is the potential to make money with the U-Economy program, providing you are able to find enough people who are willing to sign up to a program costing well over $50k.
It ain't gonna be easy! And personally I wouldn't feel comfortable promoting something unless I felt it truly provided good value to people, which as far as I'm concerned U-Economy does not (in my opinion).
Is U-Economy a Scam?
Well no, it's not really a scam as such since you're buying into a program & then you're getting the opportunity to make money by promoting it onto other people (oh yeah and of course let's not forget the "products" ?).
But ultimately this is not going to be a program that I will be recommending because in my opinion the high level of investment is just way too risky, and to be honest the whole thing looks an awful lot like a pyramid scheme.
It's very clear that despite claiming to supply products the whole thing is heavily focused around the money-making opportunity, there's no denying that. It's basically a case of signing up, spending money & getting other people to do the same so that you can then earn at their expense… Not a business model I'm particularly fond of.
So overall whilst you could potentially make money with U-Economy it's a lot more difficult than they make out & when you combine that with the high level of investment the likelihood here is that if you sign up to U-Economy you will probably end up losing money not making it.
With all that being said I am going to give U-Economy a thumbs down & it's not a program I am going to be advising you to join, but hopefully, this review gave you a good insight into why. If you do happen to have any further comments or questions please don't hesitate to leave them below.
A Better Alternative
The sad truth is that unfortunately most of the programs promising to help you make money online are scams. I can say that confidently after exposing over 500+ of them here on this blog.
But the good news is that even though most of them are indeed scams, there are actually some very good programs in amongst them - some programs that can truly help you to earn money.
And out of all of the legit programs I've seen, the one I would recommend the most to anybody looking to get started online is Commission Academy. In my own opinion, that's the best place to start.
At Commission Academy, you'll be provided with everything you need (including the training & tools) to begin earning real money by promoting products or services for companies like Amazon online.
The best part is that there's literally no limit on the amount you can earn with it & the process is pretty simple which means that it's absolutely perfect for people that don't have much experience.
Some wealthy affiliates even earn as much as 5-figures per month... Or more!

I mean don't get me wrong, that kind of money won't just fall into your lap without doing any work... But the harder you're willing to work at it, the more you stand to earn with it.
So if you're looking to get started but don't know which route you should go down or which program you should join (and don't want to waste money on bogus things that don't actually work), then I'd highly recommend checking out Commission Academy first. You can learn more about it here.