If you follow my blog then you'll know that recently I put together an AWOL Academy review which outlined what the program consisted off – but since writing that I've been getting a lot of questions regarding what it's all about, how it all really works & whether or not you can actually make money with it… So I figured to put this new post together today explaining all of that.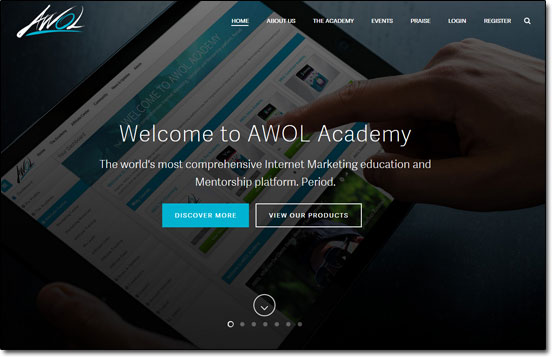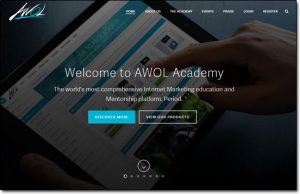 And just in case you don't already know – AWOL Academy is basically what's known as a high-ticket program that claims to teach you how to make money online through affiliate marketing and provides you with a way to earn money by reselling the same educational opportunity onto other people…
So if you've come across the webinar promoting it (or any of their other sales funnels pushing it such as the Internet Income Explained website) & you want to know how it all works or whether it can really help you become successful then rest assured you've landed in exactly the right place to find out everything you need to know.
What Is AWOL Academy About?   |   How Does AWOL Academy Work?   |   The Truth   |   Can You Really Make Money?   |   Is AWOL Academy Legit?   |   A Better Alternative
What Is AWOL Academy About?
As I say I've already reviewed AWOL Academy on this blog so I won't go into major detail here with regards to what it's all about (since you can just read my review to find that out) but basically it's a high-ticket program that's been put together by a guy named Keala Kanae & it claims it can help you find success online through something called affiliate marketing.
Affiliate marketing basically consists of promoting stuff for 3rd party products & getting paid commissions in return for any sales you generate. I'll admit that affiliate marketing itself is actually a very good way to build an income online – it's the same way I personally make my own income online.
Most companies including big names like Amazon, Apple etc have affiliate programs through which you can promote their products for money so yes, to clear up any confusion or misconception it's definitely a legit way to make money too.
However, as you might already know you can't just sign up to an affiliate program & start making money right off the bat. Whilst it is a very good way to make money it does require some skill to become successful – and that's where AWOL Academy comes in.
Keala Kanae claims he's put his AWOL Academy program together to show you step-by-step how you can create a successful affiliate marketing business online. He even claims that if you don't make money as a result of following his program that he'll pay you $10,000 in cash just for trying…
Sounds almost too good to be true right? I agree, and clearly so do many others because as a result of Keala's bold claims a lot of AWOL Academy scam rumours started surfacing on the web just days after it's initial launch… And whilst it might not be a scam as such, I do feel like you need to know how it really works before you start investing cash into it because there's something they don't make quite clear right from the start…
How Does AWOL Academy Work?
When you first came across AWOL Academy you likely came across it via a page showcasing Keala Kanae's lavish lifestyle – a page potentially claiming to share the secret as to how "a former coffee shop employee quit his job & started travelling the world living like a boss" & showcasing various photos of Keala in different locations…

Or alternatively, you may have come across it via a page named Internet Income Explained which shows you Keala hopping out of a Lamborghini & then explaining with his friend & co-partner Kameron George how they're making online & how they're going to help you do the same…
Whatever way you got to AWOL Academy it doesn't really matter – because what all these sites that are promoting it have in common is that they're all designed to get you to enter your email address to request a copy of their eBook named Freelance Marketing Secrets.
And whilst this eBook does contain some degree of value, ultimately it is designed as a "taster" to get you to sign up to the AWOL Academy webinar.
You'll realize that immediately upon requesting the eBook as you'll be redirected straight to the webinar registration page (shown below) where you're promised the $10k guarantee & if you don't happen to sign up Keala will begin reaching out to you via the email you submitted in an attempt to convince you to jump on it…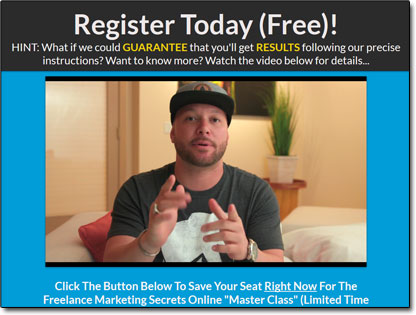 The reason he's so desperate to get you to onto the webinar is that this is where he'll pitch his entry product to you, named the AWOL Pro Academy which comes in at a seemingly reasonable cost of $99.
But one thing that's not made very clear is the fact that this is indeed just an entry product – you're almost led to believe that the $99 fee is getting you access to everything you need to get started & that's simply not the case.
Just like the eBook was a teaser for the webinar & the webinar was a teaser for the $99 product, the $99 product is a teaser for higher-priced products to come…
And all in all the AWOL Academy program could end up costing you a whopping $10,000 (or more) in total if you decide to follow it through…
Do you get good training? Yes, you do, I'm not gonna put Keala's training down because as far as I'm concerned it is actually pretty decent training & no doubt it will give you a good insight into getting started with affiliate marketing.
However, even after spending the $10,000 you will find the program still does not provide everything. Instead, you will have to sign up to various third party companies (as recommended) and purchase more & more tools that are required to get your business moving.
Are the tools recommended any good? Yes, they are – but they are also expensive & many of them involve monthly subscriptions which could see your savings rapidly depleting before you even manage to get your business off the ground.
These are tools that in the real world you don't NEED when you're just starting out…
And essentially, in my opinion, I feel that being forced to purchase them puts you in a position where you begin "racing against the clock" to try and make money as quickly as possible which isn't really the best mindset to be starting a business with.
But Keala claims he has the answer to getting things moving FAST though – and the answer is using paid traffic. Though as far as I'm concerned though this is NOT the best way to start out in online business & it will likely only see you losing even more money.
Why? Well as the name suggests paid traffic requires money – it's the process of paying for visitors to come to your site rather than generating them yourself through free methods. The problem is that whilst yes it can make things happen quicker, it involves a lot of trial & error meaning it'll likely take you a while to figure out how to get your campaign profitable… And you'll be burning money all the while you try & figure it out.
So come the end of the program you'll be $10,000+ down, you'll have various monthly subscriptions coming out & you'll be looking at how much money you have left to put into advertising that may or may not be profitable for you…
That's the reality of this program… But you'll see why it's all geared this way in the next section of this review.
You Might Also Like:
The Truth About AWOL Academy…
If you were to follow the AWOL Academy training program right through to the very end you'd soon see why the whole thing is so expensive – and that's because they want you to encourage you to promote the exact same program onto others…
High priced products mean higher commissions, and once you follow the program right through you'll find out that whilst you can certainly go your own way and create a website promoting products from say Amazon, you'll be pushed towards promoting the AWOL Academy program itself instead.
They claim that it's easier to just promote AWOL because all the sales material is done-for-you, and that you'll be able to earn more this way since the commissions are so high due to the price of the products…
So remember those websites showcasing Keala Kanae's lavish lifestyle that I mentioned earlier in this post? Once you go through the AWOL Academy training those are the websites that you'll find yourself promoting.
The real goal is to find others to sign up & invest $10,000+ just like you did.
Can You Really Make Money With AWOL Academy?
Whilst I'm not particularly a huge fan of the whole business model & the high price involved with AWOL Academy, the truth is that yes you can potentially make money as a result of going through their program.
You can make money by promoting any affiliate program of your choosing – but like I say you should know that you'll ultimately be pushed towards promoting AWOL Academy itself as that's made out to be "the real money maker".
However what I will say is that whilst you can make money with it, due to the high level of investment & the fact they push you towards using paid traffic methods (such as Facebook advertising) rather than free traffic methods I'd say you'd likely see yourself spending more than you ever make back.
Is AWOL Academy Legit?
The answer to that is yes, AWOL Academy is indeed legit (even though I'm not totally a big fan of how it all works) but it's clear that you're going to have to be prepared to invest a LOT of money if you really want any chance of seeing success through it.
I'll admit though that the training inside is of pretty decent quality & you will learn a fair bit as you progress through it – but in terms of value for money (considering it costs around $10,000 all in all) I just don't think it's "that good" in my opinion.
As far as I'm concerned there are better places to start especially if you're new to all this such as Commission Academy for example which is another legitimate training program that covers pretty much the same stuff as AWOL Academy but doesn't require anywhere near the level of investment.
Therefore overall despite it being legit, I am not going to be personally recommending it because I just feel that the high level of investment introduces a bit too much risk, especially for newbies.
If you do happen to have any further questions or comments about it that I haven't covered though then do feel free to leave them below & I'll do my best to respond to them as quickly as possible.
A Better Alternative
The sad truth is that unfortunately most of the programs promising to help you make money online are scams. I can say that confidently after exposing over 500+ of them here on this blog.
But the good news is that even though most of them are indeed scams, there are actually some very good programs in amongst them - some programs that can truly help you to earn money.
And out of all of the legit programs I've seen, the one I would recommend the most to anybody looking to get started online is Commission Academy. In my own opinion, that's the best place to start.
At Commission Academy, you'll be provided with everything you need (including the training & tools) to begin earning real money by promoting products or services for companies like Amazon online.
The best part is that there's literally no limit on the amount you can earn with it & the process is pretty simple which means that it's absolutely perfect for people that don't have much experience.
Some wealthy affiliates even earn as much as 5-figures per month... Or more!


I mean don't get me wrong, that kind of money won't just fall into your lap without doing any work... But the harder you're willing to work at it, the more you stand to earn with it.
So if you're looking to get started but don't know which route you should go down or which program you should join (and don't want to waste money on bogus things that don't actually work), then I'd highly recommend checking out Commission Academy first. You can learn more about it here.