Free online sweepstakes contests keep popping up on the internet and they manage to attract lots of attention very quickly. After all – why wouldn't anyone want easy free money, right?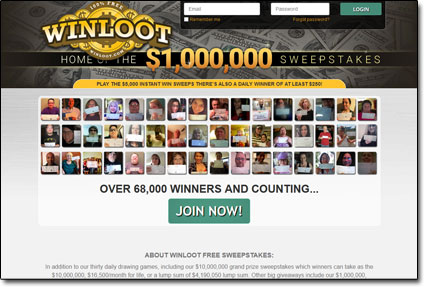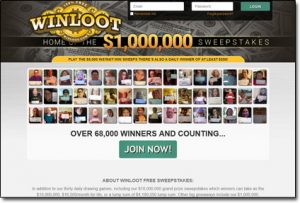 You might have heard about WinLoot. It's an online sweepstakes website too.
We stumbled upon it on the internet just a few days ago and were intrigued by the bold offers it made. WinLoot will apparently let you join for free and enter contests for prizes as big as $10,000 a month.
However, there is a new sweepstakes scam surfacing almost every month so we decided to put together a WinLoot review to outline the truth about this particular site to help anyone considering trying it out.
What Is WinLoot?   |   How Does WinLoot Work?   |   Can You Win Big?   |   Can You Trust It?   |   Is WinLoot a Scam?   |   A Better Alternative
What Exactly Is WinLoot?
WinLoot is another one of those sweepstakes websites that promise big prizes to the contestants. You can become a member of this online club for free and play lottery games to try your luck.
According to the website, WinLoot is the "home of the $1,000,000 sweepstakes." Yup, you got that right! They offer some sort of a jackpot prize on top of that too… But realistically we doubt if it is even winnable. $1,000,000 for a free money-making contest is quite a dubious offer!

There are several other contests on top of that as well. You can participate to win $5,000 drawings as many as 65 times a day or play for $1,000 a month. They claim that they pick a $250 sweepstakes winner every day and other smaller contests include $100 instant prizes too.
WinLoot requires you to be a citizen of the United States, the UK (update: potentially no longer available to the UK), Canada, New Zealand or South Africa to participate. This is nothing new. A majority, if not all, sweepstakes websites are accessible in these countries only.
Can you win big? That is the real question. We think it's very unlikely that anyone has ever won those $10,000 a month or jackpot prizes. They may claim to choose a $250 winner every day but we doubt that too. It's most likely that people are winning just $1 or something as it happens on other sweepstakes websites too.
But let's take a closer look into how it all works to find out the truth…
How Does WinLoot Work?
It works like any other lottery-style sweepstakes contest. WinLoot lets you join its website for free. The information section tells you to enter some basic information like your name, date of birth, email address, etc to sign up. However, we found out that all it needs is your email ID to join. They send you a confirmation email and that's about it.
WinLoot has a lottery system for its contest. You have to pick as many numbers as specified from a given list of random eight-digit numbers. Once you complete the selection, your entry is completed too. You win prizes based on an entry in every contest.
The strange thing about this website is that it takes you to one contest after another. You don't actually navigate through options to select which contest you wish to play. Even if you sign up for a $250 winner a day contest, it might first take you to make an entry for a $10,000 a month contest.
All contests are cool as long as one can make some free money but this is weird. Very weird, we'd say!
Can You Win Big With WinLoot?
We don't think so. Sweepstakes contests are potential scams. We have seen too many of them to simply buy such claims any more. To pay big, they have to earn big too & we just can't see how WinLoot could possibly be earning enough to pay out as much as they claim.
Many sweepstakes contests are held because companies that are looking to market their products. What could be a better way to let people know about their product than putting it up in a free money-making contest? WinLoot, however, doesn't have such a system.
It uses some online advertising which is very visible on their website too. However, it is highly unlikely that they make enough money to hand out a $10,000 prize every month for a free lottery game. This just doesn't add up…
You Might Also Like:
Can You Trust WinLoot?
Our investigation for this WinLoot review revealed that it isn't registered with the BBB. Although this website is owned by ShareStakes LLC which owns three more sweepstakes websites, we have our concerns.
We have also found that there is another company called Globalizer LLC linked with this website.
Then on top of that, there is another catch… We found that this website has been active online since the year 2003. The website itself, however, says that it was created in 2013. We don't know if the website was acquired by the owners in 2013 or whatever else is the case. We have our concerns about WinLoot, to say the least.
We checked some review websites to see what the real members of this online sweepstakes club had to say. As always, we found mixed reviews including repeated complaints about winning prizes but never getting paid. That's quite common with these sweepstakes websites.
With that in mind, I think it's the appropriate time for…
My Verdict – Is WinLoot a Scam?
We have revealed everything that we found out in this WinLoot review. We leave it to you to decide whether it is a scam or not. We don't have any sound proof to claim if it is legitimate or not…
However, we are certain about one thing that you can't win really big in these sweepstakes contests. You may be able to win very small prizes though which may not be worth your time and effort, and it's also unreliable for the long term.
So overall regardless as to whether or not WinLoot is legit I still won't be recommending that you join it because I believe that there are much better ways to make money online which reward you much better for your time.
One of the best ways that I would recommend to anybody looking to reliably make good money online is something called affiliate marketing which is actually the same way I personally make most of my own money online & I believe it is much better than sweepstakes.
With affiliate marketing, you are in full control of your income because it simply involves you promoting products or services in return for commissions – such as products from the Amazon website for example.
The best part is that the amount you can earn from it is totally uncapped – the harder you work the more you stand to earn, and what's more, is that you can even get started for free with it over at Commission Academy.
So, in my opinion, you should forget about WinLoot & join Wealthy Affiliate instead… But regardless, either way, I just hope that my review of WinLoot here has given you the information you need & helped you make a better decision about joining.
If you still happen to have any further questions or comments though then, of course, don't hesitate to leave them below & as always I'll do my best to get back to you as quickly as I can. 🙂
A Better Alternative
The sad truth is that unfortunately most of the programs promising to help you make money online are scams. I can say that confidently after exposing over 500+ of them here on this blog.
But the good news is that even though most of them are indeed scams, there are actually some very good programs in amongst them - some programs that can truly help you to earn money.
And out of all of the legit programs I've seen, the one I would recommend the most to anybody looking to get started online is Commission Academy. In my own opinion, that's the best place to start.
At Commission Academy, you'll be provided with everything you need (including the training & tools) to begin earning real money by promoting products or services for companies like Amazon online.
The best part is that there's literally no limit on the amount you can earn with it & the process is pretty simple which means that it's absolutely perfect for people that don't have much experience.
Some wealthy affiliates even earn as much as 5-figures per month... Or more!


I mean don't get me wrong, that kind of money won't just fall into your lap without doing any work... But the harder you're willing to work at it, the more you stand to earn with it.
So if you're looking to get started but don't know which route you should go down or which program you should join (and don't want to waste money on bogus things that don't actually work), then I'd highly recommend checking out Commission Academy first. You can learn more about it here.