Wondough is a relatively new website & it claims to pay you in return for completing a whole variety of different tasks including completing surveys, visiting websites, downloading videos & even for following suggested people on social networks like Twitter.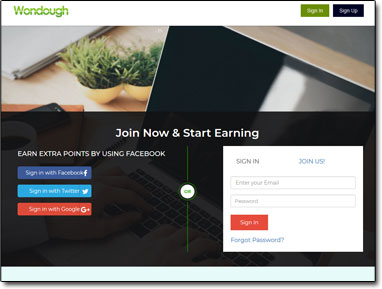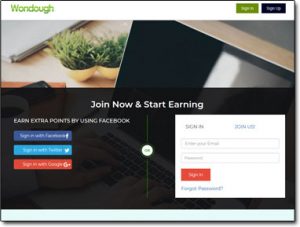 But with it being pretty new & not much information being available about it the whole thing looks a little suspicious – so what's the deal?
Is it actually legit or is Wondough a scam that'll just have you wasting your time?
Thankfully you've landed in the right place to find out because I've done the digging & in this review, I'm going to be sharing everything there is about Wondough that you need to know, including most importantly whether or not you can really make money with it.
What Is Wondough?   |   How Does Wondough Work?   |   Pros & Cons   |   Is Wondough Legit?   |   A Better Alternative
What Is Wondough?
Wondough is a new website that claims to provide you with a whole bunch of easy ways to earn money online – in fact, you can actually start earning by creating an account on their site (but don't rush & do it until you finish reading this review because there are some important things you'll need to know).
Through the Wondough site, you'll earn what they call Wondough ePoints (sadly not real money) & you'll get 80 of these points added to your balance when you initially create your free account.
From there you can then earn more Wondough ePoints by completing short, simple tasks provided through their website. These tasks include things like installing apps, following certain social media accounts, completing offers & visiting recommended websites.
Whilst these Wondough ePoints can't be redeemed for cash or withdrawn via PayPal or anything like that, once you have enough of them you can request to exchange them for gift cards which can be used at most leading retailers.
How Does Wondough Work?
Honestly, the process of earning money (or should I say gift cards) through Wondough is actually pretty simple, though the reality is that you likely won't be able to earn anything other than pocket change through their site.
On top of that Wondough is a relatively new site & there doesn't seem to be any fantastic reason to use their site over the already established ones (such as super high payouts) so whilst Wondough does seem to be legit, personally I would probably pick an established site instead that has a proven track record of providing quality customer service. You can click here to access a list I've put together of similar sites to Wondough.
But anyway for those of you specifically interested in Wondough here's how the whole thing works…
Basically, you sign up & create your free account, then after doing so you'll be given access to the platform & you'll see that your account will have been credited with 80 Wondough ePoints for signing up.
This on its own isn't too fantastic though because you can't actually cash out these points since you need to have an awful lot more to meet their minimum withdrawal limit. In order to get more, you'll have to complete some of the tasks that are you presented to you on the dashboard.
These tasks are ever-changing but generally include things like following people on social media, signing up to specific websites, downloading apps to your phone or installing things on your computer etc… You get the idea.
The tasks are all supposedly short & simple therefore they typically shouldn't take you much longer than 10-20 minutes per task.
Finally, once you have enough ePoints racked up within your account you'll be able to request to have them converted to a gift card. You can either get the gift card sent to you electronically or alternatively have it sent to you in the post. Sadly though as mentioned at the start of this review there is no option to be paid directly in cash.
You Might Also Like:
Pros & Cons of Wondough
There are many similar sites to Wondough available online so with Wondough being brand new why should you trust them & why should you sign up to their site rather than any of the other ones? I figured I'd put a list of pros & cons together to help you decide…
Starting with the PROS:
Wondough have a variety of different tasks on offer so if you're bored of just completing mundane surveys you might find this site a little more exciting
It's free to join & you get some points for registering which will kick-start your balance
The sites pretty easy to use
Now onto the CONS:
Some of the tasks involve visiting random websites, installing software or downloading apps – this could potentially pose a security threat to your devices.
Wondough is brand new & unlike other companies out there they do not yet have a proven record of providing good customer service.
The website is very basic & doesn't really provide much information or help.
You're restricted to redeeming gift cards, you can't withdraw directly to PayPal or request a cheque or anything like that.
The site has already received some negative reviews elsewhere on the web.
Is Wondough Legit?
Well as far as I'm aware the Wondough site is legit, but truthfully since there are so many established sites out & Wondough is brand new I really wouldn't pick them over the others. Instead, I would recommend that if this is the type of site you are interested in joining you should check out the alternatives instead.
Maybe if Wondough had launched in the marketplace offering much higher payouts or something like that then you could potentially be inclined to choose them over the established sites but as it is I just don't see any reason too.
The other thing I'm not a big fan of with Wondough is the whole concept of downloading things & installing software to earn points. This could be quite risky because essentially you don't really know what things you are putting onto your devices. Wondough doesn't really provide much assurance that the apps/software has been vetted by their team prior to them recommending it to you.
But as I say as far as I am concerned there is just simply no reason to pick this site, a brand new website, over any of the other established & reputable sites that are already out there in the marketplace.
So with that being said, I won't be recommending Wondough to you & hopefully, you can see why. If you do happen to have any further comments or questions on it though please do feel free to leave them below.
A Better Alternative
The sad truth is that unfortunately most of the programs promising to help you make money online are scams. I can say that confidently after exposing over 500+ of them here on this blog.
But the good news is that even though most of them are indeed scams, there are actually some very good programs in amongst them - some programs that can truly help you to earn money.
And out of all of the legit programs I've seen, the one I would recommend the most to anybody looking to get started online is Commission Academy. In my own opinion, that's the best place to start.
At Commission Academy, you'll be provided with everything you need (including the training & tools) to begin earning real money by promoting products or services for companies like Amazon online.
The best part is that there's literally no limit on the amount you can earn with it & the process is pretty simple which means that it's absolutely perfect for people that don't have much experience.
Some wealthy affiliates even earn as much as 5-figures per month... Or more!

I mean don't get me wrong, that kind of money won't just fall into your lap without doing any work... But the harder you're willing to work at it, the more you stand to earn with it.
So if you're looking to get started but don't know which route you should go down or which program you should join (and don't want to waste money on bogus things that don't actually work), then I'd highly recommend checking out Commission Academy first. You can learn more about it here.