If you're thinking of getting started with Wood Profits, you must have visited their website. The website claims, in huge bold figures, that you can launch your own woodworking business through this system and earn $90k-$150k per annum.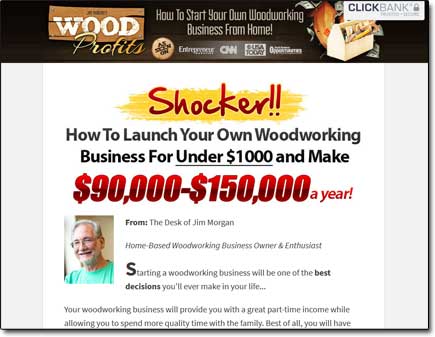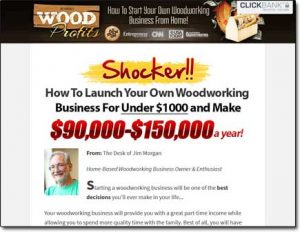 This might seem like a very decent offer to all the woodworkers looking to make money online but be careful! This could also, like many others, turn out to be a scam.
So is Wood Profits a scam? Thousands of online systems that make claims of helping people earn a huge amount of money online without having to leave the comfort of their couch. Websites even claim that you can start working for free and earn money without having to pay a single dime, but eventually, you often end up paying a lot of money and receive absolutely nothing in return.
In this Wood Profits review, you will learn more about what Wood Profits is, how it works and whether you should get involved with it or not.
What Is Wood Profits?   |   The Truth   |   How Does Wood Profits Work?   |   Fake Owner   |   The Good & The Bad   |   Is Wood Profits a Scam?   |   A Better Alternative
What Is Wood Profits?
Wood Profits was allegedly founded by Jim Morgan in 2012. Wood Profits is a 53-page book, that will, according to their claims, guide you enough to start making enormous amounts of money online. Any legit business would never promise such a handsome income to its users even before they sign up because making money is never that easy. They provide you with a 53-page guide book to help you start your business by selling your wood projects online. Along with the book, you will also receive an audio recording of the content. But that's just about it. This is all the system has to offer to you when you sign up with them.

The Truth
Woodworking involves making products from wood, which can include wooden furniture, home décor etc. To become a full-time woodworker and make good money, you need to have the proper wood working tools and skills required to make different kinds of products with wood. If you have the right skills and do a good job, people will buy your products, but just not through Wood Profits. Do you really think you will be able to successfully make money after reading a 53-paged book? Beware of systems that make fake or bold promises, they could lead you into malicious scams to take your money.
How Does Wood Profits Work?
The sales page of Wood Profits shows a lot of testimonials of people praising the system on how wonderful it is, but these testimonials are fake. The same pictures of people in the testimonials are also used on other websites to fool people. The system claims that it has been featured by authority platforms such as CNN, USA Today etc. but there is no proof for these claims anywhere on the internet!


Fake Owner
Wood Profits is owned by a person named Jim Morgan and the photo you'll see on their website that represents Jim Morgan has been taken from Google. The page also shows more pictures of Jim Morgan, while working on his wood working projects, and anyone who has a good eyesight can clearly tell that every picture contains a different person being represented as Jim Morgan. If the system was even slightly legit, why would they have to display false testimonials and fake pictures to convince people to join it? There are several other systems that use the exact same method to trick people in to joining their systems, so watch out for such scams before you get involved with one.
The eBook
The 53-page eBook will cost you $37. When you try to leave the page, they offer you a $10 discount and this offer expires after 10 minutes. After this, you'll see 3 upsells to choose from, which cost $29.97, $39 and $49.97 respectively. These are only further guides to teach you more techniques for your business.
The Good And The Bad
The good part about Wood Profits is that they offer training in both writing, as well as audio forms, in order to help you scale up your business by outsourcing your work, and through internet marketing. They also have a 60-Day money back guarantee, so you can get your money back within 60-days if you have already signed up for this scam. This refund option is available to you because Wood Profit is a ClickBank product (they are the merchant) so if you contact them directly then you should be able to get your money back.
The bad part about the system is that it uses all of the techniques used by other scam pages to fool people in to getting involved. Their page is filled with too many claims about making thousands of dollars per month and guiding you with methods to be successful in your business.
Everything is fake about this system. The testimonials, the claims, and even the owner! They have made so many fake testimonials to trick people and they're trying to hide the identity of the real owner by using fake pictures to represent the owner of the system. These are very common techniques used by majority of the scamming websites on the internet.
They also claim to be featured by authority platforms like CNN, but if they really are featured by CNN, why isn't the system BBB accredited? Make sure you investigate the system thoroughly before wasting your time and money in it because it could just turn out to be a scam.
Is Wood Profits a Scam?
Wood Profits is a scam. All of their claims are fake, along with the testimonials you'll see on their sales page. Even the owner of the system is fake! The system has lied about being featured by big authority platforms on their web page and has also been tricking people in to buying their 53-page eBook, which they claim will help you build up your business.
The only good thing about the system is the 60-day money back guarantee because if you've gotten caught out with the Wood Profits scam, you'll still have 2 months to back out and get your money back.
Therefore overall I am not going to be recommending the Wood Profits program. If you want to start a business and be successful, there are a lot of legit options on the internet, such as affiliate marketing (one of my top picks) which you can learn more about at Commission Academy.
And of course if you do happen to have any further comments or questions about Jim Morgan's Wood Profits program then don't hesitate to leave them below & I'll get back to you as soon as possible. 🙂
A Better Alternative
The sad truth is that unfortunately most of the programs promising to help you make money online are scams. I can say that confidently after exposing over 500+ of them here on this blog.
But the good news is that even though most of them are indeed scams, there are actually some very good programs in amongst them - some programs that can truly help you to earn money.
And out of all of the legit programs I've seen, the one I would recommend the most to anybody looking to get started online is Commission Academy. In my own opinion, that's the best place to start.
At Commission Academy, you'll be provided with everything you need (including the training & tools) to begin earning real money by promoting products or services for companies like Amazon online.
The best part is that there's literally no limit on the amount you can earn with it & the process is pretty simple which means that it's absolutely perfect for people that don't have much experience.
Some wealthy affiliates even earn as much as 5-figures per month... Or more!

I mean don't get me wrong, that kind of money won't just fall into your lap without doing any work... But the harder you're willing to work at it, the more you stand to earn with it.
So if you're looking to get started but don't know which route you should go down or which program you should join (and don't want to waste money on bogus things that don't actually work), then I'd highly recommend checking out Commission Academy first. You can learn more about it here.