You might have heard about the Zwerl App as a potential money-making platform. This app has attracted thousands across the globe. Anybody who possesses knowledge about any subject can use this app to earn a little bit of extra money online.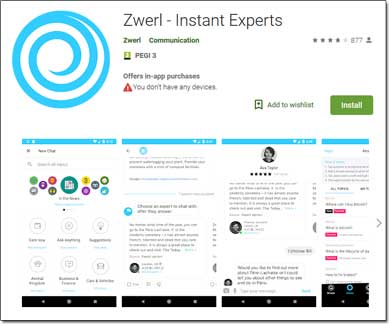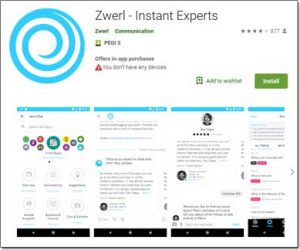 Zwerl is an app which lets you sign up with your email address, log in to your account, and start answering the questions of your choice. Before trying it yourself I'll suggest you to go through this Zwerl review to know the pros and cons of using this app rather than building castles in the air without materializing the desired results.
On the surface, all money-making platforms look impressive, but doubts come into play when the claims stretch beyond realistic proportions. Is Zwerl a Scam? Well, you'll have to read the review carefully to determine whether it is a scam or legitimate. Even if it is legitimate, how much you can earn with the Zwerl App? That's exactly what I'm going to cover in this review.
What Is Zwerl?   |   How Does Zwerl Work?   |   Is Zwerl a Scam?   |   A Better Alternative
What Is Zwerl – The Instant Experts App?
A couple of decades ago we had to purchase books and sit with our teachers to get our tricky questions addressed properly. Today, most of us love to just dictate the question and leave to rest to the likes of Google, Quora or instant experts apps like Zwerl.
Zwerl serves the people who rely on online expert advice and solutions. Obviously, it is a convenient and quick method to get answers to whatever question triggers in your mind. The Zwerl App is not really new, strange or unique. Apps like this already existed and there are scores of websites which serve the same purpose.
Who Uses The Zwerl App?
Those who want their questions to be answered by the experts in a particular subject use Zwerl. On the other hand, the experts who want to answer the questions and earn something in return can sign up with Zwerl.
The good news is that no subscription fees apply to those who sign up as experts and help by answering to the questions. Whereas the users who want to post their questions have to purchase a monthly package. Zwerl earns from the monthly subscriptions and pays a certain percentage to the experts who facilitate the app's users with reliable answers.
Zwerl App features various categories including fashion, health, well-being, lifestyle, cooking, counselling, economics, dating, social sciences, pure sciences, and tourism in addition to many more. The comprehensive range of categories is one of the biggest plus points which gives the Zwerl App a cutting edge. This is the platform where you can actually ask those questions which you'd generally tend to refrain from asking those around you.
How Does Zwerl Work?
As Zwerl relies on experts in various fields it doesn't allow just anyone to randomly select the categories. You'll have to take the assessment test before you can start posting answers as an expert.
Apart from being knowledgeable or an expert in any field you also have to prove your fluency in the English language. Your English typing and communication skills must meet the set criteria.
How Do I Earn with Zwerl App?
One thing you must notice about advertisements is that they often contain illusions, sometimes visual sometimes psychological. Suppose I say "you can earn $10/hr. if you help my app". The statement doesn't confirm the provision of $10/hr. rather it just signifies the possibility. It doesn't determine the amount of work against which you'll earn that much. The same thing happens with various online money making platforms. They mostly advertise in an elusive manner.
As far as Zwerl App is concerned, it supports PayPal and Direct Deposit and you can withdraw funds on a monthly basis. Now the question is, how much do I earn with Zwerl App?
In my opinion, it mainly depends on your expertise. Some categories feature hundreds of questions and some categories even fail to reach 10 questions a day. If you have knowledge about the category which doesn't bring in sufficient questions, you'll not have enough work to do. Then, there is competition and you'll have to compete against other experts dealing in the same set of categories.
The good thing is that you can set your own schedule and work whenever you want to answer the questions. But actually, it doesn't work that way. You have to compete in an attempt to provide answers to as many questions as you want. On the other hand, if you set your own schedule then you may be asleep or inactive during the rush hours (the hours of the day that are the most lucrative).
Remember, certain categories have certain timeslots during which more people ask questions. For instance, the fashion category is more active during the relaxing hours just after the sunset. Science and technology are those categories which bring in scores of new questions during the busy working hours. It means that realistically you've got to set your scheduling in accordance with the "rush hours" to expand your chances of being able to post answers.
Some Zwerl review posts claim that average earnings range from $8/hr. to $16/hr. but the real users who've worked as experts suggest otherwise. According to the legitimate users, the payout our pretty low for the reason that you don't find as many questions to answer as you require to reach $8/hr. They do pay, but the earning doesn't accumulate to a level which you anticipate when signing up.
It seems that glitches and limited time for the chat are a couple of major issues which restrict the smooth workflow. This is what hinders an expert's earning on Zwerl. Still, if you think you are knowledgeable in any field, have impressive English and can type fast, Zwerl App can help you earn a bit. But don't expect a significant contribution to your regular income.
Is Zwerl a Scam?
The Zwerl app is NOT a scam as you can see in this whole Zwerl review there is nothing fishy about the platform. It is only a matter of how much can one earn from these apps and how consistent is the availability of work. There is nothing wrong with the legitimacy of the app as it does provide expert's opinion and advice for its users.
If you're willing to sign up in an anticipation of making big withdrawals by the month-end, then you need to hold on and make the calculations. The provision of work is not as much as it is required to reach $100 or more month. If you keep your expectations within limits then you'll remain happy while working on this platform.
Overall though despite me concluding that the app is legit, I personally think there are better opportunities out there… Opportunities that will ultimately reward you much better in return for your time. One of those opportunities is something called affiliate marketing & if you haven't yet heard about it or got started with it then I highly recommend you look into it. A great place to get started is a place called Commission Academy – you can learn more about it there for free & they'll even provide you with everything you need to get started.
So yeah, Zwerl is a fairly good app if you're just looking to make a bit of extra pocket change each month & are happy to spend time answering questions in order to do so, but realistically if you're looking to make the "bigger bucks" online then I think something like Commission Academy will be more suited to you.
Anyway, hopefully this review helped you out & gave you a good insight into the Zwerl app & how it all works. If you do happen to have any further questions or comments about it though then, of course, don't hesitate to leave them below & I'll do my best to get back to you as quickly as possible.
A Better Alternative
The sad truth is that unfortunately most of the programs promising to help you make money online are scams. I can say that confidently after exposing over 500+ of them here on this blog.
But the good news is that even though most of them are indeed scams, there are actually some very good programs in amongst them - some programs that can truly help you to earn money.
And out of all of the legit programs I've seen, the one I would recommend the most to anybody looking to get started online is Commission Academy. In my own opinion, that's the best place to start.
At Commission Academy, you'll be provided with everything you need (including the training & tools) to begin earning real money by promoting products or services for companies like Amazon online.
The best part is that there's literally no limit on the amount you can earn with it & the process is pretty simple which means that it's absolutely perfect for people that don't have much experience.
Some wealthy affiliates even earn as much as 5-figures per month... Or more!

I mean don't get me wrong, that kind of money won't just fall into your lap without doing any work... But the harder you're willing to work at it, the more you stand to earn with it.
So if you're looking to get started but don't know which route you should go down or which program you should join (and don't want to waste money on bogus things that don't actually work), then I'd highly recommend checking out Commission Academy first. You can learn more about it here.