1 Day Work Week claims to have automated the tough task of generating traffic to make it simple. They claim that this automated program could drive a tsunami of well-targeted visitors to your website or blog.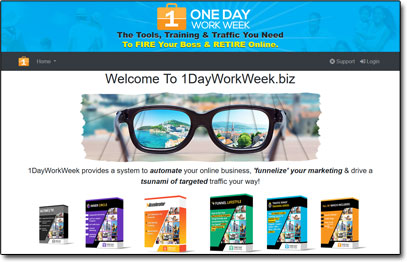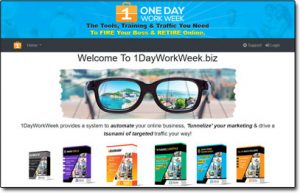 We have spent a significant amount of time investigating the truth. Today we are ready to share our honest 1 Day Work Week review to help you evaluate the pros and cons.
In our 1 Day Work Week review we are going to introduce you to this promising traffic generating program. We will discuss how it works and if it is worth buying.
What Is 1 Day Work Week?   |   The Products   |   How Does 1 Day Work Week Work?   |   Is 1 Day Work Week a Scam?   |   A Better Alternative
What Is 1 Day Work Week?
According to what their website claims, 1 Day Work Week is a user-friendly system that could generate significant profit for websites and blogs and that even the newbies could make the most of this offer. You supposedly don't have to be a marketing expert because the program is allegedly fully automated.
1 Day Work Week is a relatively newer offer that emerged a few months back. This is why most of the people are still not much aware of this possible profit-generating system. The website presents different systems all with different price tags. They also offer educational and training stuff to help the beginners learn marketing essentials.
This system is said to have the ability to create an automated sales system that further leads to the product funnels. There is another plan you could buy to optimize network marketing compensation which you could integrate with your product funnel.
In simple words, this system helps you to create your own platform where customers could resell the products in an anticipation of a certain commission.
Top 4 Products of 1 Day Work Week
At the moment, 1 Day Work Week is selling the following 4 products:
Accelerator Account – This program contains tutorials and training that deal with online marketing, traffic generation, and leads.
Inner Circle – This package serves with advanced-level training that focuses on personal development and home-business mindset.
Funnel Lifestyle – It teaches you the art of building your own sales funnel and promoting it in a way that you could generate profit while enjoying time-freedom.
Traffic King – This package serves you with in-depth training that focuses on driving traffic and generating leads. It teaches you different strategies including blogging, social media, solo ads, PPC Ads, and safe lists, etc.

They also allow the buyers to promote these 4 products if they want. The pricing pattern is suggestive of a sales funnel, but let's take a closer look into how it works to see what you're actually getting for your money…
How Does 1 Day Work Week Work?
There are two basic methods to make this system work for yourself. Firstly, you could opt for selling these products from 1 Day Work Week and earn affiliate commissions. Secondly, you could learn from these products and make your own product funnel and promote it.
The Affiliate Package is available at $19.99/month. You can use it to earn commissions by selling the products that I listed in the previous section of this review. Then the prices increase steeply, for example, the Starter Level kit requires $99.99 (First Month) followed by $49.99/month. The most expensive, The Traffic King is available at $1,399.99 (First Month) followed by $49.99/month.
Honestly speaking, whatever option you go for, it all comes down to your skills and the ability to generate leads. We have already investigated and studied such marketing tools. The ultimate formula for success is the proper implementation of a bunch of promotional strategies. We are of the view that this package is basically focusing on training and education. Though they claim it to be an automated system, in that case, it only works to promote their own platform.
On paper, 1 Day Work Week looks lucrative. Practically speaking, the reality is the opposite as long as you are considering the amount of work you need to do. The fact is, you actually need to spend sufficient time trying different strategies. And you need to invest time and effort on a daily basis instead of just once a week. The name itself is basically misleading.
Plus with regards to the whole "automation" thing, well that is just another gimmick. There isn't and never be any "automated" way to just earn money without having to do anything… That is just a pipe dream.
If such a thing truly existed then nobody would be left working their jobs – the world would be in crisis. The reality though is that the "guru" marketers just use the word "automation" to make it seem easy to trick people into handing over their cash.
Yes it is indeed possible to make good money online & it is also possible to earn a passive income online but initially, you must be prepared to put in some work to make it happen. It is not just going to happen with the push of a button like these gimmicky systems make out it will.
And that brings me onto…
Is 1 Day Work Week a Scam?
To conclude this 1 Day Work Week scam review we can easily call it a legitimate package. But the prices are too high. Basically, this is itself a sales funnel so the prices are high because they are paying commissions to the affiliates.
Being legitimate doesn't qualify 1 Day Work Week to be a profit-generating system. We recommend you to only try it if you could afford the prices and you already have expertise and skills for online marketing, especially email marketing.
The biggest problem I have with it is that it's more geared towards getting you to sign up & then re-promote the exact same program (1 Day Work Week) onto other people in order to make money, rather than teaching you how to make money with ANY products.
Another problem is the fact that they actually force you to pay money in order to be able to promote it and earn commissions. I don't believe you should ever have to pay money to promote a program & if something asks you to then it is a red flag in my opinion.
So whilst from a technical standpoint, the 1 Day Work Week program is legitimate, I personally won't be recommending it because I believe that if you sign up to it you'll probably just send up spending more money than you ever actually manage to make.
In fact, you probably won't actually go on to make any money at all, to be honest, it seems to be a lot of hype & a lot less substance.
Instead, if you want to really make good money online then I would suggest you join a legitimate & proven program like Commission Academy. WA has been around for over a decade & has a track record of helping people achieve success.
I can even vouch for Commission Academy too because I myself am a member & I have gone through all of the training. It is great training & it is laid out in a step-by-step format which is perfect if you're brand new.
Alternatively, though there are also other ways you can make good money online aside from affiliate marketing…
But whatever you decide to do I just sincerely hope that my review of 1 Day Work Week here has given you a good insight into how the course works & hopefully you can now see that there may be better alternatives. Feel free to leave any questions or comments below though if you still happen to have any. 🙂
A Better Alternative
The sad truth is that unfortunately most of the programs promising to help you make money online are scams. I can say that confidently after exposing over 500+ of them here on this blog.
But the good news is that even though most of them are indeed scams, there are actually some very good programs in amongst them - some programs that can truly help you to earn money.
And out of all of the legit programs I've seen, the one I would recommend the most to anybody looking to get started online is Commission Academy. In my own opinion, that's the best place to start.
At Commission Academy, you'll be provided with everything you need (including the training & tools) to begin earning real money by promoting products or services for companies like Amazon online.
The best part is that there's literally no limit on the amount you can earn with it & the process is pretty simple which means that it's absolutely perfect for people that don't have much experience.
Some wealthy affiliates even earn as much as 5-figures per month... Or more!

I mean don't get me wrong, that kind of money won't just fall into your lap without doing any work... But the harder you're willing to work at it, the more you stand to earn with it.
So if you're looking to get started but don't know which route you should go down or which program you should join (and don't want to waste money on bogus things that don't actually work), then I'd highly recommend checking out Commission Academy first. You can learn more about it here.