The 24/7 Wealth Club system has just launched & its creator Richard claims that it can enable you to easily earn $13,127 or more per week online even if you're totally brand new & have absolutely no experience whatsoever…
You're led to believe that everything's been done for you & that after setting the system up you'll begin making money right away, but in order to actually get access to it & find out how it works you're forced to pay $37 of your own money first, which has likely made you pretty sceptical.
So what's the truth about this system? Is it actually legit & can you really make any money with it like Richard claims? Or is the 24/7 Wealth Club a scam that's just set out to part you with your hard earned cash instead? Keep reading to find out the answers as I've personally looked into it & in this review I'll be uncovering everything you need to know. 🙂
What Exactly Is The 24/7 Wealth Club System?
Essentially the 24/7 Wealth Club system portrays itself as being some sort of magical system that can supposedly see you generating a huge income online without really having to do anything at all.
You're led to believe by the system's creator Richard that you can simply just sign up & start making money, even if you've never done anything like this before & even if you have no technical experience whatsoever.
He claims that he's done all of the hard work for you, so that you can just sign up & profit.

And I'm sure you'll agree when I say that sounds great – but you've got to ask yourself something… If you can really make $13,127 per week so easily by doing this then why isn't everybody doing it? And why is Richard charging people $37 to access it?
In short the answers to those questions are because the 24/7 Wealth Club is NOT what it seems.
In fact I can tell you right from the off that the 24/7 Wealth Club is actually just another ClickBank scam & that if you buy into it you'll be much more likely to end up losing it as opposed to actually making it… It's all just a trick.
The reason I know that is because I've exposed these types of things several times before & I know exactly how they really work. Just last week I exposed another named Quick Home Websites & the 24/7 Wealth Club is basically the same thing but just under a new name.
The creators of these things regularly change the names in an attempt to escape the negative reviews (like mine) so that they can continue tricking people into parting with their hard earned cash & make money at their expense.
But don't get me wrong – I appreciate that you probably don't just want to take my word for it when I say it's a scam. After all I understand that you might have been really excited that this could work for you… So instead keep on reading & I'll show you how it really works below so that you can see for yourself what's actually going on (and why you probably won't make money with it).
How Does The 24/7 Wealth Club Work?
Basically the 24/7 Wealth Club system is just an extremely hyped-up program that goes on to deliver some extremely basic training on a method of making money known as affiliate marketing.
Now in itself I'll point out here that affiliate marketing is actually a legitimate & VERY good way to make money online – in fact it's actually the same way I personally make most of my own money online.
However the problem is not with the affiliate marketing side of things, the problem is with the overly hyped-up sales material of the 24/7 Wealth Club, the sheer lies it tells & the poor quality of training provided to you after handing over your money (which if you haven't done so already I don't recommend doing).
In short the creator of the 24/7 Wealth Club (who isn't really named Richard) isn't really interested in helping you to make money, he just wants to trick you into handing over your cash so that he can something at your expense instead.
But before I talk more about that, I know you probably have a question floating around in your mind, which is what is affiliate marketing?
So here, take a look at this visual I've put together: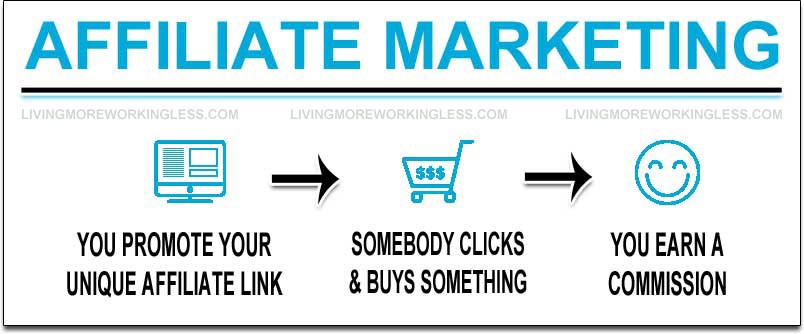 Affiliate marketing is basically where you promote 3rd party products or services online in return for commissions. So as an example you could sign up as an affiliate of Amazon & promote products from their website – earning money if anybody clicks through your promotions & purchases a product.
You basically just get a special link to the products that has an ID that's unique to you & that's how the companies track that the sales came via you… So as soon as you make sales, you earn commissions.
But the great thing about affiliate marketing is that there's actually no "selling" involved as an affiliate. Rather than sell stuff you just simply connect people with the products that they're already looking for – all of the selling is left for the companies (like Amazon) to deal with.
Like I say it's a VERY good way to make money & there are legitimate places like Wealthy Affiliate where you can learn how to get started with it for free.
But Back Onto The 24/7 Wealth Club…
Affiliate marketing is great, sure, but in order to find success with it you have to be prepared to put in the time & work to make it happen. It's not just going to put money into your lap without you doing anything.
However the creator of the 24/7 Wealth Club is basically making out that his program WILL do everything for you, and that you will be able to make lots of money without actually having to do anything… But that's just nonsense.
There isn't and never will be any program that will make you lots of money without you having to do anything.
The creators of systems like these are just trying to trick you into handing over your cash so that they can earn some money at your expense. So after handing over the $37 to "set the 24/7 Wealth Club system up" you'll simply be left to discover the hard way that all you've really purchased is some really low quality training on affiliate marketing. There is no system after all.
But the problem doesn't end there, because the $37 fee is actually just an "entry fee". Once you pay that your credit card details get stored on file & from there you'll be presented with several upsells all promising faster, easier riches… And these are all billed with one click (since your details are stored).

This means that whilst you might initially only intend on spending $37, you could find yourself very quickly spending hundreds of dollars before actually getting access to the program… And then regretting it soon after.
PROOF It's All Lies
As I said towards the beginning of this 24/7 Wealth Club review I appreciate that you may not just be willing to take my word for it when I say that it's a scam, so instead I want to present you with some solid proof.
The proof is that at the bottom of the 24/7 Wealth Club website they have a link that says "Affiliates Make 75%", and this takes people to a page where they can promote the 24/7 Wealth Club as an affiliate.

So considering that the 24/7 Wealth Club promises that members can easily earn $13,127 or more per week online without actually having to do anything, there are 2 questions that come to mind here which are:
Why is the creator paying affiliates to get people to join?
Why are affiliates wasting time promoting the system for commissions?
If it really worked then the creator wouldn't need to pay people to promote it, it would spread like wildfire through word of mouth… And if it really worked then affiliates wouldn't waste their time promoting it because instead they would just sign up & make $13,127 per week by not doing anything.
Clearly therefore it doesn't work – and the reason the creator is paying affiliates to promote it is because it's actually a scam and he is making money at the expense of the unsuspecting victims that get tricked into purchasing it.
However There Is Some Good News
Okay it may not be the best news in the world, but for those who've purchased into 24/7 Wealth Club already & found themselves disappointed there is actually quite a good chance of you getting your money back.
You see whilst the creators of 24/7 Wealth Club themselves may ignore your request for a refund if you contact them directly, the network that it's being sold via (ClickBank) are actually pretty good at giving refunds… Providing it's requested within 60 days of purchase.
So if you've bought the 24/7 Wealth Club & want your money back, contact the creators directly – and if they don't respond then get in touch with ClickBank (but make sure you do it within 60 days of purchase).
With any luck you should be able to get all of your money back. ?
But on top of that there's also some more good news – which is that if you truly want to find success with affiliate marketing & make good money from it then you can get started with it for free at Wealthy Affiliate.
Now though it's time for…
My Verdict – Is 24/7 Wealth Club a Scam?
As far as I'm concerned yes, the 24/7 Wealth Club system is a scam because it tricks you into purchasing a poor training program & the chances are you'll end up spending more money through it than you'll ever make back.
In my opinion the whole thing has been setup purely so that the creator can earn himself some money at your expense. It hasn't really been setup to help you at all & most of its other claims are also false too.
Therefore with that being said there is simply no way I will be recommending the 24/7 Wealth Club to you & instead I'll be advising that you steer clear of it. As I said above if you truly want to make good money from affiliate marketing then stick with a proven program like Wealthy Affiliate.
Or alternatively if you're open to other ideas for making money online then be sure to check out all of my top picks here.
But whatever you decide to do I just sincerely hope that my review here has given you a good insight into how all of this really works & hopefully it has helped you to save some of your hard earned cash.
If you do however still happen to have any further questions or comments though then don't hesitate to leave them below & as always I'll do my best to respond back to you as quickly as possible. 🙂