Recently I've noticed a large number of people promoting the 8 Figure Dream Lifestyle system so I decided to take a closer look into it & found that it's a system which can supposedly (according to its own website) help you to quickly become rich online.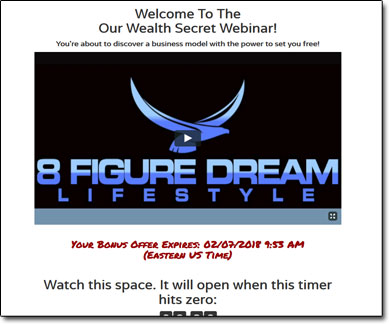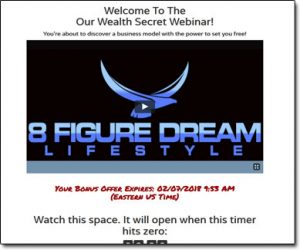 You're led to believe that even with limited experience in making money online you can simply sign up (or "plug in" as they put it) and start generating huge commissions with relative ease.
However you'll probably be a bit sceptical about the whole thing & rightly so, but what's the actual deal here – is it really legit & can you make money with it or is the 8 Figure Dream Lifestyle system a scam that'll just see you parted from your cash & provided with nothing in return? Let's take a look…
What Is The 8 Figure Dream Lifestyle System?   |   How Does It Work?   |   The Problems   |   Is The 8 Figure Dream Lifestyle System a Scam?   |   A Better Alternative
What Is The 8 Figure Dream Lifestyle System?
The 8 Figure Dream Lifestyle program isn't actually a new program, it's been around for a quite a while, but for some reason over the past couple of months, there's been a huge increase in the number of people promoting it.
Basically it's a "system" that's supposedly been built to help people make money online, especially newbies & it claims it can help it's members to generate whopping commissions of over $2,000 per sale.
You're also led to believe that due to the size of the commissions you can get rich pretty quickly with the system & that's how many people have been promoting it – as a way to get rich quickly & easily online…
But as you probably suspect it's not quite as straight forward as that… In fact, there are quite a few things you definitely need to know about this system before you even think about getting involved with it (otherwise you could end up losing an awful lot of money). Don't worry though I'm going to go over them all right here in this review.
The first thing I want to point out is that it is, in fact, possible to make money with the 8 Figure Dream Lifestyle system, but it's not going to come as easily as most of the people promoting it make out it will & furthermore you'll be required to invest a LOT of money before you can even get started with it.
And when I say a lot of money I really do mean a lot – the starter fee comes in at around $2,000 & the total cost is around $22,000 overall – so if you haven't got that kind of cash to spare then I'd recommend you forget about this system & try a free alternative instead (which in my opinion is actually better anyway).
But if you do have that kind of cash & you're wondering if the 8 Figure Dream Lifestyle will be a right fit for you then let me explain how it all works so you can get a better idea as to whether or not you think you'll be able to succeed with it…
How Does The 8 Figure Dream Lifestyle System Work?
In short, the 8 Figure Dream Lifestyle system is a high-ticket network marketing program. You might already be aware as to what this means, but in case you're not let me explain – firstly it means that it's expensive (which we've already covered) & secondly it means that the primary method of making money with it is by recruiting others into the program.
So, let me run through how it actually works…
The first thing you should know is that there are 5 different packages inside of the 8 Figure Dream Lifestyle system & that you must purchase at least one of these to get started with it. The packages are as follows:
Basic Membership = $2,000 + $149 Fee
Builder Package = $3,500 + $295 Fee
Advanced Package = $6,600 + $395 Fee
Pro Package = $12,500 + $445 Fee
VIP Package = $22,000 + $449 Fee
So to get started with the 8 Figure Dream Lifestyle program you must be prepared to spend at least $2,149 & take note that there is absolutely no guarantee you will earn anything back – in fact, the reality is that whilst it is possible to earn money, most people who join don't. Most people actually lose money with programs like these (just like they did with similar programs Aspire & MOBE).
Anyway here's the deal – you purchase a package & that package comes with some training that shows you how to promote the 8 Figure Dream Lifestyle system onto other people. The higher-priced package you purchase the more training you get access to.
Now let's say you join at the Basic Membership which you likely will do to start with as you "test the water". You'll pay the $2,149 & you'll become qualified at the Basic level, this means that you can earn commissions from anybody who signs up via your unique link & purchases the Basic Package just like you did.
You Might Also Like:
The Problems
Firstly, if you happen to refer somebody who upgrades all the way to the VIP Package then as a Basic member you will only earn a commission on the Basic level – meaning you will only earn the $2,000. It's still a lot of money, but if you were VIP yourself then you would have earned $22,000 in total since everything other than the fee gets paid to the person that referred them.
Secondly, you do not make a penny on your first sale of any level. This means that the first time you sell a Basic Package you will not earn anything, instead, your first commission will be passed up to the next person that is qualified above you. The same happens on all the other packages too – you only start earning from your second sale onwards…
So let's say you invested at the $22,449 level & you made a VIP sale – whilst you should earn $22,000 for the sale you wouldn't, you'd miss out on this commission & you'd have to instead wait for sale number 2 before you earn anything.
Then sale number 2 comes along & you get paid $22,000… But you are still not in profit because of the fee, you are actually out of pocket by $449. This means it will take you at least 3 sales before you even get your money back.
And how easy do you think it is going to be to find even just 3 people that are willing to spend $22,449 on something like this? Or even just $2,149? I can tell you, not very!
Is The 8 Figure Dream Lifestyle System a Scam?
Well, it is not really a scam since there is the potential to make money, however, it is much more difficult than it is made out to be & unless you're already an expert internet marketer the likelihood is that you will just end up losing money rather than actually making it.
The other problem is that there isn't much of a focus on the "products", instead the focus is heavily put onto the money-making opportunity which kind of makes the whole thing just looks like a pyramid scheme. Obviously I can't say whether it technically is or isn't but you know, it certainly looks that way in my opinion at least.
Overall even whilst it is possible to make money with this system I am not going to be recommending it because I do not believe that you should have to pay out such large sums of money to get started online, especially not when there are great programs like Commission Academy which are available for free.
Don't get me wrong I'm confident that there are some people making a lot of money through the 8 Figure Dream Lifestyle system & that is likely why it is being so heavily promoted, but what you have to remember is that most of those people will be expert marketers (even though they likely claim that they are not). For the average Joe, it won't be so easy.
Anyway, hopefully, this review provided you with the insight into this system that you were looking for & most importantly I hope I was able to help you from potentially losing your cash. If you happen to have any further questions or comments don't hesitate to leave them below.
A Better Alternative
The sad truth is that unfortunately most of the programs promising to help you make money online are scams. I can say that confidently after exposing over 500+ of them here on this blog.
But the good news is that even though most of them are indeed scams, there are actually some very good programs in amongst them - some programs that can truly help you to earn money.
And out of all of the legit programs I've seen, the one I would recommend the most to anybody looking to get started online is Commission Academy. In my own opinion, that's the best place to start.
At Commission Academy, you'll be provided with everything you need (including the training & tools) to begin earning real money by promoting products or services for companies like Amazon online.
The best part is that there's literally no limit on the amount you can earn with it & the process is pretty simple which means that it's absolutely perfect for people that don't have much experience.
Some wealthy affiliates even earn as much as 5-figures per month... Or more!

I mean don't get me wrong, that kind of money won't just fall into your lap without doing any work... But the harder you're willing to work at it, the more you stand to earn with it.
So if you're looking to get started but don't know which route you should go down or which program you should join (and don't want to waste money on bogus things that don't actually work), then I'd highly recommend checking out Commission Academy first. You can learn more about it here.