Chances are if you've come across the Ad Bunny website you've probably come across it via Instagram as recently there've been several adverts on there promoting it each claiming that you can make thousands of dollars with it in just your first 7 days of getting started…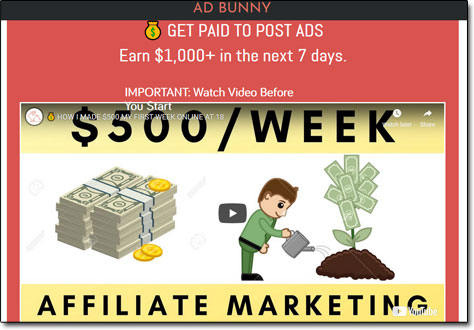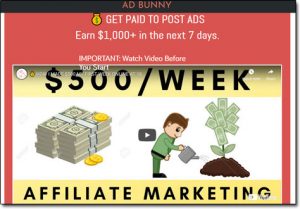 But obviously that's a pretty darn bold claim, and on top of that upon visiting the Ad Bunny website itself you're then told that you can make all that money by just working a mere 4-8 hours per week… So what's the TRUTH about it? Is it really legit & can you actually make money with it or is Ad Bunny a scam that'll somehow just end up costing you instead?
Well thankfully you've landed in exactly the right place to find out as I myself have personally taken a look into this system after seeing the ad in my social feeds several times & in this honest Ad Bunny review I'll be uncovering how it all really works as well as outlining whether or not it's actually worth your time. So keep reading to find out everything you need to know!
What Is Ad Bunny?   |   How Does Ad Bunny Work?   |   The Lies   |   Is Ad Bunny a Scam?   |   A Better Alternative
What Is Ad Bunny?
Well like I just briefly mentioned above the Ad Bunny system claims to be some sort of "done-for-you" marketing system which you can essentially just "plug-into" & begin making thousands of dollars by posting ads… or at least that's what you're told.
And like I also mentioned as of recent it seems to be getting VERY heavily promoted on Instagram with most of the adverts promoting it being the same (or very similar) to the one that's shown below: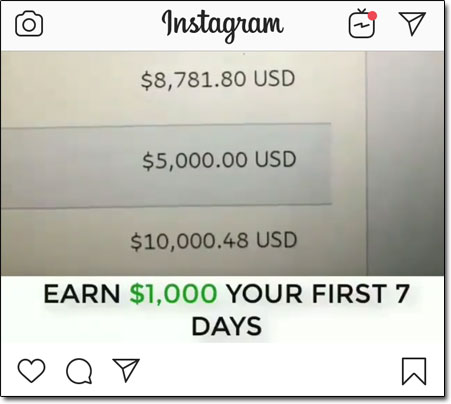 Now it's safe to say that the advert certainly looks suspicious & as a result no doubt you'll likely have thought it was some sort of scam right from the off… But to say the least it's definitely pretty attention grabbing & as a result there'll be many (just like you & me) who decide to check it out regardless…
So from there the advert then instructs you to visit a website specifically on your computer as shown below:

And then once you visit that URL (which I've blurred out for safety reasons) you'll then be shown a video in which a young-sounding man goes on to explain how the whole process supposedly works…
In short he essentially says that literally all you need to do is sign up, complete a few setup steps & then begin posting ads. He says if you do that then you'll begin earning right away & as promised you'll allegedly be able to make your first $1,000 within your first 7 days of getting started.
But what I can tell you is that the whole thing is NOT what it seems – it's nowhere near as easy as the guy in the video claims it is & frankly the whole thing will likely just end up costing you money instead of actually helping you to make it.
Now if you want to just go straight to a legitimate (and proven) method for making money that actually works then I suggest you just head straight on over to Wealthy Affiliate & check that out instead…
Or alternatively check out my all-time top picks for making money here…
But if you're interested in finding out how the Ad Bunny system really works then keep on reading as I'll explain all that below so that you can see for yourself what's actually going on here with this whole thing.
How Does Ad Bunny Work?
To put it simply, the Ad Bunny system essentially functions as a sort of "pyramid scheme". I mean sure, on the back-end of it there is a legitimate service being promoted (which I'll mention in a moment) however it's quite clear that the primary focus is on the money-making opportunity & as a result it's more about just attempting to recruit people & pass money from one person to another than it is about providing any sort of actual product or service.
In short it's basically a case of signing up to Ad Bunny (and paying money to do so), then paying for ads to promote Ad Bunny in order to get others to do exactly the same… This time though with the ability to earn at their expense.
So as shown in the steps below that I've screen-shotted from the Ad Bunny video, what you'll be required to do is sign up to a third party service called Builderall for $29.90/mo, grab your affiliate link to it, add it to Ad Bunny & then post ads promoting your unique Ad Bunny URL which contains your own Builderall affiliate link.
This means that when somebody clicks your advert & goes to Ad Bunny, if they too then decide to sign up then they'll be going through YOUR Builderall affiliate link & as a result it'll be you earning the commission.
However Things Aren't Quite As Easy As They Seem…
I'll point out here that it is actually indeed possible to make money with Ad Bunny, however as you'll soon see below there are a few big problems & as a result the chances of you actually generating profits will be pretty slim.
The first big problem is that due to the way the whole thing operates, it's actually illegal. I mean yes, there is a legitimate service involved in the process (Builderall) however there's no real emphasis on this service whatsoever – it's solely being used to generate affiliate commissions. This means that ultimately by promoting Ad Bunny you're just going to be selling the opportunity to make money (which defines a pyramid scheme).
If there was a genuine product/service being offered & the emphasis was primarily on this then yeah sure, you could promote it & say "oh by the way you can actually make money by promoting this to others"… But when the whole focus is literally on just the making-money side of this things, that's when it becomes a "scheme".
To learn how to earn affiliate commissions legitimately I suggest you check out the free training at Wealthy Affiliate.
But anyway, onto problem number 2…
The second problem is that the whole thing is geared around placing ads, which obviously costs money – and I can tell you that despite what the creator of the Ad Bunny system claims, paid advertising isn't easy to crack – especially as a newbie.
It takes a LOT of trial & error to come up with a profitable campaign & since it involves spending money, error here means LOSING money.
In fact over the years I've literally seen people spend over $10,000 on their ad campaigns before finally actually managing to turn a profit… So if you don't have a huge budget to "play" with, I suggest you don't even try.
And here's the biggest kicker… The Ad Bunny system primarily focuses on teaching you how to place adverts on Instagram, and as you likely know most people use Instagram on a mobile device…
But guess what? The Ad Bunny website doesn't even work on a mobile device!
So you'll be paying for advertising on a primarily mobile-orientated platform to advertise a website that only works properly on a computer… LOL. It's safe to say it'll definitely be difficult to turn a profit with paid advertising when that's the case!
I mean come on, how many people are really going to jump straight on their PC & open the link up? Most people will either not bother at all or just forget completely – and I have to admit that I myself am one of them.
Prior to writing this Ad Bunny review I actually screen-shotted the link about a month ago… And I've only just remembered about it after seeing it again!
Which brings me onto my next point…
You Might Also Like:
Don't Believe The Lies!
Like I just mentioned above, I actually came across Ad Bunny about a month ago – and then again a few days ago… Yet to my surprise when I visited the Ad Bunny website they claim they only open their registration for 1 month, once every year…
And even more to surprise I had apparently "just made it" as the counter on the website that there was just 3 hours remaining for me to register…
But you probably know how this is going to play out… Upon opening the exact same website (which currently says I now have just 1 hour remaining) in another browser, the counter once again said 3 hours as shown below: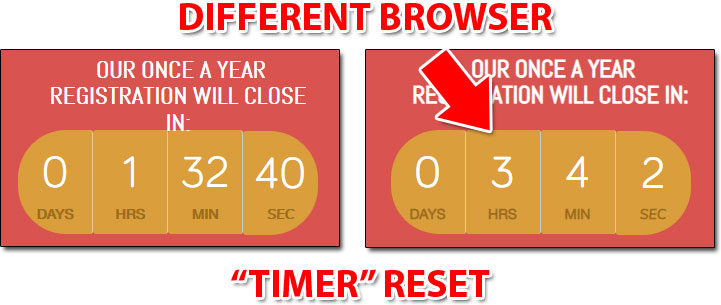 This is just a fake scarcity tactic & it's often used by dodgy systems in an attempt to prevent you from looking for reviews, because they know if they give you time to look for reviews that you'll likely find out it's a scam.
Instead they just want to rush you into signing up & so as a result they put these fake timers on their pages to make you feel that you need to sign up as a matter of urgency to avoid missing out.
Anyway, I think I've probably already said enough about this whole Ad Bunny thing by now – you likely get the idea & so I think it's time for…
Is Ad Bunny a Scam?
Well I wouldn't really go as far as to call it a scam as such as it isn't really going to full-on "steal" money from you but instead I believe it's more of a scheme & in my opinion it's quite clearly set out with the primary intention of making its creator wealthy, not you.
I mean sure, you can indeed make money with it but basically the way that you make money with it is just by selling the exact same opportunity to make money onto other people through the use of paid ads… So not only is this risky (since paid ads involves spending money with no guarantee of making a profit) but it's also quite obviously not a legitimate way to make money.
Plus on top of all that the whole thing is just full of lies because even if you were to find yourself making money with it the chances of you making as much as $1,000 in your first 7 days as you're promised is just ridiculous… Just like the "fake timer" I exposed above I believe those bold income claims are also fake as well & are just another tactic to draw you in.
But honestly there's just no need to waste your time with something like this because there are plenty of other legit ways to make good money online without having to spend a fortune on paid ads or be a part of something so risky.
So if you'd prefer to just stick with something legit instead then I suggest you just go on over & check out Wealthy Affiliate which is one of my all-time top rated places for learning how to start a profitable online business.
However whatever you decide to do I just hope that my Ad Bunny review here has given you a good insight into how it all really works & hopefully now you can see why it's not actually as great as it seems. If you do still happen to have any further questions or comments about it though then don't hesitate to leave them below & I'll get back to you as soon as I can.
A Better Alternative
The sad truth is that unfortunately most of the programs promising to help you make money online are scams. I can say that confidently after exposing over 500+ of them here on this blog.
But the good news is that even though most of them are indeed scams, there are actually some very good programs in amongst them - some programs that can truly help you to earn money.
And out of all of the legit programs I've seen, the one I would recommend the most to anybody looking to get started online is Commission Academy. In my own opinion, that's the best place to start.
At Commission Academy, you'll be provided with everything you need (including the training & tools) to begin earning real money by promoting products or services for companies like Amazon online.
The best part is that there's literally no limit on the amount you can earn with it & the process is pretty simple which means that it's absolutely perfect for people that don't have much experience.
Some wealthy affiliates even earn as much as 5-figures per month... Or more!


I mean don't get me wrong, that kind of money won't just fall into your lap without doing any work... But the harder you're willing to work at it, the more you stand to earn with it.
So if you're looking to get started but don't know which route you should go down or which program you should join (and don't want to waste money on bogus things that don't actually work), then I'd highly recommend checking out Commission Academy first. You can learn more about it here.