Amazon stands out as something that could potentially provide a huge opportunity to sell products online to generate significant income. As a result here comes yet another seemingly promising offer named Amazon Secrets and my followers, as usual, are keen to know the real truth about this relatively new offer.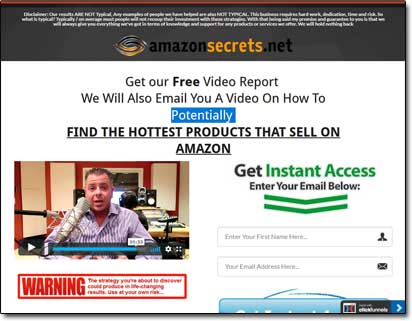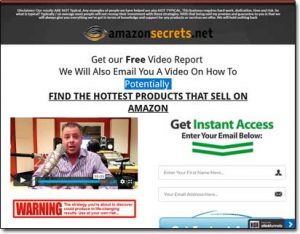 So if you're also looking to make some extra income online then somebody might have told you about the Amazon Secrets program or the likes of it.
Today, to help my followers, I've decided to write an unbiased & honest Amazon Secrets review so that there remains no doubt in anyone's mind about the legitimacy of the offer.
You'll also get to find out whether there's actually any truth behind the Amazon Secrets scam rumours – but obviously I can't conclude it right at the beginning without first revealing and analysing the facts.
There are various factors which play a vital role in determining the legitimacy of a money-making program so following my usual structure, I'll begin with an introduction to Amazon Secrets.
What Is Amazon Secrets?   |   How Does Amazon Secrets Work?   |   Misleading Reviews   |   Is Amazon Secrets a Scam?   |   A Better Alternative
What Is Amazon Secrets?
Once again, upon landing on the website for Amazon Secrets we're immediately presented with a promotional video in which the presenter talks about the online training program which will supposedly guide you towards selling successfully on Amazon.
Limited Subscription
The presenter uses a tactic that's commonly associated with get-rich-quick scams when he claims that the positions for the trainees are limited and that he'll only welcome 100 new trainees. We often see the same tactic in the case of other online money-making programs. They just want you to be quick in making the decision of whether or not to join. There is no real scarcity in this case because they're actually hoping to get as many new members as possible… There isn't really a limit.
What Do They Offer?
Mike and Matt, the two expert Amazon sellers claim to help you with impressive video training. As far as these two individuals are concerned, they don't lie about their expertise because they do indeed actually sell on Amazon and they do it successfully.
In the video presentation, the presenter promises that you'll get access to a powerful tool which will help you to generate lots of Amazon sales. This tool will allegedly help you in the selection of top-selling products on Amazon and it will also apparently help you achieve higher sales.
Then you're told that the offer also includes access to Mike's own personal sales funnel. This sales funnel is slightly customizable and you can use it to increase your sales. The coaching team consists of various Amazon sales experts and you're told that all of them have generated at least $1,000,000 through Amazon sales.
It's impressive for sure, but this is only what they claim and we actually have to look into it. We need to see if it really works for the members.
There are dozens of online training programs which promise the world but in reality, offer nothing more than the reproduced content mostly in PDF format.
How Does Amazon Secrets Work?
This is one of the trickiest reviews I've ever faced. The problem is that it is extremely hard to determine whether this platform is actually worth it or if it simply tricks you into a vague investment.
A Bold Move
Surprisingly, the income disclaimer is posted right at the top of their website. Generally from what I've previously seen, the income disclaimers are often posted right at the bottom featuring slightly dull and smaller font. The placement of the Amazon Secrets disclaimer is a bold decision because it clearly states that most of the members fail to recoup their investment (as shown below):

This is pretty good and I love this move because they're not trying to hide it from the potential members as many other programs do. Most of the other money-making websites place the disclaimer right at the bottom and it is not specific. The meaningful statements are often surrounded by a bunch of long sentences. In this case, the disclaimer is short, bold, to the point and right in front of the eyes of the website visitor.
Misleading Reviews
I've also gone through various reviews about this offer and amazingly, one Amazon Secrets review claims that the platform is 100% legitimate just on the basis of the fact that the disclaimer is right at the top so there is no intention to trick people. But I personally don't like reaching a conclusion so quickly!
As per my experience, generating sales on Amazon requires experience and smart implementation of tested strategies. It doesn't just work well through oral training. This is not something you can learn purely through online videos. You actually have to understand other factors which include the product niche, market, demand, global reach, and demographics. Some individuals achieve success selling a product while others suffer from a loss while selling the same product. The selection of the product isn't the only thing which matters.
Some of Matt's trainees have questioned the lack of knowledge. They claim to have lost thousands by following Matt's advice of buying certain products in bulk. They are of the view that Matt actually doesn't know the issues of copyright infringement and this is why he unintentionally slipped them into the ditch.
Should You Join Amazon Secrets?
From what I've seen & read about this program I won't be recommending it to you. This program, even if it works a little, is not designed for the newbies. You need to have extensive practical experience of selling on Amazon. This program doesn't offer comprehensive training, instead, it just gives you some tools which in my opinion aren't actually as impressive as they're made out to be.
I think if you really want to learn how to build a real income online you should go through a proven & legitimate training program that's been around for a while like Commission Academy instead. It's there that you'll get the proper training & tools that you need to find real success.
Is Amazon Secrets a Scam?
Despite the fact that I don't recommend this program, I wouldn't call Amazon Secrets a scam. The program is technically legitimate but the problem is that in my opinion, you need to already have a fair bit of experience with Amazon to find value from it.
Basically it's not an offer for someone who's just dabbling with making money online one way or another… I mean don't get me wrong if you're aware of the ins and outs of Amazon sales strategies then you could give it a go & you might find some useful tips from it. Even if most people don't manage to recoup their investment (as per the disclaimer), it doesn't mean that the training is utterly useless. It entirely depends on how you implement the strategies and how you select the right products.
However, if you don't have prior experience with Amazon selling then I'd definitely recommend steering clear from it & looking towards a proven program that's more geared towards newbies such as Commission Academy.
But either way whatever you decide to do I just hope that my review here has given you a better insight into how it all really works & what you can expect from it. If you do however still happen to have any further questions or comments though then don't hesitate to leave them below & I'll get back to you as soon as possible.
A Better Alternative
The sad truth is that unfortunately most of the programs promising to help you make money online are scams. I can say that confidently after exposing over 500+ of them here on this blog.
But the good news is that even though most of them are indeed scams, there are actually some very good programs in amongst them - some programs that can truly help you to earn money.
And out of all of the legit programs I've seen, the one I would recommend the most to anybody looking to get started online is Commission Academy. In my own opinion, that's the best place to start.
At Commission Academy, you'll be provided with everything you need (including the training & tools) to begin earning real money by promoting products or services for companies like Amazon online.
The best part is that there's literally no limit on the amount you can earn with it & the process is pretty simple which means that it's absolutely perfect for people that don't have much experience.
Some wealthy affiliates even earn as much as 5-figures per month... Or more!


I mean don't get me wrong, that kind of money won't just fall into your lap without doing any work... But the harder you're willing to work at it, the more you stand to earn with it.
So if you're looking to get started but don't know which route you should go down or which program you should join (and don't want to waste money on bogus things that don't actually work), then I'd highly recommend checking out Commission Academy first. You can learn more about it here.