A week ago, I received a promotional email from American Consumer Eyes that talked about some mystery shopper job and since then, I started collecting more and more information about this opportunity.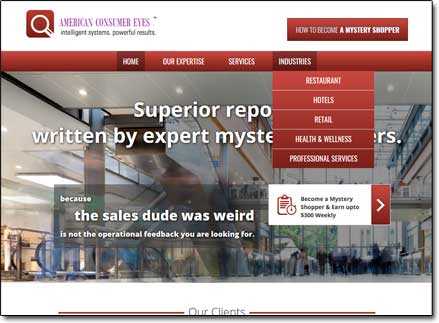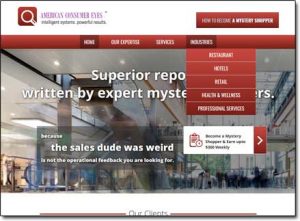 Finally today, after extracting the required information, facts, and details, I will be presenting you with a realistic and honest American Consumer Eyes review. So if you want to know what this opportunity actually offers, how it really works, and whether it offers real value or not, then you've just reached the right place.
American Consumer Eyes scam issues are also being discussed by various reviewers online but I don't want to build my opinion on the basis of any biased argument. I'll walk you through the basics, the pros, and the problems – if any – to make the right judgement by the end. Let's have a look at what this job opportunity is all about.
What Is American Consumer Eyes?   |   How Does American Consumer Eyes Work?   |   Is American Consumer Eyes a Scam?   |   A Better Alternative
What Is American Consumer Eyes?
American Consumer Eyes is a decent looking website & it claims to help connect people with high-paying mystery shopper jobs. At a glance, it looks like a legitimate platform but, of course, you should never make a decision based on just looks alone.
The Easy Insta Profits system that I recently reviewed also looked like a legitimate platform & it tricked many into joining but that turned out to be nothing but a flat-out scam. You have to tread carefully when looking at these types of "too good to be true" style opportunities.
Which brings me onto…
$300 Per Week!?
The promotional tabs (as shown below) state that the website is going to provide you with a chance to earn up to $300 a week.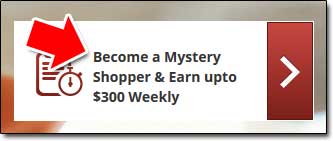 Upon clicking the tabs on the website, a new window opens with a form and a couple of instructions. They invite you to fill in the information in order to submit your application. The explanation under "How Does it Work" suggests that you'll be contacted if the administrators find matches against your details and you're told it mainly depends on your location. The website actually claims that it has a large database and that you'll have a high chance of obtaining a well-paid mystery shopper position.
Mystery Shopping Basics
Mystery shopping is a concept in which an individual applies for the task and the administrators guide you about making purchases for certain products available in stores around your area. They might ask you to purchase and then evaluate the products or write a user review. The basics are the same everywhere but the specifics may differ from website to website.
Below you'll see a visual representation of the process which I've screen captured from the American Consumer Eyes website: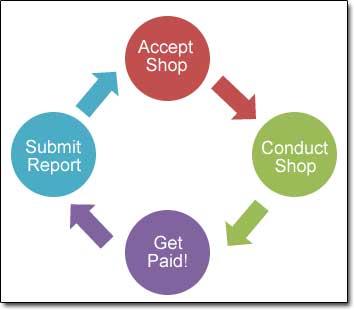 The Application Form
First of all, you're encouraged to fill in an application form. Remember that this form asks various personal – maybe confidential – questions. There is no subscription fee so you don't have to worry about making a payment but don't forget that your personal information is also precious and you must NEVER reveal it to some unknown identity.
The website claims that upon the approval of your application, you'll receive money from the company to do mystery shopping.
Well, this is something that appears to be really attractive because firstly you don't have to pay anything & secondly you're led to believe that you'll receive money from the company to finalize the shopping deals.
How Does American Consumer Eyes Work?
The website claims that it serves various companies looking for mystery shoppers. Is it really the case? After having a closer look, I've reached the conclusion that the reality is something else. The main problem is that the website doesn't talk anything about its services. There is no proof of its collaboration with other companies.
When you apply as a mystery shopper, the website doesn't reveal the names of the companies you'll be serving. To me, everything refers to the fact that they're just looking for the subscriptions to serve their own purpose.
Who's Behind It All?
I don't think that the website administrators want you to know about their identity. You can find the tabs for all other pages at the top, except "Contact Us", which is placed as a small text link right at the bottom of the page. Even if you hit Contact Us, it'll take you a page that doesn't contain any information about the administration's location, number, fax or email. There is nothing but a simple form which – in my opinion – is of no use.
Lack of Contact Information
Absence of contact information becomes highly significant when you realize that there is no other way for any company to get in touch with American Consumer Eyes representatives. How are they serving the companies then? The only answer to this question is, they really don't need to contact other companies.
What's Going On?
I am fairly convinced that American Consumer Eyes website is just a cover. Behind the curtain, something else is going on. The website, which apparently looks extremely professional, is actually hiding some sort of scam underneath. To keep things precise and clear, I'm breaking it down in a series of actions:
You receive an email that your application has been approved
You receive an email with the task/job instructions
They'll ask you to purchase a product and dispatch it to a certain address
They may ask you to buy a digital product and share the product key with someone
They'll send you a cheque and ask you to spend cash the check to purchase the products and deposit the remaining money into their account
They give you a deadline (this is highly important)
Actually, the cheque is fake but the bank requires a day or two to determine the legitimacy of a cashier check.
On the other hand, you have to complete the task within the deadline so you'll spend money from your own pocket
After a day or two, the check bounces back
Is American Consumer Eyes a Scam?
Prior to putting this review together, I came across a lot of American Consumer Eyes scam rumours on the web & I am coming to the conclusion that I have to agree with them because, in my opinion, the website is NOT legit.
The whole thing is just a con & the people who are behind it all (who keep themselves anonymous) are just trying to trick you into spending your money by sending you duff checks that will bounce back.
So rather than being set out to help you make money like the website claims it is, in reality, it's just set out to make its own creators wealthy at your expense instead by getting you to spend your own money.
In my opinion, the website should be avoided & if you really want to make good money online you should just go through a legitimate program like Commission Academy instead. It's there that you'll get all the training, tools & support you need to find proper success online & you can even get started there for free.
Overall American Consumer Eyes will be getting a thumbs down from me & there is no way I am going to be recommending it to you because it is bad news. Hopefully, you can see that now after reading my review.
If you do still happen to have any additional questions or comments though then don't hesitate to leave them below & I'll get back to you as soon as I can.
A Better Alternative
The sad truth is that unfortunately most of the programs promising to help you make money online are scams. I can say that confidently after exposing over 500+ of them here on this blog.
But the good news is that even though most of them are indeed scams, there are actually some very good programs in amongst them - some programs that can truly help you to earn money.
And out of all of the legit programs I've seen, the one I would recommend the most to anybody looking to get started online is Commission Academy. In my own opinion, that's the best place to start.
At Commission Academy, you'll be provided with everything you need (including the training & tools) to begin earning real money by promoting products or services for companies like Amazon online.
The best part is that there's literally no limit on the amount you can earn with it & the process is pretty simple which means that it's absolutely perfect for people that don't have much experience.
Some wealthy affiliates even earn as much as 5-figures per month... Or more!

I mean don't get me wrong, that kind of money won't just fall into your lap without doing any work... But the harder you're willing to work at it, the more you stand to earn with it.
So if you're looking to get started but don't know which route you should go down or which program you should join (and don't want to waste money on bogus things that don't actually work), then I'd highly recommend checking out Commission Academy first. You can learn more about it here.