There are scores of insurance plans available with insurance companies offering their service online and American Income Life is one of the rising names in this regard. A couple of online income geeks have mentioned this website in their emails and asked me for a review.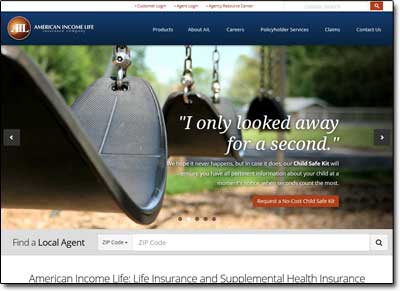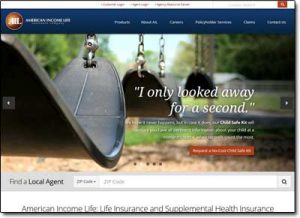 After having a look at the website, I realized that the whole this is based around a multi-level-marketing style compensation plan… So is American Income Life a pyramid scheme? Or is it actually a legitimate MLM?
We'll have to find out more before answering that and the only way is to go through each and every significant aspect about this seemingly attractive offer.
If you're interested in earning online money by joining American Income Life then you must be thinking if it is a legitimate platform or scam. I'll conclude it by the end of this review. First, I'd like to reveal what American Income Life is and how it really operates.
What Is American Income Life?   |   How Does American Income Life Work?   |   Is American Income Life a Pyramid Scheme?   |   Should You Join?   |   Is American Income Life a Scam?   |   A Better Alternative
What Is American Income Life?
American Income Life basically serves its members with life insurance policies. But their online existence features a business model which encourages members to join & recruit other members. It means that the members can earn money in terms of compensation against each recruitment.


MLM Structure
As you all know many insurance companies primarily depend on their agents in the field, so they have to look for something similar for their online success. Anything else wouldn't serve the purpose as good as an MLM based model. You join the website, promote its offers to recruit more individuals and the company awards you with the commission.
I must tell you that everybody can join American Income Life as an online agent and there is no requirement for an interview. Some agents/recruiters for MLM companies trick people by creating their own website and setting things up for a fake interview. They are actually cheating by making people think that the positions are limited and there is something of great value. The fact is that they only want to take something out of your pocket. This is not only the case with American Income Life agents but a huge majority of MLM based models (like Rodan and Fields) suffer at the hands of such tricky recruiters.
How Does American Income Life Work?
To my surprise, American Income Life doesn't reveal much information about the compensation plan, commissions, and profits. MLM models feature rankings and levels (as visualized below). The problems is that the website doesn't explain the working or the administration doesn't want the visitors to know the truth before joining the program.
I can anticipate that there must be certain plans based on the level of the agent and the recruiters under his/her umbrella. All MLM models work like this. You'll be given a couple of options to earn commissions. First, sell an insurance policy and get earn the commission. Secondly, bring in more recruiters and earn commissions against each new recruitment. The main question is, does this platform really focus on selling insurance policies or is it primarily concentrating on recruitments. This is the factor which differentiates a legitimate MLM model from a malicious pyramid scheme.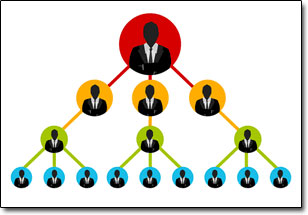 Is American Income Life a Pyramid Scheme?
We'll surely have to determine it by considering the company's practices. In the eyes of the law, if a business model generates over 50% of its revenue from sales to real people, then it is a legitimate MLM based business.
I've done a lot of research to know the reality and based on my research, I've reached the conclusion that American Income Life is really selling insurance policies to the real individuals. The reason is, American Income Life awards you with the commissions against sales and the sales made by the recruiters you've introduced to the business. So, the agents are not only looking for the recruitments but a huge portion of concentration remains on increasing the sales.
The business model, in this case, doesn't force people to make more recruitments. Because the main source of earning commissions still depends on the number of sales. To me, American Income Life is a legitimate website based on lawful MLM model.
Should You Join American Income Life?
I'll suggest you consider a lot of things before joining the program. First, you have to think smart. Don't be overconfident about your ability to generate recruitments and sales. The truth is that MLM models really do well to attract the visitors into the opportunity but when one actually joins as a recruiter or an agent, things appear to be increasingly tough.
This is because we presume large and quick income (based on the way we were sold into the opportunity)… But it doesn't really happen that way though. Even if you manage to finalize one sale per month, consider it a good beginning. It is hard to convince people to join such a platform. You've to work hard, use marketing skills and invest a lot of time in this whole activity.
You need to compare the amount of time and effort with the expected earnings. I've personally tried more than 10 MLM models and found that things are equally difficult with each offer. It's never been a smooth sailing. Maybe, I'm not a smart salesperson to achieve good results. Whatever is the case, you need to evaluate your skills realistically.
In my personal opinion though there are much better ways to make money online.
Is American Income Life a Scam?
American Income Life is definitely not a scam, it's a legitimate network marketing company (and NOT a pyramid scheme) – however as I mentioned above in this review I personally am not a huge fan of MLM companies so I won't be recommending it.
The reason I won't be recommending it is that whilst the opportunity seems golden from the outside, in reality, you'll be left to find out that things are much harder & that's why most people in MLM's fail to find success.
The truth is that most people actually end up spending more money than they ever manage to make back & that's not good at all. As far as I'm concerned there are simply better ways to make money online – ways without risk or upfront investment.
And one of the best ways I've come across to date is something called affiliate marketing. That's the way I personally generate most of my own income online & I'd highly recommend it to anybody. You can get started & learn more about it over at Commission Academy for free (if you'd like to!).
But anyway overall I hope you can see why I've come to the verdict that I have done & I also hope that my review here has given you a good insight into how the whole American Income Life program really works.
If you do still happen to have any further questions then don't hesitate to leave them below & I'll get back to you as soon as possible. Feel free to leave any comments you'd like to add there too.
A Better Alternative
The sad truth is that unfortunately most of the programs promising to help you make money online are scams. I can say that confidently after exposing over 500+ of them here on this blog.
But the good news is that even though most of them are indeed scams, there are actually some very good programs in amongst them - some programs that can truly help you to earn money.
And out of all of the legit programs I've seen, the one I would recommend the most to anybody looking to get started online is Commission Academy. In my own opinion, that's the best place to start.
At Commission Academy, you'll be provided with everything you need (including the training & tools) to begin earning real money by promoting products or services for companies like Amazon online.
The best part is that there's literally no limit on the amount you can earn with it & the process is pretty simple which means that it's absolutely perfect for people that don't have much experience.
Some wealthy affiliates even earn as much as 5-figures per month... Or more!

I mean don't get me wrong, that kind of money won't just fall into your lap without doing any work... But the harder you're willing to work at it, the more you stand to earn with it.
So if you're looking to get started but don't know which route you should go down or which program you should join (and don't want to waste money on bogus things that don't actually work), then I'd highly recommend checking out Commission Academy first. You can learn more about it here.