The AZ Formula system claims to be the worlds first "done-for-you" affiliate profit system & it leads you into believing that you can simply sign up & start earning as much as $2,000 per day right away, even with no experience of working online.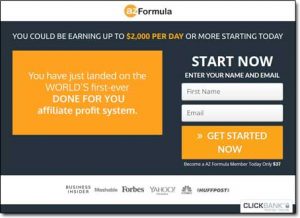 But no doubt you'll agree with me when I say that the whole thing just sounds way too good to be true – so what's the deal?
Is it actually a legit money-maker or will the AZ Formula scam you & just end up taking money from you instead?
Thankfully you've landed in exactly the right place to find out as I've taken a closer look into how it all works & in this honest review I'll be uncovering the truth about it all & I'll also be determining whether or not you can really make any money with it.
What Is AZ Formula?   |   How Does AZ Formula Work?   |   The Truth   |   Is AZ Formula a Scam?   |   A Better Alternative
What Is AZ Formula?
The AZ Formula system, which has allegedly been put together by a guy named Steven Cook basically claims to be a "done-for-you" affiliate profit system. You're literally told that all you need to do to begin profiting is sign up, activate your account & follow some simple instructions…

Steven claims that so long as you do that you'll be able to earn $2,000 per day even if you're a total newbie when it comes to making money online.
But where does the money come from?
Well, you're led to believe that the money comes from affiliate marketing – and Amazon specifically. You see affiliate marketing itself is actually a legitimate (and very good) way to make money online.
It basically involves you promoting products for 3rd party companies online & getting paid commissions in return for any sales you make. So, for example, you could sign up as an affiliate of Amazon & you'd get a tracking URL which is unique to you, then if anybody clicked on it & bought something – you'd earn a commission.
Like I say it is actually a pretty neat way to make money, and it's also the same way that I personally make most of my own money online too. You can learn more about how to get started with it (properly) via Wealthy Affiliate.
And the reason I say properly in the sentence above is that whilst the AZ Formula is based around affiliate marketing, in reality, it doesn't actually work as promised & the truth is that it's just set out to scam you.
So don't rush into signing up to it!
You see Steven, the CEO & Founder wants you to believe that he's built a way for you to automatically promote your affiliate links so that you can just sit back & earn commissions without doing any work but this just flat-out isn't true.
Instead, he's just trying to trick you into handing over your hard-earned cash so that he himself can earn money at your expense… But you'll soon see all that in a moment when I show you exactly how it all really works.
How Does AZ Formula Work?
In short, the AZ Formula system simply does not work as promised. In fact, the guy that's supposedly behind it all, Steven Cook, isn't even a real person (as you'll soon see in a moment).
But basically yeah, the whole thing is supposed to give you access to an "automated" way to earn money through affiliate marketing but in reality that just couldn't be further from the truth.
Instead when you buy into the system for the initial fee of $37 (which I don't recommend) all you really get access to is some extremely basic training on affiliate marketing. Training that won't really help you whatsoever.
And what you will also find out after handing over the initial fee of $37 is that you don't actually get access to everything on offer for that amount of money. Some of the content is restricted and to access it you need to purchase the additional upsells which are:
Gold AZ Formula Membership – $197
Platinum AZ Formula Membership – $297
So whilst the price of the AZ Formula might initially seem quite low, it could quickly end up costing you hundreds of dollars… And even after you have paid all of that money you still don't get access to anything worthwhile.
Like I mentioned earlier in this review you can actually get started with affiliate marketing for free over at Wealthy Affiliate, which is a legitimate platform that has been proven to help people succeed. There's no need to waste insane amounts of cash on bogus over-hyped programs like the AZ Formula at all.
You Might Also Like:
What's Really Going On…
The AZ Formula is basically just a re-hashed version of the Amazon Cash Websites scam that I exposed not so long ago. Rather than being to set out to help you like it claims it has, it's just been set out to make it's creator rich instead – all at your expense.
And by the way, the real creator is NOT Steven Cook. That's just an alias that's being used to hide the name of whoever is really behind the program, and the reason they've chosen to hide their name is that they know it's a scam.
As you can see below the photo for Steven Cook has just been pulled from a stock photo website: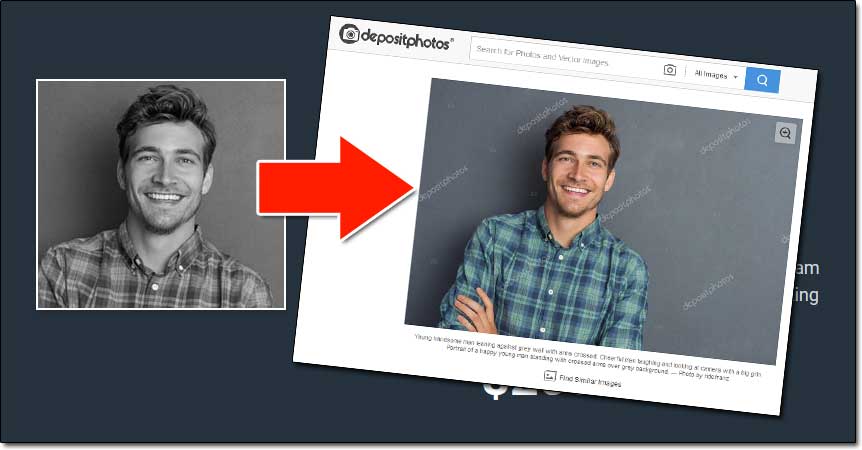 You see the truth is that whilst you can make good money through affiliate marketing, the internet is not magical & there is no way you are just going to be able to start earning tons of money without doing anything.
I mean sure – there is certainly the potential for you to earn $2,000 per day with affiliate marketing… Many people do, but it is going to take a lot of work to get there – it's not going to happen overnight, and no "automated system" is going to do it for you.
But like I say the good news is that if you are prepared to put in the work then there are legitimate programs out there like Commission Academy which will show you the proper steps you need to take to get started.
And come on, let's take a reality check too… Do you really think if somebody had a legitimate way to earn $2,000 per day all on complete auto-pilot they would sell access to it for a mere $37? LOL. No way!
The whole thing is just a total fake, which brings me onto…
Is AZ Formula a Scam?
Whilst I don't really like ever branding a program or system a flat-out scam, in this instance, I have to say that in my opinion yes, I believe the AZ Formula is actually a scam. The reason I say that is because as far as I'm concerned it's sole purpose is to rip people off so that the creator can make money at their expense instead.
I mean sure, you do actually get provided with some training through this program which is a small plus point – but the training that you do get won't really help you get anywhere at all… And it's certainly not automated like the creator claims.
Ultimately if you buy into the AZ Formula program you are just going to find yourself disappointed at what you actually receive & it could also end up costing you a LOT more than just $37… So for those reasons I am not going to be recommending this program to you.
Instead, if you really want to learn how to make good money through affiliate marketing I suggest you check out Commission Academy as I mentioned earlier in this review which is a legitimate & proven program.
But regardless as to what you do I just hope that my review here has given you a better insight into how this whole thing actually works & hopefully it's also helped you save some of your hard-earned cash.
If you do still happen to have any further questions or comments though then don't hesitate to leave them below & I'll get back to you as soon as I can.
A Better Alternative
The sad truth is that unfortunately most of the programs promising to help you make money online are scams. I can say that confidently after exposing over 500+ of them here on this blog.
But the good news is that even though most of them are indeed scams, there are actually some very good programs in amongst them - some programs that can truly help you to earn money.
And out of all of the legit programs I've seen, the one I would recommend the most to anybody looking to get started online is Commission Academy. In my own opinion, that's the best place to start.
At Commission Academy, you'll be provided with everything you need (including the training & tools) to begin earning real money by promoting products or services for companies like Amazon online.
The best part is that there's literally no limit on the amount you can earn with it & the process is pretty simple which means that it's absolutely perfect for people that don't have much experience.
Some wealthy affiliates even earn as much as 5-figures per month... Or more!


I mean don't get me wrong, that kind of money won't just fall into your lap without doing any work... But the harder you're willing to work at it, the more you stand to earn with it.
So if you're looking to get started but don't know which route you should go down or which program you should join (and don't want to waste money on bogus things that don't actually work), then I'd highly recommend checking out Commission Academy first. You can learn more about it here.