Bear Grylls TV career is over & his sources of wealth have been revealed according to a recent BBC news article that's been getting heavily promoted on social media.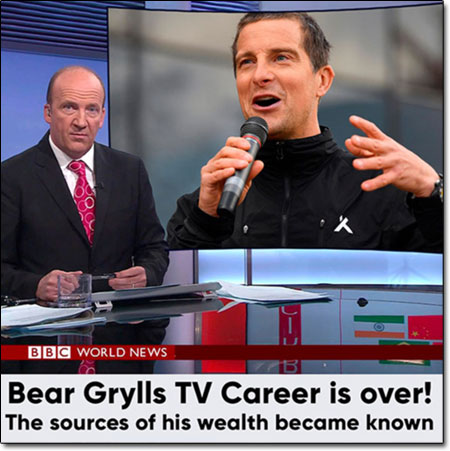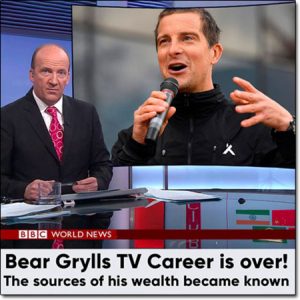 But as you might have already suspected, things aren't quite as they seem.
The BBC news article isn't actually real & as you'll soon see in this blog post, Bear Grylls sources of wealth (as suggested by the news article) aren't real either.
Is Bear Grylls TV Career Over?   |   What Are Bear Grylls Sources of Wealth?   |   Is It a Scam?   |   A Better Alternative
Is Bear Grylls TV Career Over?
Chances are if you're reading this blog post it's because you've come across an advert like the one shown below claiming that Bear Grylls TV career is over & that "his sources of wealth have became known":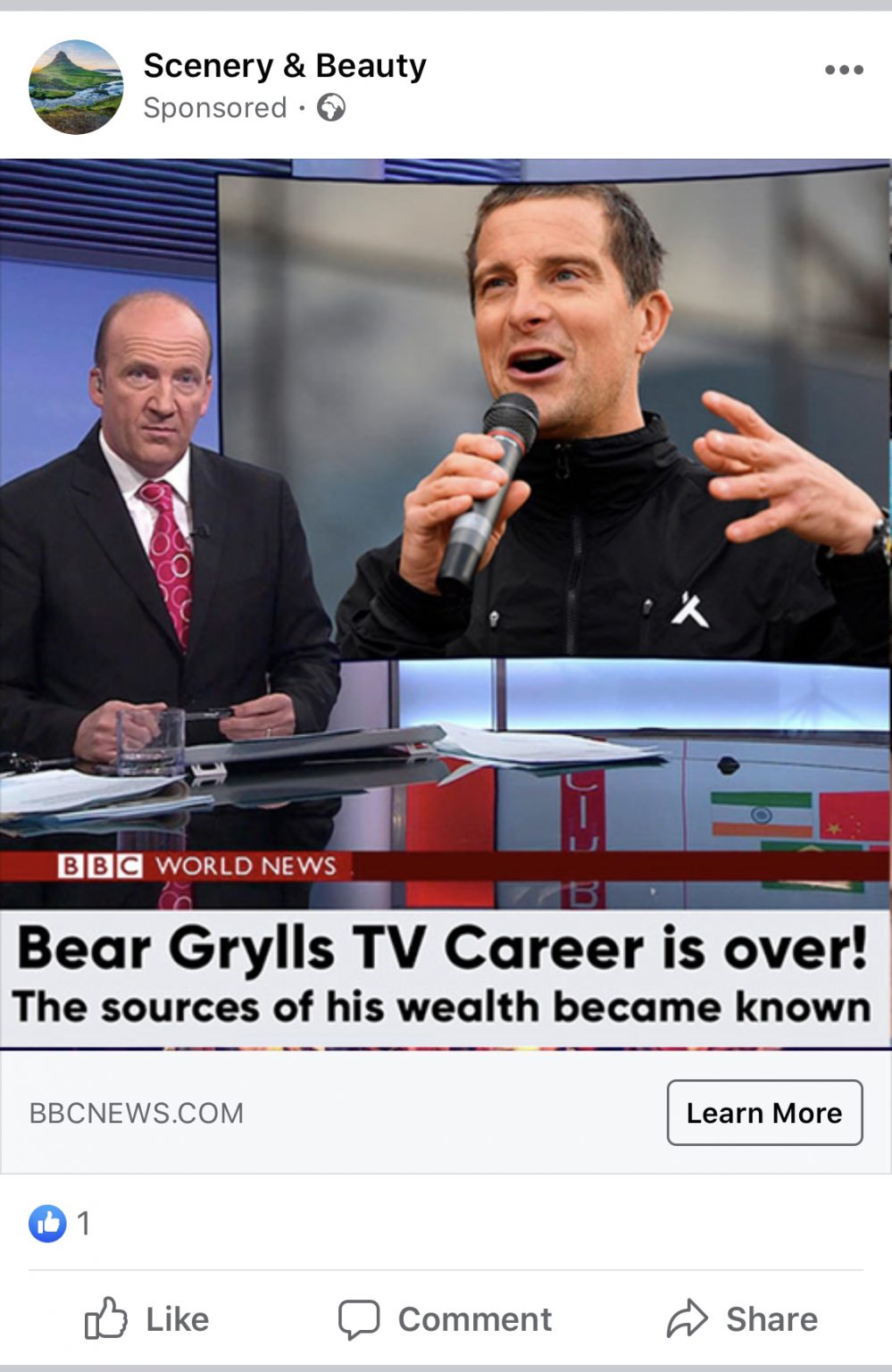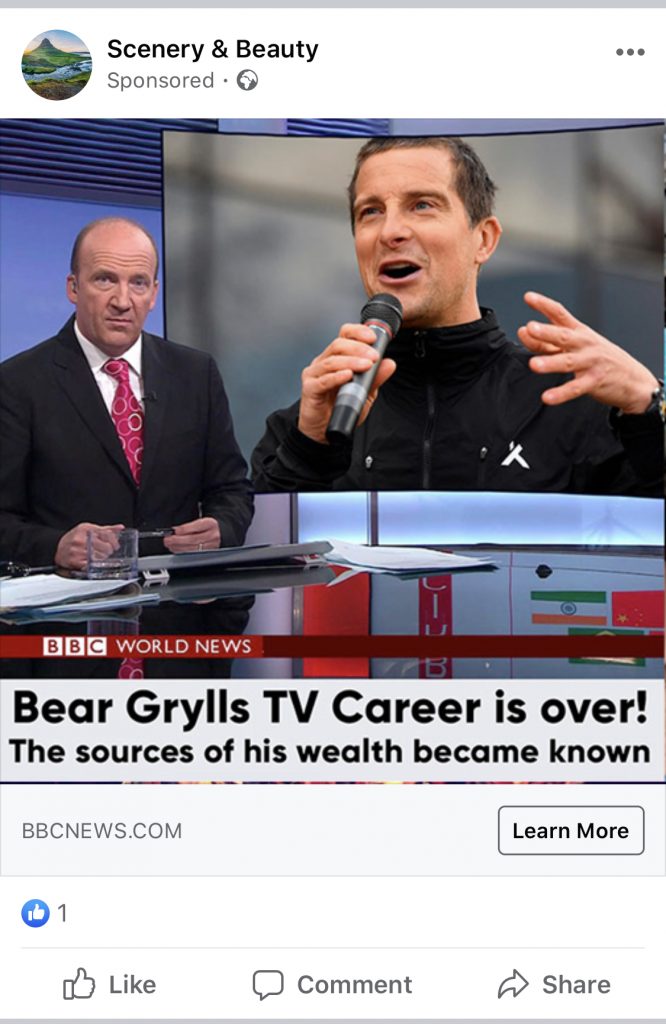 The suspicious (and strange) adverts have been getting pushed heavily across social media sites like Facebook & Instagram, suggesting that Bear Grylls has a secret source of wealth.
And at a glance, they appear trustworthy as the URL appears as "bbcnews.com".
The problem though is that they're not trustworthy, because despite the URL appearing as "bbcnews.com", the actual website the adverts take you to have absolutely nothing to do with the BBC.
The news website the adverts take you to is fake, and so is the story.
I mean admittedly, it's true that many years ago in 2012 Bear Grylls did indeed allegedly get cut from the Discovery channel over a disagreement in renewing contracts, but his TV career isn't "over".
He's the host of Running Wild, You Vs Wild, The Island, Bear's Mission with, Hostile Planet & World's Toughest Race.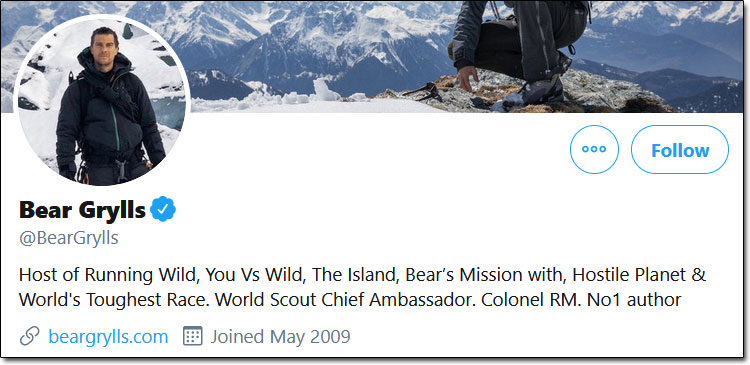 All of those shows are currently active, so it's safe to say Bear Grylls TV career is far from over.
What Are Bear Grylls Sources of Wealth?
With a reported net worth of $24 million there's no denying that Bear Grylls is a wealthy man, but despite what the news articles claim, there are no "secrets" to his wealth.
Bear Grylls has written a children's book series, a series of thriller novels, he has a solid TV career, he's a motivational speaker & he also runs a survival academy.
Those are the sources of Bear Grylls wealth.
The news articles, however, claim that Bear Grylls leveraged a "system" to build his wealth.
They claim that Bear Grylls TV career ended & that he discovered an online system that could trade Bitcoin profitably entirely on autopilot, and that he used that to amass his wealth.
Of course, that's complete nonsense.
But the news article then tries to refer you to the "system" so that you can use it for yourself and begin amassing millions, just like Bear Grylls.
From what I've seen, the article will send you to either a system called Bitcoin Profit or Bitcoin Revolution but as you can probably guess, both of these are complete scams.
The systems will ask you to deposit $250 in order to get started & then they claim they will make trades on your behalf which you will generate your profits on autopilot.
It sure sounds like a good deal, and if you were to actually deposit (which I don't recommend) then the systems would appear to actually work as promised.
The issue though is that despite appearing to work as promised, it's all just a trick.
The systems are not really connected to any live markets. They're basically just video games & the profits are faked in an attempt to just trick you into depositing even more money.
Eventually, when you try to actually make a withdrawal of the "profits" you'll just be left to discover the hard way that the whole thing has been a scam & that all of the money you deposited has been lost to the scammers behind it.
And then, of course, they'll make it next to impossible for you to actually get any of it back.
You Might Also Like:
Are The Bear Grylls Adverts a Scam?
Yes, the adverts are completely fake news & the websites that they take you to, such as the Bitcoin Revolution system & the Bitcoin Profit system, are known scams.
Bear Grylls himself even made a public post on Twitter exposing the scam as shown below: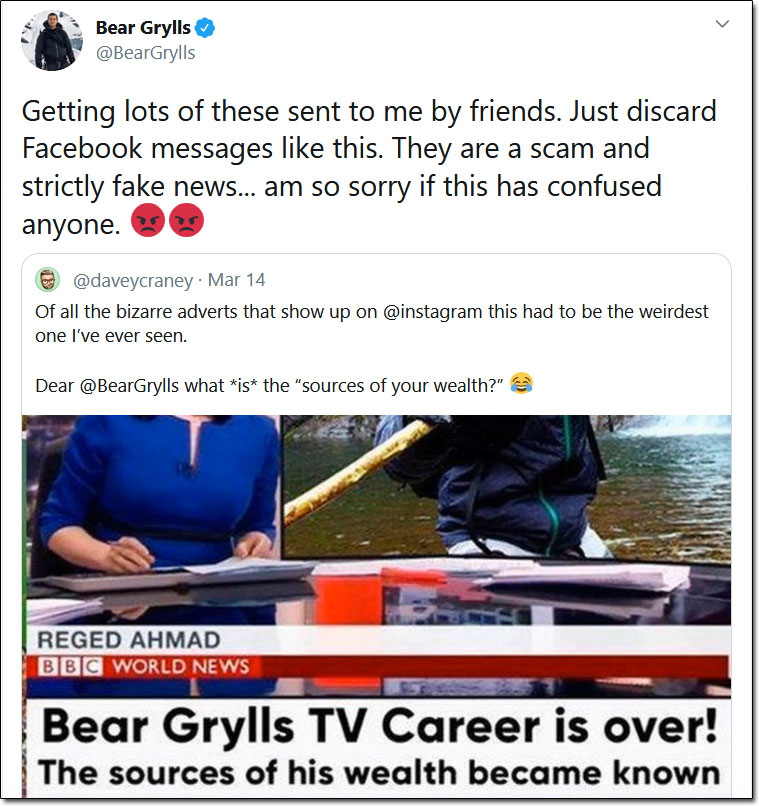 And of course, that means that Bear Grylls himself is not in on the scam, his identity is just being used by the scammers in an attempt to trick people into joining.
They're hoping that if they can make you believe a celebrity like Bear Grylls is using it, that you'll be more likely to sign up to it & try it out for yourself.
Unfortunately, it's a common trick & I've seen it happen in the past. Here are some other fake "celebrity-endorsed" scams to look out for:
A Better Alternative
The sad truth is that unfortunately most of the programs promising to help you make money online are scams. I can say that confidently after exposing over 500+ of them here on this blog.
But the good news is that even though most of them are indeed scams, there are actually some very good programs in amongst them - some programs that can truly help you to earn money.
And out of all of the legit programs I've seen, the one I would recommend the most to anybody looking to get started online is Commission Academy. In my own opinion, that's the best place to start.
At Commission Academy, you'll be provided with everything you need (including the training & tools) to begin earning real money by promoting products or services for companies like Amazon online.
The best part is that there's literally no limit on the amount you can earn with it & the process is pretty simple which means that it's absolutely perfect for people that don't have much experience.
Some wealthy affiliates even earn as much as 5-figures per month... Or more!


I mean don't get me wrong, that kind of money won't just fall into your lap without doing any work... But the harder you're willing to work at it, the more you stand to earn with it.
So if you're looking to get started but don't know which route you should go down or which program you should join (and don't want to waste money on bogus things that don't actually work), then I'd highly recommend checking out Commission Academy first. You can learn more about it here.