Welcome to my Big Profits Plan review. This is a system that supposedly claims it's members can start seeing profits of between $5,000 to $10,000 per week through some sort of "done-for-you" online business model which doesn't require you to do any work.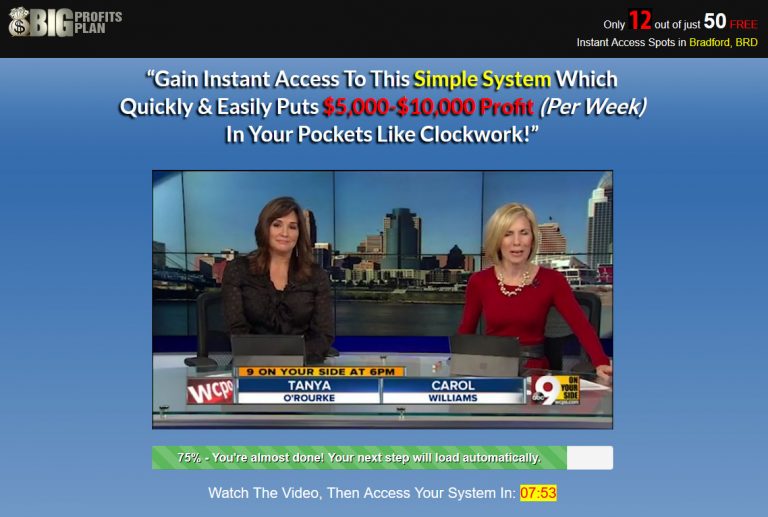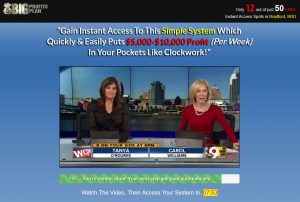 However, despite these seemingly amazing claims, the truth may not be quite so great because there's been a lot of Big Profits Plan scam rumours circulating the web over the past few days & so, as a result, I've decided to personally take a look into it to find out once & for all what it's all about.
This means that if you've been thinking about signing up & trying it out then you can rest assured you've landed in the right place to find out everything you need to know.
What Is Big Profits Plan?   |   How Does The Scam Work?   |   The Bottom Line   |   A Better Alternative
What Is Big Profits Plan?
After taking a look at the website of this system I can tell you right from the off that the Big Profits Plan is definitely a scam & the reason I can be so sure straight away is that it's actually just a relaunch of the Instant Success System scam which I exposed just the other week.

They've relaunched the exact same scam program under a different name in a clear attempt to dodge all the negative reviews & hopefully part more people with their cash. They'll also reduce the price from $97 to $47 most likely in the hope that they'll be able to catch even more people out this time around by charging a lower fee.
That's because the lower the fee the less likely people are to do their due diligence but thankfully you did & you landed here to find out how it really works before you parted with your cash (or at least hopefully you did anyway).
If you didn't & you happened to buy into this program before landing here then don't worry all is not yet lost because there's a fantastic company called MyChargeBack that can help you reclaim your lost funds.
How Does The Big Profits Plan Scam Work?
I can imagine you probably don't just want to take my word for it when I say it's a scam, chances are you probably want to know how it actually works & what made me arrive at the conclusion so let me fill you in…
To be honest, it's actually quite simple, it's not really an elaborate scam – the website just basically sells you on a dream of easy riches but then provides you with some very low-quality affiliate marketing training in return.
So basically it promises you the world but then doesn't deliver after you've handed over your cash – and it doesn't end there because it then tries to sell you into a high-ticket opportunity named Aspire Today which all-in-all could see you parting with well over $50k… A crazy amount of cash I think you'll agree.
Don't get me wrong you can make money with the method itself that this program teaches you (affiliate marketing) however I can almost guarantee that you won't make a penny as a result of following the training they provide you with because it's just such poor quality.
The method is sound, the training is not – so basically whilst you do have the opportunity to make money through what they teach you the training they give you will just leave you feeling lost & confused… and you'll almost certainly be disappointed & in want of a refund which is why I made the decision to call this program a scam (because they're basically selling you in on complete lies).
The truth is that whilst you can make money with affiliate marketing it takes work & it takes time, you can't just expect to hand over $47 & begin generating such huge profits almost immediately because that's just completely unrealistic, but sadly the Big Profits Plan system is targeting newbies who might not know about how to make money online.
You Might Also Like:
The Bottom Line
I'm keeping this review short & sweet because as I mentioned earlier this Big Profits Plan system is literally just a duplicate of the Instant Success System which was a scam that I exposed just the other week.
Essentially this system is just telling you a whole bunch of complete lies in an effort to get you to part with your cash, and then once you do you'll be provided with some rubbish training that will leave you feeling disappointed & in want of a refund.
The training is so low quality that even if you were to follow it to the letter the chances of you making any money would be very slim & I can say for certain that it won't see you earning anywhere near the promised $5,000 to $10,000 per month.
You see sadly whilst the internet provides fantastic opportunities it's not magical & there is no way that you can just start generating the amounts of money promised by the Big Profits Plan system without doing any work so anything that promises you can is generally best avoided (or at least should make you do some due diligence first because like in this instance it's most likely a scam).
A Better Alternative
The sad truth is that unfortunately most of the programs promising to help you make money online are scams. I can say that confidently after exposing over 500+ of them here on this blog.
But the good news is that even though most of them are indeed scams, there are actually some very good programs in amongst them - some programs that can truly help you to earn money.
And out of all of the legit programs I've seen, the one I would recommend the most to anybody looking to get started online is Commission Academy. In my own opinion, that's the best place to start.
At Commission Academy, you'll be provided with everything you need (including the training & tools) to begin earning real money by promoting products or services for companies like Amazon online.
The best part is that there's literally no limit on the amount you can earn with it & the process is pretty simple which means that it's absolutely perfect for people that don't have much experience.
Some wealthy affiliates even earn as much as 5-figures per month... Or more!

I mean don't get me wrong, that kind of money won't just fall into your lap without doing any work... But the harder you're willing to work at it, the more you stand to earn with it.
So if you're looking to get started but don't know which route you should go down or which program you should join (and don't want to waste money on bogus things that don't actually work), then I'd highly recommend checking out Commission Academy first. You can learn more about it here.