Welcome to my Instant Success System review. According to the website of this system you're led to believe that you can quickly & easily start generating an income online of between $5,000 & $10,000 per month even if you have little to no experience.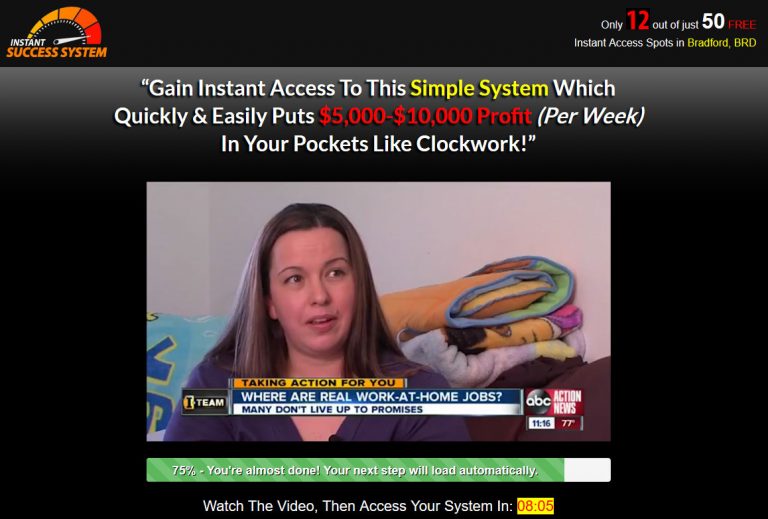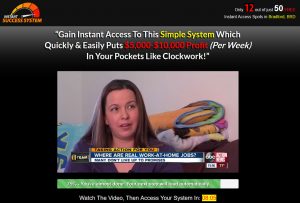 Allegedly after handing over your money you'll be provided with a "done-for-you" profitable website that the creators claim will generate you profits like clockwork (their words, not mine).
But is it actually legit? Or is the Instant Success System a scam?
I've taken a closer look & in this review, I'm going to be sharing everything there is you need to know.
What Is The Instant Success System?   |   The Red Flags   |   A Reality Check   |   Is The Instant Success System a Scam?   |   A Better Alternative
What Is The Instant Success System?
To be completely honest I'm not even going to beat around the bush on this one because it's clear to me after reviewing hundreds of other systems on this blog that the Instant Success System is merely just an over-hyped get-rich-quick scam that is attempting to lure people in on the false promise of easy money.
It leads you to believe that you'll be getting access to some sort of "done-for-you" online business which will begin generating you money almost immediately after signing up (hence the name) but to be honest that couldn't be further from the truth.
The reality is that this system is just a re-launch of the My Online ATM & Home Wealth Business scams which just make extremely bold promises but then fob you off with some duff affiliate marketing training as soon as you hand over your cash.
Don't get me wrong affiliate marketing in itself is a legitimate way to make money online (and a very good way to do so too) but the training provided through these types of scam systems is just totally worthless & they make obtaining a refund almost next to impossible so they are definitely best to be avoided.
The Red Flags
Just like all of the other get-rich-quick scams I've uncovered on this blog the Instant Success System uses many underhand tactics to try & get you to part with your cash & you really can't trust anything the website says because it's just completely full of lies…
For example, as you can see in the screenshot below the website starts out by showing you a news clip of a lady named Tracy Holmes who is talking about how she's managed to leave her job because she's started making online instead: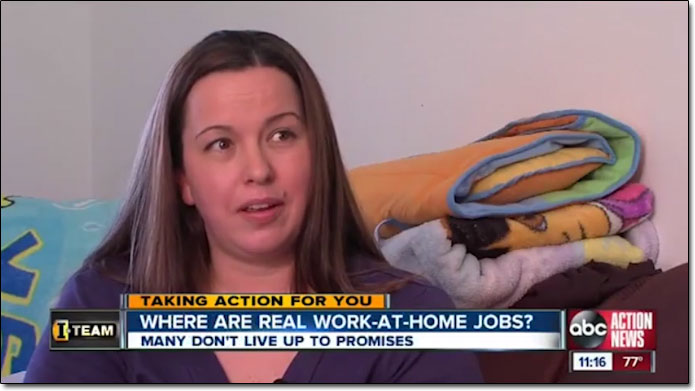 This is a legitimate news story however it is completely unrelated to the Instant Success System, they've just cut a clip from the story & presented it on their website to make it seem as if Tracy has used this particular system to make money which she 100% hasn't (a common technique used by get-rich-quick scams to attempt to gain peoples trust).
But the deception doesn't end there because if you take a look at the top right-hand corner of the page you'll see that you're also told that there are only 8 spots left out of a total 50 that were made available & it even includes your location as shown in the image below:

This is another common tactic used by scams (though some legitimate systems do sometimes use it too) which is basically designed to rush you through the process of signing up to prevent you looking for reviews before you hand over your cash – because they know that if you find a review you'll realize that it's a scam.
That's why these companies re-brand almost every other week because they want to dodge the negative reviews like mine – it wasn't too long ago that this system was released under the name Cash Relief Now & here's the same thing again now called the Instant Success System.
Thankfully though you did the right thing & looked for reviews first. ?
Finally, if you scroll down the homepage of the Instant Success System website you'll see a list of Facebook comments that have supposedly been left by users of the system but surprise surprise these are all fake too…
The reason I can tell that is that if you try clicking on any of the profiles you're prevented from accessing them – the website simply tells you to "slow down & watch the video first"… Yeah right, SCAM!
Time For A Reality Check…
The harsh truth is that there's no such thing as instant success & that these systems are preying on people who are either new to making money online & don't really know how it works or who are in desperate situations and are willing to try anything that shows a glimmer of hope.
It is possible to make money online & it is possible to make a lot of money online but it is not going to come without some sort of work or some sort of trial & error – you can't just start making money instantly without doing anything & you never will be able to…
Anything that promises you can is most likely just looking to part you with your cash.
You Might Also Like:
Is The Instant Success System a Scam?
I think you'll agree that after taking a closer look at this system it's completely evident that it's nothing more than a scam & for that reason, I won't be recommending it because it's clear just set out to rob you of your hard-earned cash.
There are many legitimate programs online but the reality here is that the Instant Success System is certainly not one of them – it's just full of lies & false promises.
Sadly some newbies might end up handing money over to this system but I know they won't get any value from it & they certainly won't make anywhere near the promised $5,000 to $10,000 per month – in fact, I highly doubt they'd make any money at all even if they followed the training to the letter because it's extremely low quality.
So overall this program will be getting a big thumbs down from me & as I mentioned above I certainly won't be recommending it to you, in fact, I'll actually be doing the opposite & advising that you stay away from it because it's definitely nothing but bad news.
A Better Alternative
The sad truth is that unfortunately most of the programs promising to help you make money online are scams. I can say that confidently after exposing over 500+ of them here on this blog.
But the good news is that even though most of them are indeed scams, there are actually some very good programs in amongst them - some programs that can truly help you to earn money.
And out of all of the legit programs I've seen, the one I would recommend the most to anybody looking to get started online is Commission Academy. In my own opinion, that's the best place to start.
At Commission Academy, you'll be provided with everything you need (including the training & tools) to begin earning real money by promoting products or services for companies like Amazon online.
The best part is that there's literally no limit on the amount you can earn with it & the process is pretty simple which means that it's absolutely perfect for people that don't have much experience.
Some wealthy affiliates even earn as much as 5-figures per month... Or more!

I mean don't get me wrong, that kind of money won't just fall into your lap without doing any work... But the harder you're willing to work at it, the more you stand to earn with it.
So if you're looking to get started but don't know which route you should go down or which program you should join (and don't want to waste money on bogus things that don't actually work), then I'd highly recommend checking out Commission Academy first. You can learn more about it here.