The Home Wealth Business system (found at homewealthbusiness.com) claims to provide the easiest way to make money online as you're led to believe that you can simply sign up to the system & start generating thousands of dollars without having to have any experience or any technical knowledge…
It even states that only very little work being required to generate income through the system – but is it actually legit or is the Home Wealth Business system a scam that's just set out to part you with your cash?
I've took a closer look & in this review I'm sharing my findings…
What Is The Home Wealth Business System?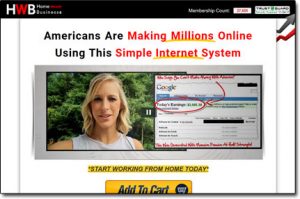 The Home Wealth Business system is a website that makes a whole load of bold promises by telling you that as a member you can start generating thousands of dollars online quickly & easily even if you don't have any experience or technical knowledge whatsoever.
It almost sounds like the perfect system however I can tell you right from the off that it's not because the Home Wealth Business system is actually just a relaunch of the Internet Wealth Biz scam (a get-rich-quick program I recently exposed that was purely set out to part people with their cash).
If you take a look at my review of the Internet Wealth Biz you'll see that the videos are identical, meaning that the scammer behind that website has simply re-branded the scam in an attempt to dodge the negative reviews like mine & carry on parting more people with their cash.
So first things first whatever you do don't buy into the Home Wealth Business system because it's absolutely not legit – it's been designed purely for the creator to make money at your expense & it won't help you make money online whatsoever.
But keep reading because I'll explain exactly how the scam works…
How Does The Home Wealth Business System Work?
Basically the website for this system has just been built to get you totally hyped up about the potential opportunity of making money online – they want to make it seem like it can be done really quickly & easily in an attempt to lure you in.
But sadly whilst it is possible to make money online unfortunately it's not possible to make lot's of money in a very short space of time like the Home Wealth Business makes out, especially if you're completely brand new to making money online…

Nor is it possible to make money without doing any work because obviously if it was then nobody would be working a job, everybody would just be earning money online instead if they didn't actually have to do anything.
The Home Wealth Business don't care about that though, they're basically just telling you a whole bunch of lies to get you to part with your cash, then once you do that you'll be left to find out that the system doesn't really work as promised… In fact there's actually no system at all…
Instead what you'll get in return for your money is some very basic & low quality affiliate marketing training.
Don't get me wrong affiliate marketing in itself is an excellent way to make money online (and you can learn how to make money with it properly through Wealthy Affiliate) however the training provided through the Home Wealth Business program is so poor that it won't see you earning any money at all even if you were to follow it to the very letter.
On top of that it's 100% not worth the $47 fee they're charging for it, and it's definitely NEVER been $297 like they claim it is – they just say that to make you feel like you're getting access to some kind of discount which simply isn't true.
But The Problems Don't End There…
At a glance The Home Business scam may seem like it's just trying to part you with $47 but the reality is that the website is trying to (and potentially will) part you with several thousands of dollars.
That's because basically once you enter your details into the Home Cash Business system & become a member you'll then be pushed into various different scams & high-ticket opportunities like Aspire Today through which you'll be almost forced into spending thousands of dollars.
The promises of riches will continue to come & since you'll likely still be hyped up about the new potential opportunity the chances are you'll get carried away & keep investing but then eventually you'll realize that nothing works as promised and that you've just been sold on a total pack of lies.
That's how these scams manage to con so many people & that's why they keep re-branding under different names time & time again, because sadly they're so successful at taking peoples money.
Today alone I've already uncovered 2 other scams, the My Online ATM program & the Internet Millionaire Coach program – both of which essentially work in a similar way to the Home Cash Business scam.
My Verdict – Is Home Cash Business a Scam?
Yes it's as clear as day that this system is a complete scam because it's just an identical copy of the Internet Wealth Biz which was a scam I already uncovered a couple of weeks ago.
The owner of the scam, or should I say the scammer himself has just re-branded the scam in an attempt to escape the negative reviews that have been written on various blogs so that he can keep parting more people with their hard earned cash.
Hopefully you have managed to avoid it!
The sad thing about this is that whilst I've exposed this scam as it is now, the chances are it will relaunch again in the next couple of weeks or so under a different name in an attempt to scam even more people once again… My advice therefore is to be vigilant & keep in mind that if something sounds too good to be true then the chances are it is.
Overall then as you can imagine this system will be getting a huge thumbs down from me & I certainly won't be recommending it to you because I can see that it's only out to take your money – you definitely won't find any real value in it.