We all love earning some extra money without having to waste too much time and effort. BigSpot is the platform that promises reasonable payouts for participating surveys.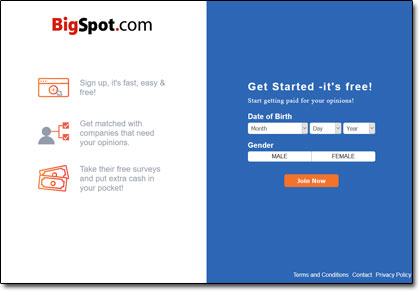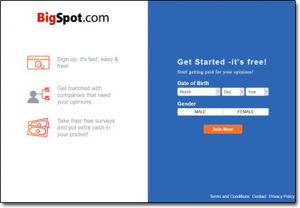 The popularity of this platform is mainly because of extensive advertising featuring a product that allows you to make money by sharing your opinion.
If you have been looking for legitimate survey websites then you might have come across BigSpot at some stage. Today, we are going to reveal the truth via this detailed BigSpot review.
Our BigSpot review is going to cover the introduction to this platform, the working mechanism, complaints, and recommendations.
What Is BigSpot?   |   Who Runs BigSpot?   |   How Does BigSpot Work?   |   Is BigSpot a Scam?   |   A Better Alternative
What Is BigSpot?
The homepage is fairly simple and straightforward. The left side of the screen mentions three steps:
The right half of the screen asks for your date of birth and gender. The website tells you that you only need to share your opinion (completely true) about a product or service and the company will pay you.
According to what they claim, their purpose is to let you find suitable paid surveys. Apparently, everything is looking nice and logical. The objective of the platform looks good, and the logic they present about payouts is also understandable. Let's now have a look at what exactly is happening behind the curtain.
Who Runs BigSpot?
It is always good to find the actual owner of any platform that offers online income. It gives you a hint of what to expect because most of the malicious names are associated with multiple scams.
Though we didn't manage to find enough information we did manage to know the company behind BigSpot – Varsityplaza LLC. We accessed this information from the website of the Better Business Bureau. Here are the details:
Name: Varsityplaza LLC.
Address: 44095 Pipeline Plaza, Suite 330, Ashburn, VA 20147.
We checked its BBB rating and it is A+, though it doesn't really matter these days.
BigSpot is there for over a decade and it is strange to know that the sole purpose of the platform is not exactly what they claim…
How Does BigSpot Work?
Once you sign up, the website takes you another page featuring various survey panels. Based on my personal information, they suggested joining MySurvey and GlobalTestMarket. The problem at this point is that I just provided them with gender and date of birth. Till this point, they never presented a form.
How on Earth are they matching a profile with a company's survey without even knowing my interests, nature of the job, and location, etc? We are convinced that they are actually playing the trick here. These recommendations appear to be random.
Anyway, we decided to try GlobalTestMarket and once we clicked on it, the website redirected to another page which asked for signing up. Well, I created a new account (first and last name, email address, nothing more).
According to BigSpot, these surveys are simple and you earn as much as $5/survey. They also promise the provision of an opportunity to earn $2000.
Anyway, after signing up, the page took me to page that basically asked for a lot more than before, personal address and region, etc. Once completed, the system took me to the member's area. Here I had to fill in a lot of fields to set my profile up. The type of information the system asks at this point triggers suspicion…
A Lot of Personal Information
It is understandable that any survey site requires a lot of information to present you with the right type of product or service. BigSpot is making money for itself by referring people to different survey sites run by various companies. But what about the subscribers? Does it really pay you anything?
Well, the truth is that BigSpot doesn't pay you anything, it just takes you to different survey platforms which may be legit or otherwise. What I have noticed is that the survey sites BigSpot recommends are basically extracting your personal information and there is a good chance that they are selling it to advertising companies.
In that case, even if a survey site pays you for providing your personal information, including your cell phone number, landline number, address, interests, and more, is it really a good idea to leak your own information just for a maximum of $5? That doesn't make sense, does it?
Suppose if somebody visited you asking for all the details about you and your family for $10, you'd never trust him. The psychology, when you are online, works differently and this is what these online gurus are exploiting. They are getting your personal information, selling it to advertising agencies, and your mailbox is getting more and more populated with promotional emails.
Is BigSpot a Scam?
Normally we don't tend to call anything a scam until it takes your money away by telling white lies. However arriving at a BigSpot scam verdict is different because it goes a step forward in cheating on you.
This website, though not snatching your money away, is actually snatching your personal information. It recommends a bunch of survey sites which actually are not reliable. They are basically selling your information to third-party platforms. In addition, your personal information is the core of this dirty business.
Adding insult to the injury, your information doesn't fall in just one hand, it is being sold over and over again, from one company to the next. Stay safe, that's all we want to say! This website is the starting point of a terribly dirty activity so we have no regrets to conclude that BigSpot is indeed a scam.
To be honest though we do not really recommend paid surveys in general (not even the legitimate ones) because we believe that they pay you too little in return for your time & that there are actually much better alternatives ways of making money available instead.
One of those alternative ways is something called affiliate marketing which is actually the same way I personally make most of my own income online & it is one of my all-time top recommendations for people looking to work online.
Affiliate marketing basically involves you connecting people with products/services online & getting paid commissions in return. The good news is that thanks to platforms like Commission Academy it's actually very easy to get started with & it's very lucrative too.
So my recommendation to you would be to avoid BigSpot (and other survey sites) and just go with affiliate marketing or another pick from top picks page here instead that'll see you being rewarded better in return for your time.
But whatever you decide to do I just sincerely hope that my review of BigSpot surveys here has given you a good insight into how it all works & helped you see why you shouldn't really bother signing up. Feel free to leave any questions or comments below.
A Better Alternative
The sad truth is that unfortunately most of the programs promising to help you make money online are scams. I can say that confidently after exposing over 500+ of them here on this blog.
But the good news is that even though most of them are indeed scams, there are actually some very good programs in amongst them - some programs that can truly help you to earn money.
And out of all of the legit programs I've seen, the one I would recommend the most to anybody looking to get started online is Commission Academy. In my own opinion, that's the best place to start.
At Commission Academy, you'll be provided with everything you need (including the training & tools) to begin earning real money by promoting products or services for companies like Amazon online.
The best part is that there's literally no limit on the amount you can earn with it & the process is pretty simple which means that it's absolutely perfect for people that don't have much experience.
Some wealthy affiliates even earn as much as 5-figures per month... Or more!

I mean don't get me wrong, that kind of money won't just fall into your lap without doing any work... But the harder you're willing to work at it, the more you stand to earn with it.
So if you're looking to get started but don't know which route you should go down or which program you should join (and don't want to waste money on bogus things that don't actually work), then I'd highly recommend checking out Commission Academy first. You can learn more about it here.