Welcome to my review of Bitcoin Mentor Club. This is a brand new program that's recently been launched by a so-called currency trading expert named Cecil Robles & you're led to believe that as a member you'll get "insider secrets" on how to generate ROI's of around 8000% from the popular cryptocurrency Bitcoin.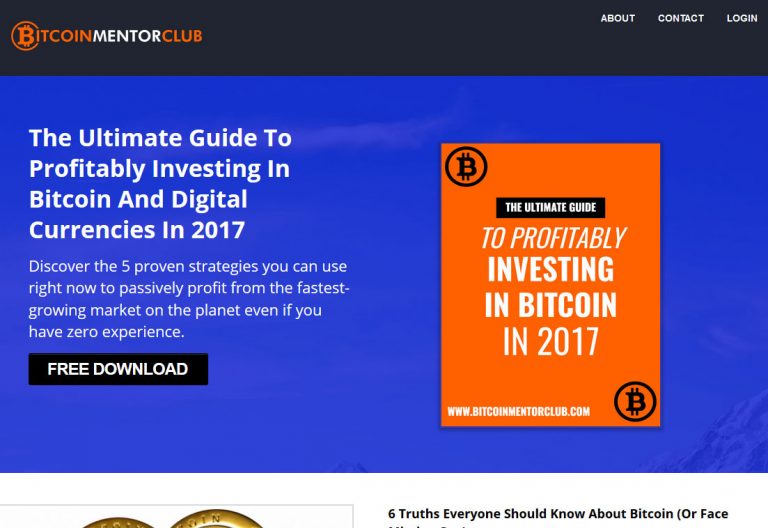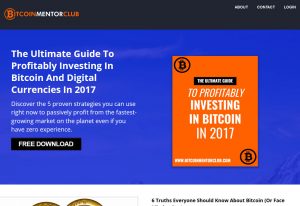 But obviously, those claims are pretty insane – I mean 8,000% ROI… Really?? That would see you earning a whopping $80,000 on every single $1,000 you invested.
So, what's the deal? Is it legit or is Bitcoin Mentor Club a scam?
Rest assured you're in the right place to find out because that's exactly what I'm going to be looking at right here in this Bitcoin Mentor Club review.
What Is Bitcoin Mentor Club?   |   Can You Really Make Money With It?   |   Is Bitcoin Mentor Club a Scam?   |   A Better Alternative
What Is Bitcoin Mentor Club?
As you've probably already found out the website for this program doesn't really give a great deal away, and that's because everything is actually "hidden" behind the scenes.
Instead of the website pitching the program to you directly you're simply provided with a "free PDF" that you can download in return for entering your name & email address – and once you do this, that's when you'll be introduced to the program.
After entering your name & email into the Bitcoin Mentor Club website you'll be sent the PDF as promised but you'll also be sent an invite to a webinar that's hosted by Cecil Robles & in this webinar Cecil will then pitch you into his BMC training program.
Don't get me wrong the webinar does contain some valuable information & I'm sure the free portion of it will provide you with a good insight into cryptocurrency investing especially if you don't know a great deal about it, but it's clear that the main intention of the webinar is to push you into buying Cecil's mentoring program, which by the way in total costs around $2,091.
So yeah firstly on that note – if you don't have $2,091 to shell out (or don't want to shell out that much) on cryptocurrency investment training then yeah, this probably isn't the program for you (and here's something free you could try instead).
But if you do have a bit of money set aside & are wondering whether or not this program can really help you make some more money back in return then keep reading because that's exactly what I'm going to get onto next…
Can You Make Money With The Bitcoin Mentor Club?
If you follow my blog then you'll know that when it comes to Bitcoin opportunities (and to be honest any cryptocurrency opportunity in general) I always advise people to be extra cautious because there's a LOT of scams about.
I've exposed all sorts of them & they've come in all different shapes & sizes, right from the clever Bitcoins Wealth Club type scams through to the darn outrageous scams like The Bitcoin Code & Laser Online.
However in this particular instance, whilst the Bitcoin Mentor Club is clearly a very expensive program (costing around $2k) I have done some background research on the founder Cecil Robles & I do believe this one to be legit.
But being legit & me recommending it are two totally different things…
Yes, it's legit in the sense that if you hand your money over you'll get access to training, resources & an "insider" community – but to be honest in my opinion $2k+ is an awful lot of money to be handing over to a program like this especially when you can find a lot of information contained in the program elsewhere online for free.
Don't get me wrong according to my research Cecil Robles is a guy who clearly knows his stuff & has been very successful when it comes to investing in various currencies, however in my opinion the bold claim of being able to generate an 8000% ROI in just 10 months as a result of following the program seems a little too unrealistic to me.
Essentially nobody, not even an expert trader can 100% tell the direction of the market so there is no way he or anybody else could claim results like these with 100% confidence, and whilst I wouldn't mind a little bit of risk if I was spending $100 or less on training when it involves spending over $2k I just think it's too much.
I can see why Cecil has set the price so high because he's clearly put a lot of time & effort into it – but to be honest, I just don't think the $2k can be justified at the consumer end because yes you are getting very good training but ultimately there is no guarantee that you will make that $2k back & there is a LOT of free information on cryptocurrency investments available elsewhere online.
If this program was being offered out at a lower price point then I would have potentially recommended it but as it is I just couldn't do it.
Here's a breakdown of the 3 products you'll be pitched following the webinar which add up to the $2k+ fee I quoted above:
Premium Subscription – $1,497 (this is the core training product itself)
Remote Setup – $97 (this is an upsell that you will be offered and will be pushed into purchasing)
Lifetime Subscription – $497 (the Premium Subscription only lasts 2 years, this extra $497 will get you access for life)
You Might Also Like:
Is Bitcoin Mentor Club a Scam?
Well as far as I'm concerned Bitcoin Mentor Club doesn't seem to be a scam & Cecil Robles does seem to be the real deal when it comes to trading, however, the problem here is that the program is just so darn expensive…
I mean personally, there's no way I could justify spending $2k+ on a training course like this one when the majority of the information can be found elsewhere online for free. Maybe once upon a time, this could have been a worthwhile investment when information like this was harder to come by but this day & age it's just so hard to justify such large amounts of money on training programs like these…
Essentially you're spending around $2k just for somebody to lay out the material for you in a step-by-step fashion, so if that's what you're willing to do then, by all means, go for it but otherwise, in my opinion, I think you'd be better off just going down the normal route & doing your own research on investing using the good old fashioned Google.
A Better Alternative
The sad truth is that unfortunately most of the programs promising to help you make money online are scams. I can say that confidently after exposing over 500+ of them here on this blog.
But the good news is that even though most of them are indeed scams, there are actually some very good programs in amongst them - some programs that can truly help you to earn money.
And out of all of the legit programs I've seen, the one I would recommend the most to anybody looking to get started online is Commission Academy. In my own opinion, that's the best place to start.
At Commission Academy, you'll be provided with everything you need (including the training & tools) to begin earning real money by promoting products or services for companies like Amazon online.
The best part is that there's literally no limit on the amount you can earn with it & the process is pretty simple which means that it's absolutely perfect for people that don't have much experience.
Some wealthy affiliates even earn as much as 5-figures per month... Or more!

I mean don't get me wrong, that kind of money won't just fall into your lap without doing any work... But the harder you're willing to work at it, the more you stand to earn with it.
So if you're looking to get started but don't know which route you should go down or which program you should join (and don't want to waste money on bogus things that don't actually work), then I'd highly recommend checking out Commission Academy first. You can learn more about it here.