Bitty Cash claims to be a revolutionary new system that can help you purchase Bitcoins, teach you how to make money from them & provide you with an opportunity to earn cash by recruiting new members.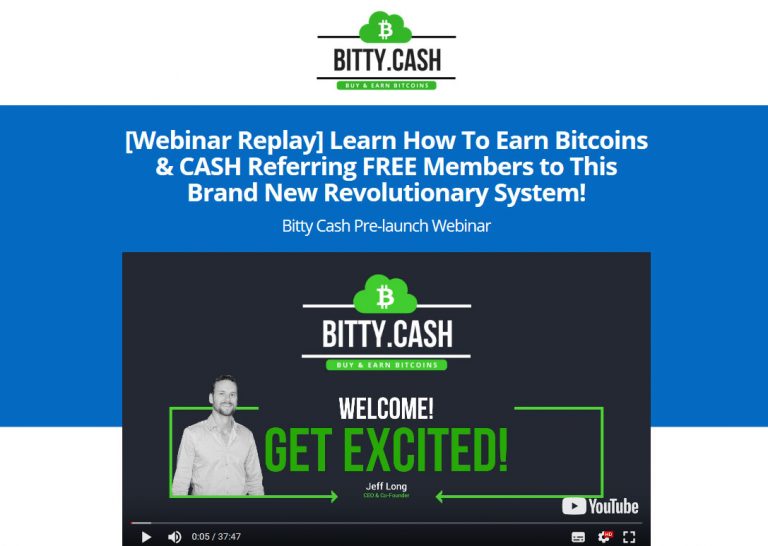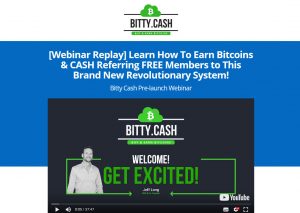 The creator of the system Jeff Long even claims that it's potentially going to be one of the most lucrative Bitcoins opportunities in the world, but is it actually legit?
Or is Bitty Cash a scam that's just going to see you end up with less money than you started out with?
I've looked into it & in this Bitty Cash review, I'll be uncovering the truth.
What Is Bitty Cash?   |   How Does Bitty Cash Work?   |   The Business Opportunity   |   Is Bitty Cash a Scam?   |   A Better Alternative
What Is Bitty Cash?
Bitty Cash, which has been created by Jeff Long is one of the latest Bitcoin cryptocurrency opportunities to launch & it promises to be able to help it's members generate more profits from Bitcoin – as well as supposedly making it easier for people to invest in the currency.
The company also runs a multi-level marketing style business opportunity through which you can recruit other people into the company & earn commissions via a uni-level compensation plan up to 5 levels deep (which I'll talk more about in a moment).
I'm always very wary when cryptocurrency investment opportunities are combined with recruiting schemes because the majority of those I've come across so far have turned out to be nothing but Ponzi schemes which have since collapsed & resulted in members losing their investments.
I'm not saying that's the case here at Bitty Cash but what I am saying is that when the two are combined you should always make sure you do extra due diligence to find out if it's actually legit – otherwise, you could end up part of a scheme that could see you losing money.
Anyway, thankfully you've come across this review (hopefully before joining) as I'm going to be getting to the bottom of whether it actually is legit or if it's just another scam…
How Does Bitty Cash Work?
Basically, Bitty Cash claims that it can make Bitcoin investing more accessible to everyone by helping people invest in it who've never invested before or have no idea how to get started.
For a fee you can purchase Bitcoins in packages through Bitty Cash – they offer $100, $250, $500 & $1,000 packages so if you invest in one of those you'll get the amount converted into Bitcoin.
However, in return for this service as mentioned above, they charge a fee & this fee is by no means small as they'll take a whopping 25% from your investment amount which they claim is to cover the costs of "coaching & processing".
This is because along with the investment assistance you are also provided with access to some training materials which then teach you how to can grow your investment & make money from your Bitcoins.
It's quite similar to the training that's offered through the iCoinPro program.
On top of that, you'll also get access to regular reports on how your investment is doing & access to the Bitty Cash community where you can then chat with other people who've also invested in the program.
So whilst 25% is pretty steep, you are getting more than just currency in return – but what you get in return will depend on the level you invest in. The higher the amount you invest the more training you will get as a result.
The Bitty Cash Business Opportunity
As mentioned at the start of this review alongside the whole "investment help" & training that Bitty Cash provides they also providing a multi-level marketing style opportunity through which you can earn commissions by getting other people to sign up to the company.
The commissions you can earn are paid out through a uni-level compensation plan & this plan pays out on up to 5 levels – so you will be able to earn from the efforts of the others you recruit as well as your own.
It's kind of similar to how the Bitcoins Wealth Club works.
However, through this opportunity rather than just being paid when people make investments you are actually paid for a few different things which include:
When people sign up for a free account
When people purchase Bitcoin
When people upgrade to paid memberships
The reason many people are taking interest in Bitty Cash is because of the fact they are paying people for simply creating a free account – though I'm not quite sure how sustainable this is overall.
Here is a breakdown of what you will be paid through the compensation plan:
Downline Level 1 & 2 – earn $1 when somebody signs up for a free account, 2% on Bitcoin purchases & $10/month on membership subscriptions.
Downline Level 3, 4 & 5 – earn $1 when somebody signs up for a free account, 1% on Bitcoin purchases & $5/month on membership subscriptions.
You Might Also Like:
Is Bitty Cash a Scam?
Whilst Bitty Cash isn't a scam, it's not going to be something I will be recommending either – that's because ultimately it's clear to see that Bitty Cash puts a heavy focus on the recruiting side of things & seems to push the business opportunity a lot more than the value of the actual services it provides.
On top of that, I think the fee of 25% for "helping" you to purchase Bitcoins is just extortionate especially when there are several other places you can go to easily purchase Bitcoin with much, much lower fees involved.
So to make money with Bitty Cash it's clear that you are going to be actively encouraged to recruit people into the opportunity & whilst yes you could potentially make money, as a result, it's not going to be easy when the cost associated with investing is so high.
Who is going to pay 25% just for somebody to help them purchase Bitcoins? Not many people I can't tell you that, which is why if you join this program you will most likely struggle with the opportunity.
In my eyes rather than being a value-focused Bitcoin program, I believe this to be just yet another churn & burn Bitcoin money-making opportunity that will inevitably collapse & disappear at some point down the line.
Therefore overall I will be giving this program a thumbs down & I won't be recommending it to you because as far as I can see it will involve you spending more money than you will ever be making.
It's good in theory, and the program does a good job at getting you hyped up about the potential opportunity of cashing in on Bitcoins but in reality, you will most likely to struggle to make anything through this program.
A Better Alternative
The sad truth is that unfortunately most of the programs promising to help you make money online are scams. I can say that confidently after exposing over 500+ of them here on this blog.
But the good news is that even though most of them are indeed scams, there are actually some very good programs in amongst them - some programs that can truly help you to earn money.
And out of all of the legit programs I've seen, the one I would recommend the most to anybody looking to get started online is Commission Academy. In my own opinion, that's the best place to start.
At Commission Academy, you'll be provided with everything you need (including the training & tools) to begin earning real money by promoting products or services for companies like Amazon online.
The best part is that there's literally no limit on the amount you can earn with it & the process is pretty simple which means that it's absolutely perfect for people that don't have much experience.
Some wealthy affiliates even earn as much as 5-figures per month... Or more!

I mean don't get me wrong, that kind of money won't just fall into your lap without doing any work... But the harder you're willing to work at it, the more you stand to earn with it.
So if you're looking to get started but don't know which route you should go down or which program you should join (and don't want to waste money on bogus things that don't actually work), then I'd highly recommend checking out Commission Academy first. You can learn more about it here.