The Click Earners platform claims to connect people with freelancing opportunities and allow them to work as virtual assistants.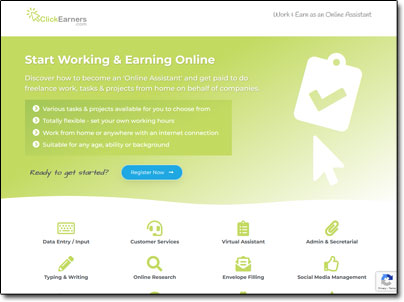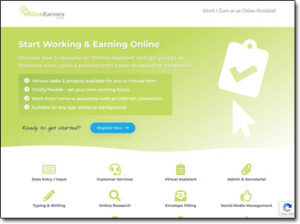 It promotes itself as a job board that may help people find work while providing materials for earning money online as a freelancer and virtual assistant.
But there is one major concern…
How safe is ClickEarners.com?
Is it legit, or is it just another scam you should steer clear of?
In this comprehensive review, you'll learn everything you need to know, from its authenticity and trustworthiness to whether or not it's worth your time, investment, and money.
Read on as we expose the reality of this online platform.
What is ClickEarners.com?
ClickEarners.com claims to be a website for discovering virtual assistant jobs. It's very comparable to other sites like Fiverr and Upwork.
In the world of freelancing, virtual assistants can work online as long as they have an internet connection by completing various activities like data entry, surveys, graphic design, or social media management.
However, ClickEarners.com requires a membership fee before you can start making money with them. It's not like other sites where you can sign up for free to become a virtual assistant.
Now that you know what Click Earners is all about, let's take a look at who is behind it.
Who's Behind ClickEarners?
There is a lack of transparency regarding the identity of ClickEarners' founders, as the name(s) of the founders have been kept hidden, and another thing missing is their "About Us" page.
This usually raises a red flag. Nevertheless, this website has been operational since 2017.
Since legitimate websites always have enough information about their businesses, the fact that ClickEarners doesn't have enough information about its owner(s) makes it hard to believe that it is trustworthy.
As it stands, there is absolutely nothing on their site that could lend it even the slightest shred of legitimacy.
This website doesn't give users any information that would make them trust it, as everything just leads visitors to the page where they can pay for membership.
How Does ClickEarners.com Work?
According to ClickEarners, you need to follow these three easy steps to become a virtual assistant on their website.
Users must FIRST REGISTER on their site, after which they can access the members-only features of the site. Once they've created an account and ACTIVATED IT, in order to start working and earning money, they must FOLLOW THE INSTRUCTIONS.
Jobs including product testing, surveys, typing, writing, data entry, web research, social media management, and more can be found under the jobs dashboard.
They also offer materials on how to become a virtual assistant in order to appear to be a reliable service. If users are interested in applying for a position, clicking on the link will take them to a different freelance site.
In other words, ClickEarners.com is not a job board but rather a directory of other employment boards, and the same gigs can be found elsewhere on the internet without having to register with them.
And while these are real jobs and tasks that have the potential to pay well, ClickEarners is not the best place to launch a career in this field.
How Much Does ClickEarners.com Cost?
The sign-up cost of ClickEarners.com is one of its biggest flaws. A yearly subscription to the members' area will cost you $27, while a lifetime membership will set you back $57.
After completing a brief registration form with your name and email address, you are asked to pay a membership fee out of the blue.
Only after paying the fee will you have complete access to the website. After that, you'll have access to a variety of freelancer platforms that were originally free to access.
ClickEarners.com says the membership fee is necessary because they don't take a cut of your revenue in any other way.
But there's no need to pay them because these jobs are often posted on independent freelancing websites, where applicants can send in their resumes and portfolios for free.
Clickearners.com is merely acting as a link to take you to these other sites, which could still be accessed without the need for Clickearners.
This raises a red flag because you are essentially paying for nothing. But before we get to that, let's see what the members-only section of ClickEarners has to offer.
What Is Inside ClickEarners?
The ClickEarners member's area provides access to the following features and resources:
Materials and Ebooks provided on topics like social media management, data entry, and virtual assistance.
Links to freelancing platforms such as Fiverr, and Upwork.
A brief overview of freelance work opportunities.
Models of Resumes and Cover Letters for Employment.
Links to Virtual Assistance Facebook Groups Upsells.
Most of these resources and the information they contain are available online for free. This includes eBooks, guides, manuals, and links to sites like Fiverr, Upwork, and other freelancing sites.
Can You Make Money With ClickEarners.com?
It's possible, but not assured. There is no doubt that ClickEarners.com is fraudulent, and there is also no assurance that ClickEarners would help you get jobs.
They'll provide you with resources and links to other online freelance marketplaces. After that, though, they couldn't care less if you ended up getting a job or not.
Becoming a virtual assistant does allow you to earn a living. But the earnings disclosure on ClickEarners.com makes it clear that there are no assurances of financial gain from using their platform.
You need to actively look for good jobs, which means you need to get the right training. In the end, though, everything comes down to your skills and luck.
If you're lucky enough to land a client via one of these platforms, you owe it to them to deliver nothing but the best. In this way, you can demonstrate your skills by signing up for a free account.
If your clients are happy with your work, they will hire you again and may even tell others about you by giving you a good review.
It bears repeating that ClickEarners neither employs you nor guarantees that you will have any job at all. They will only provide you with a link to another free website where you can look for work.
We believe that ClickEarners is a scam that will get you to pay money for low-quality information products and sneaky upsells.
Does ClickEarners.com Offer Refunds?
In this case, the answer is yes. But the team has the right to turn down requests that aren't justifiable and uses a strict process to do so.
The terms and conditions say that if you use ClickBank, you can't refuse a customer a refund. There is a 60-day money-back guarantee on ClickEarners due to this.
If, after signing up with ClickEarners, you decide you want a refund, your chances of getting one are higher if you submit your request to ClickBank directly.
It's important to do it within 60 days after the purchase date, though. Your request for a refund will be looked into, and someone from the team will get in touch with you within 24 hours.
To be safe, don't sign up for ClickEarners expecting to get a refund. However, if you're a beginner looking for the best business model to make passive income online, there are other, better, and more reliable ways to do it (such as affiliate marketing).
We will be discussing more about this in the final section of this Click Earners review.
Is ClickEarners A Scam?
While ClickEarners isn't legit, it's also not an outright scam. After all, its postings do include some actual prospects, and it teaches its users how to become virtual assistants.
However, the truth is that it shouldn't cost you anything to secure a job in the field of virtual assistance. Both the jobs themselves and membership to the sites that post them cost nothing. Not the fake ones, at least.
It's likely a con if someone tries to charge you to get work as a virtual assistant. Additionally, keep in mind that they won't even offer you any guaranteed work.
All you get is access to an instructional product that details how to become a freelance or self-employed virtual assistant and where to find relevant resources.
Therefore, you are on your own to find work, and the client must be pleased with your efforts before you are paid.
Furthermore, there are many unfavourable reviews of ClickEarners.com, which supports our position here. As we indicated before in this article, ClickEarners is not a legitimate place to begin making money online.
Unfortunately, we have to conclude that ClickEarners.com is a fraudulent website. Even if it's not a complete hoax, you should still stay away from it because of the red flags.
You Might Also Like:
ClickEarners' Pros and Cons
Pros
Money-Back Guarantee If You're Not Satisfied Within 60 Days
The ClickEarners' money-back guarantee was the only clear benefit we could find. If you buy this product and then change your mind, you can get your money back through ClickBank.
The money-back-guarantee lasts for 60 days, and you can get your money back if you request it within that time frame.
However, you should be aware that they will likely try & do everything they can to prevent you from getting your money back, so we would still advise caution.
Cons
Fees And Upsells Paid In Advance
The fact that ClickEarners requires payment for use is a significant disadvantage. It's not like other platforms where you only pay if you really get a client through them; at ClickEaners, you'll have to shell out the cash whether or not you ever do.
No up-front fees are required to post a resume on a legitimate job board. Instead, they'll deduct a little fee from your take-home pay each time you land a new client or contract.
In order to use Clickearners.com, you will need to pay a fee. You won't be able to try it risk-free in any way. Additionally, the information you receive in exchange for your money is almost not worth it.
You can enter your email address and other details, but viewing the contents will cost you. That's why nobody feels comfortable giving their personal information to this website or sticking with them after their initial bad experience.
How can you put your faith in them if you cannot even examine their contents beforehand?
Basic Resources for Independent Professionals
Even though ClickEarners says it has a lot of information about freelancing and being successful as a virtual assistant, it lacks depth.
The guide's simplicity has been met with disappointment by many users. Basic terminology is all you'll learn, which won't do much to help you land a job as a virtual assistant.
If you're looking for free online information, Google is your best bet. For this reason, there is no charge associated with viewing this content.
You can find the same information for free with a little research on Google. Furthermore, the majority of the content presented by ClickEarners is freely available elsewhere on the Internet.
The value of the members-only section is close to zero.
Poor Availability Of Favourable Testimonies
The customer testimonials on their sales page can't be checked out. People sometimes say that a service is not real because there are no good reviews from customers.
After being available to the public for some time now, ClickEarners.com needs dozens of genuine success stories posted there instead of the phoney ones they currently have.
In contrast, genuine platforms routinely feature extensive lists of independently verified customer feedback.
No One Knows Who Owns It
The fact that we cannot determine the website's owner(s) is also suspicious. The absence of this data is a red flag that the site might be fraudulent.
The reason for this is that the owner does not wish to be linked to the numerous unfavourable comments and evaluations that have been made.
A Large Number of Complaints Have Been Filed Against the Site
Many people have expressed dissatisfaction with ClickEarners.com and expressed their issues online.
Every time this happens, we know for sure that the deal is a hoax. Users have many issues with them, mostly related to their low quality.
Restrictive Disclaimers
They'll tell you they'll help you find work but then back out, claiming they're only giving you materials and not doing much else.
This is a common tactic used by con artists because they can trick you into feeling optimistic about their scheme while leaving out the blame by hiding it in the fine print you won't read until it's too late. However, you can find this in their disclaimer.
There Is No Support Offered
The staff member's responsibility is to hand you a few PDFs and web addresses, but making money is only one part of the equation, as you'll have to figure out problems on your own without support or help.
Compilation of Job Posts
The main issue and potential red flag of ClickEarners.com is that the internal job board is almost empty and even phoney. There is no ClickEarners-specific job board.
Instead of having unique postings from its community, it collects unsold requests from larger marketplaces like Fiverr.
Although they claim to be an online job board, their major offering is actually a collection of educational materials. You will only be given links to legitimate online job platforms.
Worse yet, signing up for these sites typically doesn't cost anything. If you go directly to the source, you can obtain better rates and have more options for making money.
However, you can take many different approaches to establishing your online business. Even if you want to work for yourself, there are far better alternatives to Click Earners.
One can certainly succeed at freelancing, but there are alternative ways to get passive income on the web.
Keep reading, though, because just as promised at the end of this review, we'll tell you about a better and more exciting online opportunity that is great for beginners and cost-effective.
Final Thoughts
When it comes to reliability and legitimacy, we do not recommend ClickEarners.com. Although you may be in need of full-time work or just a few more bucks on the side, you shouldn't have to shell out money for these job postings.
Bear in mind that there is no respectable job portal that requires payment from its users. The few websites that do usually have hidden agendas, but the one good thing about ClickEarners is that you are able to cancel your membership and ask for a refund when needed.
Even if ClickEarners succeeds in landing you a job, the fact that you have to pay for the service makes it appear phoney.
It's important to ensure that you're making more than you're spending if you're going to pay for a product or service. If that doesn't happen, the whole thing is unprofitable.
To be clear, we believe ClickEarners is not a suitable platform for anyone.
A Better Alternative
The sad truth is that unfortunately most of the programs promising to help you make money online are scams. I can say that confidently after exposing over 500+ of them here on this blog.
But the good news is that even though most of them are indeed scams, there are actually some very good programs in amongst them - some programs that can truly help you to earn money.
And out of all of the legit programs I've seen, the one I would recommend the most to anybody looking to get started online is Commission Academy. In my own opinion, that's the best place to start.
At Commission Academy, you'll be provided with everything you need (including the training & tools) to begin earning real money by promoting products or services for companies like Amazon online.
The best part is that there's literally no limit on the amount you can earn with it & the process is pretty simple which means that it's absolutely perfect for people that don't have much experience.
Some wealthy affiliates even earn as much as 5-figures per month... Or more!

I mean don't get me wrong, that kind of money won't just fall into your lap without doing any work... But the harder you're willing to work at it, the more you stand to earn with it.
So if you're looking to get started but don't know which route you should go down or which program you should join (and don't want to waste money on bogus things that don't actually work), then I'd highly recommend checking out Commission Academy first. You can learn more about it here.