Club Shanghai is a brand new website that's supposedly been set up by a "dead-broke journalist" named Jermaine who allegedly discovered a way to make a whopping $128,538.50 in just 13 clicks on his computer.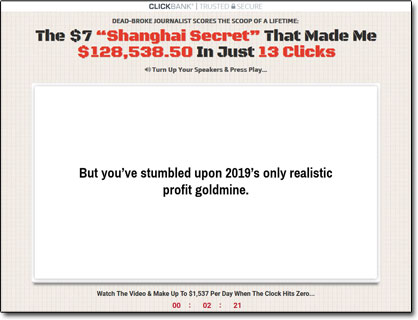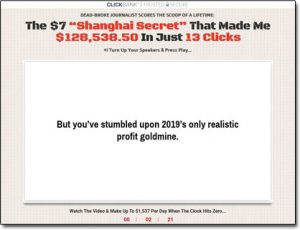 He calls the method the Shanghai Secret & through his new Club Shanghai program, he claims to be releasing the method to the public at a cost…
But is it really legit or is the Club Shanghai Secret a big scam that's just waiting to part you with your cash?
Thankfully you've landed in the right place to find out the real truth about Jermaine's program as I've personally taken a closer look into it to see exactly how it works & in this honest review I'm going to be uncovering everything you need to know (including whether or not you can really make any money with it).
What Is Club Shanghai Secret?   |   How Does Club Shanghai Work?   |   The True Costs   |   Is Club Shanghai a Scam?   |   A Better Alternative
What Is Club Shanghai Secret?
Funnily enough, just like a typical get-rich-quick scam, the Club Shanghai website doesn't actually go into much detail about the whole thing actually works & nor does it shed any insight onto the so-called secret…
Instead, you're just given a whole bunch of hype about the potential opportunity of making money with the system & then in order to find out more you're asked to hand over some of your hard-earned cash.
As I said above this is a common trait of a scam & nearly all of the systems that I come across which hide information in such a way do actually turn out to be scams – so even at a glance, I don't have high hopes for Club Shanghai.
But right from the off, I noticed another red-flag too which is the fact that the disclaimer at the very bottom of the Club Shanghai Secret website states that "This letter features the use of a "pen name" to protect the privacy of the creator."…
Why on earth if the creator is truly sharing such a great secret would he want to keep himself hidden and use a fake name instead? Again the answer here is because it is much likely just a scam.
Scammers often use pen-names on their programs so that at any moment they can close their scam & open it back up under a new name to continue scamming people without any trace back to themselves.
And I can actually confirm that is the case here with the Shanghai Secret program because when I made an attempt to sign up/log in I was taken to the member's area where the name was displayed as Club 356.
Here's a screenshot showing proof of that:

The reason this is bad news is that I previously exposed the Club 365 scam on this blog – and originally visitors to the main Club 365 website were told that the whole thing had been created by somebody named Justin Powell.
So Justin or Jermaine, who is the real creator? And why the change of names between Club 365 & Club Shanghai? It's all very suspicious…
But how does it all actually work? And is there any money to be made with this thing at all? Let's take a look…
How Does Club Shanghai Work?
Well, in short, I can tell you that basically the Club Shanghai system sure as heck doesn't work as promised – there's no so-called Shanghai Secret after all & there's definitely no way you'll find yourself making $128,538.50 in just 13 clicks with this thing like you're led to believe.
In fact, instead, the only thing you'll likely end up doing is LOSING money to it…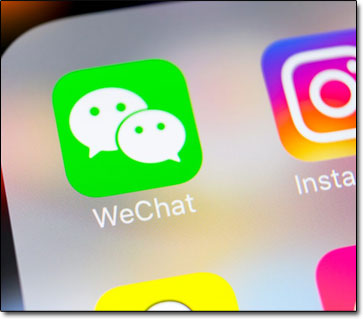 The reason I say that is because essentially the Club Shanghai system is just a super over-hyped system that revolves around spamming people through a Chinese messaging app named WeChat.
If you've never heard of WeChat before it's probably because you live outside of China but it's basically just like Whatsapp or Facebook Messenger – it's got a pretty darn large user base in China.
So after signing up to the Club Shanghai program (which I don't recommend doing) you'll basically learn a little bit about affiliate marketing which is where you promote 3rd party products online in return for commissions.
Affiliate marketing itself is actually a very good way to make money online (and you can start with it for free over at Wealthy Affiliate) but the way the Club Shanghai program teaches you to do it is NOT good at all.
The whole Shanghai Secret is that you should sign up to ClickBank (an affiliate network renowned for hosting scams like Club Shanghai), grab affiliate links for money-making scams & then spam them to people via WeChat.
But if you got a random suspicious message through WeChat or Whatsapp or Facebook Messenger would you open it? Would you click the link? Would you pay money to join?
The answer (I hope) is likely no – and neither would many other people which is why the whole Shanghai Secret won't work. You'll be working tirelessly to promote your links via spam messages in WeChat but nobody will be clicking them or purchasing & therefore you won't be making any money.
The only people who'll really be making money will be the creators of the Club Shanghai program & they'll just be making money at your expense through the membership fees that you paid to join.
Oh, and if you think $7 is the true cost of the Club Shanghai program then think again…
You Might Also Like:
The True Cost of Club Shanghai
On the website of the Club Shanghai program, you're told that you can enrol in it for just $7, which is allegedly a one-time fee… And admittedly the doesn't seem too bad, it makes you feel like trying it out regardless…
However "trying it out regardless" is exactly what they want you to do because once you've signed up for $7 you'll then be hit with several upsells (additional products costing more money).
The reason I know this is because I found the affiliate page for the Club Shanghai program (shown below):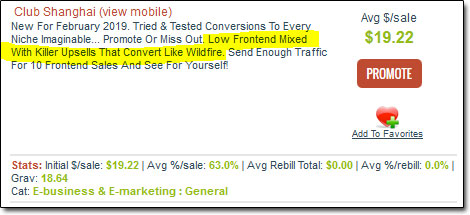 They state that it has a "Low Frontend Mixed With Killer Upsells That Convert Like Wildfire."
This means that the initial cost is low (the $7 enrolment fee) but you'll be hit with "killer upsells" as soon as you sign up – and if it's like any other typical ClickBank product then these could end up costing you hundreds of dollars.
In fact, I once seen a ClickBank product costing $47 but then charging thousands on the inside. Basically whatever they're charging though they're not being transparent about the true costs which is not a good sign.
Anyway, that brings me onto…
Is Club Shanghai a Scam?
Okay so the answer here is "kind of", and the reason I say that is because yes the Club Shanghai does give you access to a method that could potentially make you money, however, it's very misleading & the truth is that in reality, you'll be extremely unlikely to make any money at all through the so-called Shanghai Secret that you'll be buying.
In my opinion, the whole thing hasn't been set up to help you earn online like it claims it has, it's just been set up to trick you into parting with your cash (just like the former Club 365 scam) so that the program's creator can earn at your expense.
That's not good business, and when there are many legitimate places that you can get started earning good money online for free (like Wealthy Affiliate) I just don't see any reason to join something like Club Shanghai.
Plus there are also multiple other great ways to earn online too which you can see here.
So with all that in mind there is simply no way I will be recommending the Club Shanghai program to you because as far as I'm concerned it's just a total waste of money & if you sign up to it you'll more than likely find yourself disappointed with what you receive.
But hopefully, you can see why I've arrived at that decision after reading this review & hopefully I've helped save you some cash. If you do still have any further questions or comments though then don't hesitate to leave them below & I'll get back to you as soon as I can.
A Better Alternative
The sad truth is that unfortunately most of the programs promising to help you make money online are scams. I can say that confidently after exposing over 500+ of them here on this blog.
But the good news is that even though most of them are indeed scams, there are actually some very good programs in amongst them - some programs that can truly help you to earn money.
And out of all of the legit programs I've seen, the one I would recommend the most to anybody looking to get started online is Commission Academy. In my own opinion, that's the best place to start.
At Commission Academy, you'll be provided with everything you need (including the training & tools) to begin earning real money by promoting products or services for companies like Amazon online.
The best part is that there's literally no limit on the amount you can earn with it & the process is pretty simple which means that it's absolutely perfect for people that don't have much experience.
Some wealthy affiliates even earn as much as 5-figures per month... Or more!

I mean don't get me wrong, that kind of money won't just fall into your lap without doing any work... But the harder you're willing to work at it, the more you stand to earn with it.
So if you're looking to get started but don't know which route you should go down or which program you should join (and don't want to waste money on bogus things that don't actually work), then I'd highly recommend checking out Commission Academy first. You can learn more about it here.